Chat with Junior dos Santos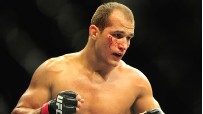 dos Santos is 8-0 in UFC fights.
Welcome to SportsNation! On Friday, UFC heavyweight champion and proud Brazilian Junior dos Santos stops by to chat about Saturday's UFC 142 in Rio de Janeiro as well as defending his title against Alistair Overeem.
dos Santos won the UFC Heavyweight Championship on November 12, by defeating Cain Velasquez in one minute and four seconds of the first round via KO. With Overeem scoring a victory over Brock Lesnar in UFC 141, the two will now face each other later in 2012 for the heavyweight title.
Send your questions now and join dos Santos Friday at 11 a.m. ET!
More Special Guests: Previous chats | SportsNation
Buzzmaster
(11:04 AM)
We've got Junior!
Atif (england)
were you surprised at how quick you defeated Cain Velasquez?
Junior dos Santos
(11:06 AM)
Yeah, I was a little bit surprised with that. I thought the fight would be a little bit lot. But he accepted the fight to stand up with me. He gave me seven kicks on my legs in one minute and he gave me the chance to knock him out and I took the chance when I had it.
Jaime phila pa [via mobile]
Will you practice a lot of kickboxing for your match against overeem...
Junior dos Santos
(11:07 AM)
No, I don't think I'll train a lot of kickboxing. I don't have to train a lot of that. I used to train a little bit of muay thai. My main art is boxing, so that's where I believe in myself. I will train a lot in my boxing to be ready to stand up to fight against Overeem. I am really confident in that area.
Matt (Chicago)
Were you impressed with Overeem's last fight against Lesnar?
Junior dos Santos
(11:08 AM)
I watched it. I was there in Vegas watching it. It surprised a lot. I thought Brock should take him down. But he beat him. Overeem came with a very good strategy for the fat. He deserved the win. Now it's between me and him.
Lijo John (INDIA)
Hello Sir...How different will your gameplan be from the Velasquez fight to the Reem fight...
Junior dos Santos
(11:09 AM)
The difference of my gameplan is going to be the take downs. I used to train a lot of wrestling, boxing, jiu jitsu, everything. This might be a good time to use my jiu jitsu. I would like to fight standup, but if it goes to the ground, I'm confident to do that.
Ruben (el paso, texas) [via mobile]
Hey junior! How does it feel to become the most popular fighter in brazil after an impressive win over a great fighter in Cain Velasquez?
Junior dos Santos
(11:10 AM)
I'm not the most popular fighter here, I think it's Anderson Silva. But I am happy with what's happening with me. I'm enjoying everything. It's motivating me to give my best more and moer.
Matt (New York)
How has life changed since becoming the reigning, defending, undisputed heavyweight champion of the world?
Junior dos Santos
(11:10 AM)
My life changed a lot. I'm living a very good moment of my life. I'm enjoying everything. Now people recognize me on the street. I think it's really good, because when people recognize you due to what you do and your job, it's a very good thing for you. I'm very happy to be living this life.
Eric (Buffalo)
Were you surprised that Cain did not shoot for a takedown during your title fight?
Junior dos Santos
(11:11 AM)
Yeah, I'm surprised a little bit. I thought the first thing he would do in the fight is try to take me down, but he didn't. He accepted fighting stand up with me and gave me the chance to knock him out.
Taylor (Strongsville, Ohio)
As a child who disliked fighting, what prompted you to choose it for your lifestyle as an adult?
Junior dos Santos
(11:13 AM)
I never liked to fight when I was younger. But when I was 21, I started to watch some big fights. That was a motivation for me to start training. Then I started with jiu jitsu. After a year and a half, I had my first MMA fight and decided that's what I wanted for my life. So, I started training more and more and that's when I began developing in the sport. I'm really really happy what I'm doing.
Rick (Gainesville, FL)
Who is your favorite fighter to watch fight?
Junior dos Santos
(11:13 AM)
I like to watch Jose Aldo. He's really good. He's one of the best pound for pound in the world. He's fast, strong and technical.
richard (chicago ill)
Do you think that overeem deserves a title shot already?
Junior dos Santos
(11:14 AM)
I don't know. If the UFC wants to give him that chance, I'm nobody to say different. I don't choose my opponents. If UFC wants me to fight against him, I will fight against him and do my best to beat him up.
Jay (California) [via mobile]
Do you plan on taking this fight to the ground at any point? WAR JDS
Junior dos Santos
(11:15 AM)
Yeah, it's going to be part of my strategy for sure. It's a good fight to show my jiu jitsu. I haven't fought on the ground in the UFC. If the MMA fans want me to fight on the ground, this is a good chance to do that. I like to fight stand up, and I will try to fight stand up. If I feel during the fight that I have to take him down, I will do that.
Waheed (England)
Do you think people underestimate you in your fights?
Junior dos Santos
(11:16 AM)
Sometimes, I think so. When I was beginning in UFC, I think they underestimated me a little bit. But I think I've changed their minds.
JuniorDSn1fan (brazil)
what dou you thing about bones jones?
Junior dos Santos
(11:17 AM)
I think he is one of the best fighters on the planet. I have seen a lot of his fights. I really like to watch him fight. He's really good. He's a good person too. I met him and he's a really good guy. He's very confident. That makes him one of the best.
Sami (England)
Overeem is a bit heavier than you, would you consider putting on weight or do you think that this is not an advantage?
Junior dos Santos
(11:18 AM)
I think my weight, I feel really good about my weight. I'm a little bit faster than usual heavyweights. I will stay at this weight because it's where I feel confident to fight. I used to fight with heavier guys, but I don't care about that.
Omar (Bahrain)
Junior, how is you knee recovery now?
Junior dos Santos
(11:19 AM)
I'm feeling great. My knee is almost 100%. I'm training boxing. I'm lifting weights normally. I think another 10 days I will be training jiu jitsu too. I will be back 100% to fight training.
Harpdizz (Toronto, Canada)
What about the UFC do you enjoy the most? And what do you dis-like?
Junior dos Santos
(11:19 AM)
I love to be a part of the UFC. It's the biggest and best event in the world. I love to fight there and especially to be the champion. I want to keep my belt with me and do my best. The UFC has been wonderful in my life and I like it a lot.
Xavier (France)
is there any sort of help from Anderson Silva from far to close with your stand up fighting methods ?
Junior dos Santos
(11:20 AM)
Anderson is a phenomenal fighter. He's on the same team as me. Sometimes he gives me good advice, especially with fighting stand up and muay thai. His clinches are perfect and he's taught me some good things.
JV (Philippines)
What do you think is your advantage over Overeem?
Junior dos Santos
(11:21 AM)
My speed. I think my speed is one of my advantages in all of my fights. It won't be different against Overeem. I will use that to use my boxing and try to knock him out or try to submit him.
Junior dos Santos
(11:22 AM)
Thank you to all of my fans. I want everybody to pay attention to me. It's just the beginning. I'm taking everything very serious, like I always do. My fights will be more and more interesting.