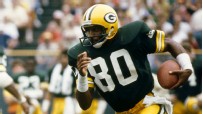 The Green Bay Packers made Lofton the sixth overall pick in the 1978 draft.
Welcome to SportsNation! On Friday, hall of fame NFL player James Lofton stops by to chat about the NFL playoffs.
Lofton earned eight Pro Bowl selections during his 16-year career, becoming the first player to record 14,000 receiving yards. He currently sits seventh on the all-time receiving list with 14,004 yards. He played for five teams in his career, including the 1990, 1991 and 1992 AFC champion Buffalo Bills.
Send your questions now and join Lofton Friday at 2:15 p.m. ET!
More Special Guests: Previous chats | SportsNation
Buzzmaster
(2:06 PM)
James is here!
Matt (Lambeau, Minnesota)
As a HOF wide receiver who had a lot of success in two cold-weather cities (not to mention an great performance in a snowy, MNF game in Denver), how does winter weather effect the passing game?
James Lofton
(2:08 PM)
No. 1, the football becomes much harder. It's almost painful to catch. More painful when you let it slip through your fingers. The field conditions are different. Once it gets colder, the ground can freeze. Precipitation. Blowing, drifing, sideways snow or rain is tough. Cold weather isn't as much a factor as the wind. When it's cold, the QB can't get as tight a grip on the ball, you add the wind and the ball can come to you end over end. It's not fun.
Sam (New York)
What are the biggest differences you see from your time in the league to now?
James Lofton
(2:10 PM)
Two things, from when I played to right now, I got to coach for a few years, I heard that the old school players were better. No, we weren't. The guys now are better athletes. I was at the combine in 2005 and there is a part of when the players come in and measure them. You're making notes, guy has big calves, broad shoulders, whatever. A WR walks up and I wrote "slim" and they announce him as 6-4, 205. I'm thinking, when did that become slim? You've seen an explosion of big fast guys come to a head with Calvin Johnson. Of all of the big receivers, he encompasses all of the skills. I wrote an article on our WestWoodOne.com site and talked about how all WRs aren't one size. You get from the Wes Welkers to the Calvin Johnsons with different skill sets. They're doing different things, but the same things.
Derrick (Chicago)
If you were playing in the offenses of today, how many more yards do you think you could have gotten past the 14,004 that you had in your career?
James Lofton
(2:12 PM)
I think the biggest difference now and the WR are very aware of it, there is no shame catching a 3 yard pass. I don't think I caught a pass less than 10 yards. The offenses I played in were more in chunk yardages. I played for Bill Walsh my senior year, so I was there for the infancy of that offense. There are a lot of short passes in the game. The skill is to run after catch. I think I would do well with the skill sets I had, but the guys now are durable players.
Kevin (VA)
Do fans ever talk to you about how great your Bills team was in Tecmo Bowl for the Nintendo? That offense was unstoppable!
James Lofton
(2:13 PM)
It's funny, since I travel around and do the broadcasting, I'm in the airport and people will look at me. Because they see you out of context, they'll ask me where they know my face. I've heard about the Tecmo Bowl and we were a pretty good team on that. That's neat and a nice way to be remembered. That offense with Jim Kelly was good and I would stack it up against those of today.
Lamar (Oakland)
Hey James, I just wanted to say I appreciated your career and that we miss you here in the Bay Area. Do you think the Niners can stop Brees on Saturday?
James Lofton
(2:15 PM)
I'm really hoping that the 49ers, who are the last team out West to still play defense, no rushing TDs through 14 games? Phenomenal. I just don't want the 49ers to be one and done. I want people to see that defense. What better team to go up against than that Saints teams. To slow Brees down and score enough points, I think it's a classic match up in this ball game.
anthony l.a. calif [via mobile]
hey jame, i wish you was still playing. do you think andrew luck will be a starting qb in his rookie season.
James Lofton
(2:16 PM)
The trend is to stick them in there right away. Aaron Rodgers, one of the few first round picks of the last 5-6 years to sit and wait and learn. THat used to be the formula. Now, you draft someone with a first round pick, you're only going to have them on the roster for 4-5 years, so you have to find out if he can play. It's not where if you're waiting for a guy to come out of college and fill out. Luck is ready to play. The only thing about going No. 1, they have that pick for a reason. A lot of times they're not good because they can't protect the passer. If he gets shell shocked too early.
Jon (DC)
How compicated was it playing the no huddle?
James Lofton
(2:18 PM)
It was actually simple. I had a coach by the name of Nick Nicolua and he used to say same girl, different dress. We had about 12 pass plays, but 10 formations that we could run them out of. Out of three plays from the no huddle, the pass rush became null and void, because they became tired. After 5-6 plays the defensive backs became winded. THat's when we came up with big plays.
Peter (RI)
We always hear about how the rules of the game have changed and how things are different now......
James Lofton
(2:21 PM)
No. 1, the ultra short passing game. If you chart your QBs, you chart them in throws behind the line of scrimmage and from the LOS to 5 yards. Your QB should complete 90% of those passes. Once you get to 15-20 yards beyond the line, you're looking at 50%. The short throws are where you're making your money. The big TEs are just an off shoot of the big WRs. We saw the WRs growing and people thought, if we're throwing to a guy 6-5, 240, why not throw a guy who is 6-5, 260, like Rob Gronkowski, etc. I think the next thing will be looking for the opposite like Darren Sproles. Guys like James from Oregon. Teams will always try to model success like the Saints, Patriots, Packers and their passing games.
Rich (New Jersey)
Aaron Rodgers with Driver - Nelson - Jennings - Jones and the Eli Manning with Cruz - Manningham - Nicks will the Giants - Packers game turn into a passing duel?
James Lofton
(2:22 PM)
I am right now, looking up the weather in Green Bay, for game time on Sunday. Believe it or not, the weather in Green Bay makes a big difference......It's 19 and snowing right now, but on Sunday it will be a high of 30. The passing game is big, but the footage of the secondary is bigger. One slip and a guy is gone. The team that will pack it in and pound it won't get the guys in coverage. You have to be able to take advantage of that regardless of the weather and field conditions.
Greg (Denve3r)
James, with the change in rules in the NFL these days, how much more prolifich do you think your Bills offenses could have been?
James Lofton
(2:25 PM)
I think the biggest change has been the strike zone of the QB. The protection of the QB in the pocket by the rules is the biggest difference. I almost feel sorry for the defenders and the defenseless receivers rule. I saw last week where James Harrison went low on Eric Decker where a year ago, he might have gone higher and Decker got injured. They will adapt and find ways, if not, we'll see some 6,000 yard passing seasons.
WyattBurp (Chicago)
Here in Chitown, everyone's concerned about the Bear's receivers. You're a great receiver -- are they really that bad?
James Lofton
(2:27 PM)
I really like Johnny Knox. I thought he was their best pure receiver. He's undersized at 175. Hester will always be a project. He's more RB/KR than WR. Earl Bennett was Jay Cutler's batterymate at Vanderbilt and a good possession WR. But they don't have a dynamic playmaker, that guy who you have to design a defense to stop. They'll be in search of guys who can catch the ball and make plays. If I'm Chicago, that's No. 1 on my wish list.
TOM (THE FROZEN TUNDRA)
JAMES, I THINK THINK AFTER DONALD DRIVER RETIRES THE PACKERS SHOULD PUT AWAY THE NUMBER 80 IN HONOR TO BOTH OF YOU. CAN YOU IMAGINE PLAYING WITH AARON RODGERS OR BRETT (NO BAD ON DICKEY)
James Lofton
(2:28 PM)
The Packers have had phenomenal string of QBs. You can even throw the Magic Man in there. I go back to Dickey, my QB. He held the Packers record for most passing yards in a year until Rodgers broke it this year. They've had some great passers. Mike McCarthy has done a great job. When Ted Thomson let Brett Favre go, they were asking if he was crazy. But they've done a great job running that team.
Chris Fiegler (Latham,NY)
Who do you think will play in Super Bowl XLVI?
James Lofton
(2:30 PM)
We're down to the final eight. Denver to this point has had the most improbable ride, to lose the last three and beat the Steelers. Houston, with TJ Yates, you wonder how far their legs can carry them. You have to acknowledge the teams that had the week off because of what they did during the regular season. Baltimore and New England, one strong defensively and one strong offensively. In the NFC, you have three very capable teams, New Orleans, San Francisco and the Packers. Then the dark horse, the Giants. They went through the slide and then they beat the Jets. They had to beat the Cowboys. Then with the win over the Falcons to advance in the playoffs. The NFC is wide open. Any of those three teams, four teams has a chance. The only team that hasn't been there in recent years is the 49ers. This will be a great weekend to watch some football.
David (Boston)
Do you think you could have fit into these short passing offenses that we see today?
James Lofton
(2:31 PM)
I think I would have been an 80 or 90 catch guy, 10 or so TDs, average 15 a catch. Underneath throws and get someone to rub a guy off and run after the catch. I think I would have been pretty good at that.
WyattBurp (Chicago)
Packers defense. People don't think much of it, but it's gone through the fire once and gotten a ring. Are they better than people think?
James Lofton
(2:33 PM)
I think what they have is playmakers. The loss of Jenkins hurts a little bit. They miss a little interior pass rush. But their ability to create turnovers with their pressure. They're not sacking the QB, but they've got some interceptions. That tells you the pass rush is effective. They take the ball away. They give their offense, that extra series of downs. That makes them tough to beat.
Willie (St. Louis)
One media guy told me that if Tebow gets to the SuperBowl, it would be the most-watched TV show of all time. Does that sound right?
James Lofton
(2:35 PM)
I don't know if Tim draws extra fans. I know he's been fun to watch. He was fun to watch at Florida. They're doing something a little different, that draws football fans in. The casual fan is drawn in by Tim saying all of the right things. He's not the greatest thing at the QB position, but he's trying. All of us looks at somebody who says he's trying his best and we see that example and respect that. The players see he's trying his best and we see that. You don't see QBs that are as physical as he is. Big Ben, we appreciate him playing through pain and we see a lot of that in Tim Tebow.
Jon (DC)
Did you enjoy GB or Buffalo more?
James Lofton
(2:37 PM)
When I look back on it, playing in Green Bay I was there for the first 9 years of my career. Playing for a historic franchise, with two hall of famers. Met Willie Davis, Paul Horning, all of those guys. To be a part of that organization now and how they were flourishing that was special. Going to Buffalo, that was my first chance to be on a winning team. We had two seasons where we had homefield advantage throughout the playoffs and we found a way to win. We had two years where we were 13-2 going into the last game of the year. We won 30 games over the course of two years. That's a lot of wins. I hear people ask about losing 4 Super Bowls, but they were spread out over a few years. There was tremendous fan interest.
James Lofton
(2:37 PM)
Enjoyed my time with you. Check me out at @Lofton80 on Twitter.