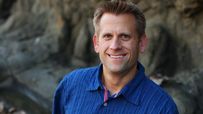 Welcome to SportsNation! On Monday, Sport Science host John Brenkus stops by to chat about his Emmy Award-winning TV show.
Sport Science uncovers sports' biggest myths and mysteries by utilizing cutting-edge technology to measure momentum, friction and the laws of gravity. In addition to his role as host of Sport Science, Brenkus, a Univeristy of Virginia graduate, is also the director and creative director of all BASE Productions programs.
Send your questions now and join Brenkus Monday at 4:30 p.m. ET!
More Sports Science: Chats | Index | Videos | Blog | @Sport_Science
Buzzmaster
(4:30 PM)
We've got John!
Karl (Denver)
Until Mardy Fish, what was the fastest serve you'd ever seen up close?
John Brenkus
(4:31 PM)
The fastest serve I'd seen up to that point, probably wasn't even fast enough to register on a radar gun. I'm an amateur beyond amateur. I probably haven't seen a serve in 15 years.
Henry (Atlanta)
Did your Sport Science staff already include someone on staff that could help you sort out the Peyton Manning injury or did you recruit someone's help?
John Brenkus
(4:32 PM)
Both. We have tremendously knowledgable people on staff who also consult with people for each segment.
Paul (Boston)
Do you think guys like Shaun White and other athletes who do tricks in their sport that they're studying the physics you described in the X Games episode or do you think they figure out how to go higher and faster by trial and error?
John Brenkus
(4:33 PM)
I think it's a little of both. Athletes who are at the top of their game get there in a very thoughtful way. But those thoughts are derived from trial and error.
Danny (NY)
How is it that you keep getting picked from your group to go up against these athletes? This time it was Mardy Fish....good thing one of those 130MPH serves didn't hit you in the face or chest. I'm guessing it would have left a big bruise.
John Brenkus
(4:34 PM)
I'm always the guy doing the experiments because no one else will do it! And yes, I was very fortunate I didn't wind up with a huge welt. Believe me, he was trying to hit me.
Evan (NYC)
Is it safe to say that Brittney Griner has to be the most powerful female athlete you've had in the lab?
John Brenkus
(4:34 PM)
She's certainly the most physically impressive. We've had a lot of amazing female athletes, but none larger and more imposing than Brittney.
Doug (Florida)
John, I've always wondered, do you always understand all of the physics and science stuff explained in your episodes or do you have people breaking it down for you too? Things like Peyton Manning's injury and Shaun White's flips sound like it includes some serious science. I'm glad you're able to explain it so well to those like me who don't know any of it.
John Brenkus
(4:35 PM)
I have a pretty good understanding just from doing over 300-plus segments. But as a team, we craft the segments so that it can be understood by the general audience.
Ian (NYC)
do you think there is an episode around the NHl all start skills?
John Brenkus
(4:36 PM)
I'm a huge hockey fan. I'd love to do more hockey segments.
Will (LA)
How interesting was it to put together that episode on Peyton Manning's injury? Everyone's been talking about it, but it was interesting for me to see something that really explains what happened to him.
John Brenkus
(4:37 PM)
It was very interesting. I think chances are Peyton does come back to play. Other QBs have successfully done so and I don't think he will fall short.
Chris (Denver)
Tyree had an episode...one for Manningham?
John Brenkus
(4:38 PM)
Yes!
Derrick (Chicago)
After playing with Mardy, is it easy to see why there are so many short rallies in men's tennis, due to the powerful serves?
John Brenkus
(4:38 PM)
Indeed. It doesn't seem fair.
John Brenkus
(4:38 PM)
It's known as a gentleman's game, but there's nothing gentlemanly about it. It's brutal.
Ryan (San Diego)
How crazy is it that those Winter X Games athletes can make things like snowmobiles flip like they do?
John Brenkus
(4:39 PM)
Pretty insane. With each new trick, our team wonders is that the best we're ever going to see? Somehow the bar keeps getting raised. It's a combination of great imagination, skill and guts.
Ryan (Ohio)
is there a limit to humans? Have you thought about testing that?
John Brenkus
(4:40 PM)
I wrote a book about what is a human perfection point. Check it out. New York Times best seller called: "The Perfection Point."
Kevin (CT)
How hard was it to try and return Mardy Fish's serve?
John Brenkus
(4:41 PM)
I tried my absolute hardest. It just wasn't happening.
John Brenkus
(4:41 PM)
It gave me great comfort to know I wasn't the only guy. You ever watch someone trying to return one of his serves? Almost impossible.
Jeff (RI)
what's the hardest sport that looks easy on TV?
John Brenkus
(4:42 PM)
We just did a segment on table tennis (that may air later this year). I can tell you if you thought returning a serve on Mardy Fish was hard, just try surviving a rally with a world class table tennis player. It's freaking insane. You can't even see the ball.
Jeff (CO)
Are you prepping for the olypmics?
John Brenkus
(4:43 PM)
Yes. We'll have a bunch of Olympics segments in the coming months.
Person (DC)
Is there a segment to be found in the last play of the super bowl, that hail mary?
John Brenkus
(4:43 PM)
We're currently working on a segment on that specific play. Stay tuned.
Kyle (VA)
How many eps do you have going right now?
John Brenkus
(4:44 PM)
Hundreds. Thousands. Too many to count.
John Brenkus
(4:44 PM)
Thanks for all of your support. More great Sport Science segments coming your way!