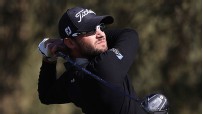 Welcome to SportsNation! On Thursday, professional golfer Kyle Stanley stops by to chat about his first PGA Tour victory and gaining 6,000 new Facebook friends within a week.
Stanley, who lost a 3-shot lead on the final hole at Torrey Pines, rallied a week later from eight strokes back in the final round of the Waste Management Phoenix Open to claim his first PGA Tour win after Spencer Levin surrendered
a 6-shot lead through 54 holes.
Send your questions now and join Stanley Thursday at noon ET!
Buzzmaster
(11:58 AM)
Pro golfer Kyle Stanley will be here at about 12:05 p.m. ET to take your questions!
Buzzmaster
(12:05 PM)
We've got Kyle!
Greg (VA)
How happy were you to get the win so quickly after losing the previous week?
Kyle Stanley
(12:06 PM)
I'm very, very happy. To have a four footer and miss it and lose and then have a four footer to win, it was great to see it go in.
Thomas Clanton (Clemson,SC)
Kyle, how did you mentally prepare your self to compete and win after such a big disappointment the week before?
Kyle Stanley
(12:07 PM)
I just kept focusing on the positive things that I have done. It was very difficult to get over that loss. At the same time, I knew I was going to learn a lot about myself after San Diego and I welcome that challenge. I learned that golf is a game of up and downs. You can't get too high or too low. Remain neutral and get better every day.
Chris Fiegler (Latham,NY)
Who was the Best PGA Golfer that you have seen as a kid?
Kyle Stanley
(12:07 PM)
I always admired Vijay. The reason is he's just known as being a hard worker. I really respected that. I tried to model my work ethic after his.
Bob (Somerset, PA)
Kyle, Congrats on the win. I see that you are 1st in the Ryder Cup standings currently. Was that a goal for you at the begining of the season? Is it now?
Kyle Stanley
(12:08 PM)
Yeah, absolutely. It doesn't mean a whole lot right now, because we have a long way to go. But it's one of my goals. I'm not focusing on it too much. You don't want to get too consumed on points and teams. I'm just going to focus on what I can do each day to become a better golfer.
JB (Livermore, CA)
Kyle -Congrats on your win in Phoenix. I noticed during your final round that you seem to have a very calm demeanor when your faced with a pressure putt. I'm a 9 handicap and if I have a low in the works, I can't seem keep a cool head and freeze on a lot of putts. What do you do to stay calm?Thanks!JB
Kyle Stanley
(12:10 PM)
I think the biggest thing is you never want to tell yourself that you need to make this putt. I try to do things on a want-to basis. Once you take the need out of it it takes the pressure off. You just have to focus on the things you can control. On the greens, pick a line, be confident and just go.
Kevin (Conn.)
What's it going to feel like the next time you tee it up in a PGA Tour?
Kyle Stanley
(12:10 PM)
I'm not sure. Good question. It won't feel any different for me. Maybe I'll have a few more fans. Being out on the golf course, it will be therapeutic. I don't think it will be much different.
Roy Gerber (Cincinnati, Ohio)
During your off season, how do you prepare yourself for the upcoming season?
Kyle Stanley
(12:11 PM)
Mostly with my workouts. This was the first time that I really had that I didn't have to go to Q School. I had a few weeks off. I took a couple of weeks off, got rested. My trainer got all of my workouts. A lot of polymetrics. Strength training. Cardio. Core stability. I focused most of my time in the gym.
Kevin (Louisiana)
Kyle, you earned a new fan with your play and action the last two weeks. You certainly appear to be a force on the Tour... Best of luck to you going forward... What do you think is the single most important factor increasing swing speed?
Kyle Stanley
(12:13 PM)
Flexibility is huge. I'm not the biggest guy in the world, but I'm very flexible. Holding your angles in the golf swing, especially in the down swing. And having a good strong core. Those would probably be my three keys to swing speed.
Austin (Pittsburgh)
First off let me say congratulations, and tell you how impressive it was to see you bounce back so quickly. Did you have a different mindset on Sunday last week because of what happened two weeks ago or do you think it was just because you were coming from behind instead of trying to hold onto a lead?
Kyle Stanley
(12:15 PM)
Yes to both. One of the things I learned in San Diego, that entire round I was thinking about winning. I wanted to badly to win that's all I was thinking about. The next week in Phoenix my mindset was anything can happen. I wasn't thinking about winning or expecting to. I wanted to play 18 solid holes a round. The biggest thing, instead of really trying to win, I just tried to hit good golf shots and make it happen.
Todd (Chicago)
Hey Kyle, I'm a 4 handicap and play Titleist Pro V1. I see you play the Pro V1x. What's the main difference between the two?
Kyle Stanley
(12:15 PM)
They're both really good balls. The Pro V1 spins more than the Pro V1x. I play the V1x because it doesn't spin as much.
Kyle Stanley
(12:16 PM)
The Pro V1 is better for slower swing speed too.
Andy (NYC)
do you like the fact that people remember you for your losing and then coming back to wint he next week?
Kyle Stanley
(12:18 PM)
Based on the circumstances, it's nice. I think losing in San Diego for some reason it put me on the map more and made me some more fans than if I had won. I think the biggest thing is it's always nice to pick yourself up when you fall down. I was hoping that I would have another chance to win. I wasn't expecting it to come so soon. I was grateful to have the opportunity.
Wayne M. (Ottawa, Canada)
Hi Kyle. No questions really - just wanted to say I was really happy when you won last week. I especially liked when you thanked your Mom and Dad. I'll be rooting for you the rest of the season (at Augusta, for example, which I heard is your favourite course).
Kyle Stanley
(12:19 PM)
First off, thank you. I just want to keep playing good golf. One of my biggest goals this year is to try to keep myself in contention on Sundays. I'm very much a process oriented guy. I try to control the things that I can to get better. I will just try to continue that. If I can, hopefully good things will happen.
Matthew (Columbia, NJ)
Kyle: What is your goal for the up coming Major tournaments this year?
Kyle Stanley
(12:20 PM)
One of my goals for this year was to play my way into the majors. Now that I've done that, my next step is to contend and to contend and play well.
Alex (Anaheim)
Do you have a favorite course/tournament?
Kyle Stanley
(12:21 PM)
I love Bayhill in Orlando. I love Jack's event, The Memorial. Those are two really really good golfcourses.
Kyle Stanley
(12:21 PM)
And, obviously Phoenix. I love the crowds there.
Mark (Chicago)
How much time are you going to take off until your next tournament?
Kyle Stanley
(12:21 PM)
I'm playing Riviera next week. Actually, I haven't hit a golf ball since Sunday. I'm going to get back into the swing of things today and get ready for next week.
Kyle Stanley
(12:22 PM)
I would like to thank all of the fans for your support. I've been overwhelmed by it. Great to have your support.