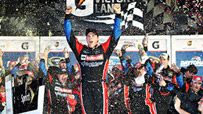 Bayne won the 2011 Daytona 500 one day after turning 20.
Welcome to SportsNation! On Monday, driver of NASCAR's No. 21 Ford for Wood Brothers Racing Trevor Bayne stops by to chat about defending his 2011 Daytona 500 title. The green flag drops on this year's race at 1 p.m. ET on Feb. 26 on FOX.
Bayne won the race last year for his first career Sprint Cup win in just his second start, becoming the youngest Daytona 500 champ in history at 20 years old. While making 17 Sprint Cup starts, Bayne also raced in 29 Nationwide races last season, finishing 11th in the points standings. Fans can follow Bayne on Twitter: @TBayne21.
Send your questions now and join Bayne Monday at 2 p.m. ET!
More Special Guests: Previous chats | SportsNation
Buzzmaster
(1:54 PM)
2011 Daytona 500 champion Trevor Bayne will be here at the top of the hour to take your questions!
Buzzmaster
(2:00 PM)
Trevor is here!
Mayra (Chicago)
What do you see yourself doing for the big 2-1 since you will be in Daytona?
Trevor Bayne
(2:01 PM)
Well, last year, we had a little birthday dinner with the race team. That was pretty good, so we'll probably do that again.
Ray Huntley (New Jersey)
Do you hope to own your own Truck, Nationwide or Sprint Cup team one day? If so, how far off in the future might you do that?
Trevor Bayne
(2:02 PM)
That's a lot of stress on those owners! I want to accomplish being a driver first.
dz (new mexcio)
what has been your greatest challenge in the cup series?
Trevor Bayne
(2:02 PM)
The greatest challenge in the Cup Series is just funding. Having sponsors take on a whole season. I think if we have those sponsors, I think we can be competitive.
Brad (Crossville, TN)
What are the plans for running the Cup Series this year? I know you will be with The Woods Brothers again, but for how many races?
Trevor Bayne
(2:03 PM)
Right now we're at 14 races, I believe. If we win some or get sponsorship, we'll get more.
James Piccarreto (Rochetser, NY)
What will we be the toughest challenge for you this after winning the 500 last year?
Trevor Bayne
(2:03 PM)
Living up to the expectations. I think we can win, but if we do anything less than that, we're not meeting expectations and that's tough.
James (Rochetser, NY)
After winning Daytona last year, does that give you more confidence for another 500 win this year?
Trevor Bayne
(2:04 PM)
Yeah, for sure. Now we know we can do it. It's not such a long shot any more, even though it will be tough.
Adam (Galax, VA)
With pack racing returning in some form, how do you plan on getting to the end of the 500 without getting caught in the big one?
Trevor Bayne
(2:04 PM)
You just have to be patient. That was my plan last year, to be patient and get to the end. You just have to be smart.
Joe (PA)
Trevor, good to chat! When do you think we'll see you full time in Sprint Cup? You've proven (aside from Daytona) that you're deserving of a ride; at this point is it all up to sponsorship? And Good Luck going for the repeat!
Trevor Bayne
(2:05 PM)
If something came along, we'd take it. But I think the Wood Brothers would be content with running part time and being competitive. I would like to run more, but they're content.
Todd (Chambersburg, PA)
What is your favorite track?
Trevor Bayne
(2:05 PM)
My favorite track, I would say Atlanta. I like that a lot. It's a racer's track.
Matthew (Columbia, NJ)
Trevor: What are your goals for 2012?
Trevor Bayne
(2:06 PM)
My goal is to be consistently a top 10 team in the Cup Series. And I would like to run for a Nationwide Series title if we could.
Bill S (High Point, NC)
Will all the media attention on Danica, will that take pressure off you as the returning champion of the 500?
Trevor Bayne
(2:06 PM)
Not really. At the end of the day, we still have to perform ourselves.
Aaron (ME)
Hey Trevor, it's been a year since your big Daytona 500 win. How much did working with Jeff Gordon in the Gatorade Duel last year help in winning the Great American Race?
Trevor Bayne
(2:07 PM)
It was great for him to show his faith in me and giving me the chance to show what I could do.
Scott (Newport News, VA)
I'm looking forward to Daytona, and I'm sure all you drivers are too. Trevor what is your Daytona fever? What about Daytona starts a fire in your belly to go out and compete?
Trevor Bayne
(2:07 PM)
I can't wait to go! I have been ready since the second week of the offseason.
Joe (PA)
Trevor, I'm all of 61 days younger than you; a college student not a NASCAR driver (sadly). Do you still get to find the time to sit back and relax like other 20 year olds (myself included) as well?
Trevor Bayne
(2:08 PM)
It's not often. I had a couple of good trips this offseason, but it's not often that happens.
Mike (Bartlesville, OK)
Trevor, you are such an exciting driver for NASCAR being you are so young. What kind of schedule will you race this year?
Trevor Bayne
(2:09 PM)
Right now it will be part time in both series with the hopes of being full time in the Nationwide.
Mayra (Chicago)
Of everything you have seen or done in 2011, what would you say is the coolest you have done other than winning the Daytona 500?
Trevor Bayne
(2:10 PM)
The most recent cool thing I did was going Kenya. It was the first time I left North America.
Aaron (Virginia)
Hey bro, how does your Christian faith help you handle the pressure of being a professional athlete?
Trevor Bayne
(2:10 PM)
It's huge to be able to get more value out of something other than strictly performance.
Mariopvn NORWALK, CA [via mobile]
with the added pressure with sponsors and a small market team how much pressure do u really feel? my first race i ever seen was daytona and i will always remember the name bayne! Dont ever lose that fire cause u can always be replaced . always feel this could be your last race. everyone loves the under dog. ...
Trevor Bayne
(2:11 PM)
It's not any more pressure really. It's just harder to have the results, because you can't use the momentum on your side when you're not racing every week.
Bill S (High Point, NC)
If your not the one to win the Daytona 500, who is your rick to win?
Trevor Bayne
(2:12 PM)
Oh man.....I think either the Brickyard 400 or the Coca-Cola 600.
Scott (Newport News, VA)
Being the outspoken Christian driver that you are, and seeing all the Tim Tebow play out in the media, do you feel NASCAR does it right by sticking with it faith roots?
Trevor Bayne
(2:13 PM)
I think Tim Tebow did a great job of sticking to who he is. He didn't compromise. As far as NASCAR goes, there are still a lot of people trying to make a difference in the sport and I think that's awesome.
Frank (Evansville, IN)
Is there anything pointing to more funding for you to run a full Nationwide schedule? Would love to see you win that series!
Trevor Bayne
(2:13 PM)
They're have been discussions but no committment from anybody yet. We're trying to wait on that.
Aaron (Virginia)
Which track is the hardest to drive?
Trevor Bayne
(2:14 PM)
I think Indy was probably the hardest to drive.
Rowdy Smoke fan (MD)
What was your best congratulation you have ever received after you won the Daytona 500?
Trevor Bayne
(2:14 PM)
Yeah, it was pretty wild. One day I talked to Tim Tebow, Vice President Joe Biden, I met Pamela Anderson and I did the Ellen Show. It was nuts.
Adam (Galax, VA)
During testing, when you were running in packs, how close did it really get to having a big wreck?
Trevor Bayne
(2:15 PM)
We were as close as touching down the straightaways during testing.
Trevor Bayne
(2:15 PM)
Thanks for joining the chat and sending in questions!