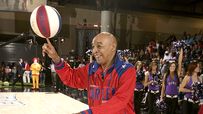 Neal is one of 28 Harlem Globetrotter Legends.
Welcome to SportsNation! On Tuesday, former Harlem Globetrotter Curly Neal stops by to chat as part of ESPN.com's tribute to Black History Month.
Known as one of the most supernatural shooters and dribblers in basketball history, Neal entertained fans all over the world for 22 seasons (1963-85). He played in more than 6,000 games in 97 countries.
On February 15, 2008, Curly became just the fifth Globetrotter in the team's history to have his jersey retired. His No. 22 jersey hangs in the rafters at Madison Square Garden. To thank him for his years of service, the Globetrotters presented him with a "Legends" ring on June 25, 1993.
Send your questions now and join Neal on Tuesday at 3:30 p.m. ET!
More Special Guests: Previous guests | SportsNation | Chat Index
Buzzmaster
(3:15 PM)
We'll have legendary Globetrotter Curly Neal stopping by shortly to take your questions!
Buzzmaster
(3:17 PM)
We also have 7-foot-8 Globetrotter Tiny, the first female Globetrotter TNT Maddox stopping by to grab a few questions!
Buzzmaster
(3:27 PM)
Flight Time Lang is here too for your questions!
Buzzmaster
(3:27 PM)
The group is just finishing up a demonstration here on the ESPN campus at the KidsCenter...we'll get started a little early in a few minutes.
Buzzmaster
(3:31 PM)
OK! They're all done. We'll have Curly over here shortly.
Buzzmaster
(3:32 PM)
Here he is!
Scott (Mesa, AZ)
Curly, how many more points could you have scored if the Globetrotters had the four-point shot when you were playing?
Curly Neal
(3:32 PM)
Oh man, about 2000 plus or more. I was a long distance shooter anyway!
Peter (RI)
What's been the biggest change you've seen in the level of player the Globetrotters have gotten on the team in your time?
Curly Neal
(3:33 PM)
The players have gotten better. More athleticism. And a love for the kids.
KShaw (Chicago)
What do you know about Globetrotter Pioneer GOOSE TATUM and what he did for the sport before your time?
Curly Neal
(3:33 PM)
Yes we do. He's one of the master showman of all time. Yes we do.
Calvin (NJ)
how did it feel to have your jersey retired into the rafters and Madison Square Garden?
Curly Neal
(3:34 PM)
Greatest thing to ever happen to a ball player is to have his jersey retired. That was fantastic.
Scott (Mesa, AZ)
Curly, I've been hearing a lot about the new rookies that the Globetrotters have this year. What do you think they add to the team?
Curly Neal
(3:35 PM)
Great tradition. Lots of energy. More fun for the fans. Plus our female TNT Maddox and Paul Tiny Sturgess, 7-feet-8. And Hops Tucker the slam dunk champion.
Ryan (CA)
How do you feel about being one of the most recognized basketball players of all time?
Curly Neal
(3:35 PM)
Great feeling. Thanks to all of the fans and my former and present teammates.
Greg (VA)
How many basketball games do you think you've played during your career?
Curly Neal
(3:36 PM)
6,000 plus. Between 6,000 and 7,000.
Freddie (AL)
How did you hone your shooting skills?
Curly Neal
(3:37 PM)
Practice. Practice. At least an hour before the game.
Dan (Jamestown Ny)
Curly, you are the reason I'm a Globetrotters fan...I even had Globetrotter pajamas with you on them...So what have you been up to recently?
Curly Neal
(3:37 PM)
Promotions for the team. Going and promoting education to children at schools and having a good time with families and teammates.
Walt (Florida)
What kind of injuries have you had to endure during your time with the Globetrotters?
Curly Neal
(3:38 PM)
I've three knee operations. Twisted ankles. Concussion. Broken wrist. Bent fingers.
Curly Neal
(3:38 PM)
And a mild heart attack in Indiana in 1978.
Curly Neal
(3:38 PM)
I had my teeth knocked out quite a few times.
James ((IL))
How much is it to travel and play your favorite game?
Curly Neal
(3:39 PM)
It's been an education within itself and a fun opportunity for me to be a pro basketball player.
Curly Neal
(3:39 PM)
Make sure you check out the new stars of the Globetrotters: Special K, Big Easy, Tiny Sturgess, Fatima Maddox, Flight Time, Handles, and Blender, etc.
Curly Neal
(3:40 PM)
I think Jamila needs a big time raise!
Kyle (VA)
TNT, how did you perfect your dribbling skills?
TNT Maddox
(3:41 PM)
Just a lot of practice, repitition. If I see something that I like and looks cool, I keep practing and practing until it becomes mine.
Darryl (San diego)
Tiny.....have you tried the 4-point shot yet?
Tiny
(3:41 PM)
I shot one in France....and I didn't make it.
Derrick (Miami)
TNT Maddox is a sweet nickname.....how'd you get it?
TNT Maddox
(3:42 PM)
Actually my teammates gave it to me in training camp. I didn't come in with a cool one. I got it because I'm known for being an explosive player.
Sammy (Boston)
who is the most famous person you've been able to meet with the Globetrotters?
Flight Time
(3:43 PM)
The most famous person I have met with the Globetrotters....I met Jeremy Lin the other night at the Knicks game.
Jeff (FL)
When did you start playing basketball?
Tiny
(3:43 PM)
I was 11 or 12. It wasn't my first sport so I started late. I used to play soccer when I was growing up.
Sandy (San Francisco)
do you feel any extra pressure being the first female globetrotter?
TNT Maddox
(3:44 PM)
Well, I'm actually not the first, there hasn't been one in about 20 years. There is a level of responsibility that comes with it, but I'm trying to meet that challenge.
Nick (MN)
Be honest, could the Globetrotters beat the Bobcats in an NBA game?
Flight Time
(3:44 PM)
We think we can take on any team that challenges us. Not necessarily the Bobcats.
Karl (Texas)
What's been the biggest difference you've seen in your time with the team?
Flight Time
(3:45 PM)
The biggest difference I've seen is that when I first joined the team, we weren't as popular as we are now. There is more TV, more media outlets. We've added the four-point shot.
James ((IL))
Which place to play was your favorite?
TNT Maddox
(3:46 PM)
The Dallas Mavericks arena. I'll be playing a homecoming for me in Colorado Springs and a college homecoming at Temple at the Liacoraus Center.
Paul (NYC)
Flight Time is a sweet nickname...did you have any others before that one?
Flight Time
(3:47 PM)
Actually my high school basketball coach used to call me Lang Bang, because I was so small and I used to bang down three pointers.
Flight Time
(3:48 PM)
Check us out on HarlemGlobetrotters.com, follow us on Twitter: @MissTNT18, @DATrotter4, @Globies, @TSturg78.