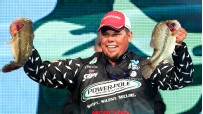 The Classic was Lane's second win of the year.
Welcome to SportsNation! On Friday, angler Chris Lane, winner of the 2012 Bassmaster Classic will stop by to chat about his first career Classic win, which took place Feb. 24-26. Three episodes of the three-day Classic, showing how Lane won the tournament, will air on ESPN2 Saturday (10 a.m. ET) and Sunday (7 a.m. ET, 9:30 p.m. ET).
Lane caught 51 pounds, 6 ounces during the tournament to claim the first-place prize of $500,000. He started the tournament in sixth place, following a Day 1 total of 16 pounds, 4 ounces. It was his fourth career tournament win and 58th time in 101 career tournaments he finished in the money.
Send your questions now and join Lane Friday at 3 p.m. ET!
More Special Guests: Previous chats | SportsNation
Buzzmaster
(2:58 PM)
Chris is here!
Keith (CA)
Going in in sixth place, what was your mindset?
Chris Lane
(2:59 PM)
My mindset was to stay focused. Go out there and finish well. The second day, at the end, when I caught a 6-11, that's what gave the realization that I could win.
Wes (SF)
Are you ever scrambling to catch fish at the end of a tournament round?
Chris Lane
(2:59 PM)
You scramble, but you scramble with confidence.
Greg (TX)
Has anyone unexpected called you following your win?
Chris Lane
(2:59 PM)
Not yet.
Ruck Mottern (Lakeland, Fl.)
Congratulations, Chris! We're all very proud of you! Keep up the good work!Your favorite father in law
Chris Lane
(3:00 PM)
Thanks. Thanks for all of the support. Look forward to seeing you in a couple of weeks.
Kevin (FL)
You won by a few pounds, so did you feel while you were still out on the water that you had this thing won?
Chris Lane
(3:00 PM)
I did not know I won the event until the fish hit the scales.
Derrick (Chicago)
do the fish go back into the water following the weigh ins?
Chris Lane
(3:01 PM)
Absolutely. The 6-10 fish that it took to win the tournament, she got one big kiss and a hug and is out in the water to make another angler's dream come true.
Paul (Dallas)
Do you go salt water fishing too? What's the best to fish in the sea?
Chris Lane
(3:02 PM)
I do go salt water fishing. The best fish to fish for in the sea would have to be a snook.
Ruck Mottern (Lakeland, Fl.)
at what point did you know you had the pounds you needed to win it? After Vinson weighed in? or were you still nervous?
Chris Lane
(3:02 PM)
I knew I had won after Vinson had weighed in, but I was not 100% confident until the scales read the weight.
Aaron (Chicago)
You always hear about athletes in other sports "watching the tape" to get better. is there such a thing in angling? How do you improve?
Chris Lane
(3:03 PM)
You mentally improve. You put a gameplan in place, just like football. They have a gameplan when they go out there. When people aren't making the right calls, you better put a better gameplan together. That's the biggest thing to improve. If you're not doing well, change your plan. And always be learning.
Will (Miami)
I'm guessing that a huge part of a fishing tournament is locating the fish to go after. how do you do that? From what I understand using an electronic fish finder is against the rules!
Chris Lane
(3:04 PM)
Using an electrionic fish finder is not against the rules. You let the fish tell you what they want you to do throughout the event. As with football, the defense will change, will your offense change to get better?
Evan (TX)
Just how hard is it to win a fishing tournament?
Chris Lane
(3:04 PM)
It's very hard to win a fishing event against the caliber of guys that we fish against. We fish against the best in the world.
Curt (Texas)
Did you fish the same area for the entire tournament ? If so, How did you decide on that area?
Chris Lane
(3:05 PM)
I did not. I ran a lot of water and felt that was the key to winning the event.
Dave (NYC)
I love to fish recreationally, but I'm not very well versed in tournament fishing (though I will be watching you this weekend). So, what does winning the Bassmaster Classic compare to in other sports?
Chris Lane
(3:06 PM)
The Super Bowl of football. The Masters of golf. Winning the Daytona 500. You're not winning the points chase, you're winning the biggest event of that particular sport.
Peter (RI)
You obviously know how the tournament goes, so what will you be watching for this weekend?
Chris Lane
(3:06 PM)
The emotions that were displayed is what's going to be neat because I knew what I truly felt, but did I display the emotions of how I felt.
Steve (Maine)
How do you think winning the Classic will change your life?
Chris Lane
(3:07 PM)
Winning the Classic will change my life in the aspect of I have a role to play now at that's as Classic champion. It is my responsibility to uphold what the past champions have done for the sport.
Erik (Denver)
Favorite fish to go after?
Chris Lane
(3:08 PM)
I would have to say bass.
Will (SF)
Biggest fish you ever caught in a tournament? biggest by yourself?
Chris Lane
(3:09 PM)
Biggest in a tournament was 11 pounds, 1 ounce bass. By myself, 12 pounds, 1 ounce bass.
Kev (NYC)
Are you allowed to win the Classic? I thought only KVD was.
Chris Lane
(3:09 PM)
Yes we are allowed to win it. It was an honor to receive it from the best in the world.
Steve (Boston)
I've always wondered, for tournaments, do they stock the lake you're on, or is it all natural? Everyone seems to catch so much fish.
Chris Lane
(3:10 PM)
It is all natural.
Chris Lane
(3:10 PM)
And conditions change every day. There are no halftimes. It's 8 hours of intense, mindboggling action.
Craig (FL)
Favorite place to fish, not necessarily for a tournament?
Chris Lane
(3:10 PM)
Gunnersville, Alabama.
Jeff (Chicago)
How much did your Lowrance HDS depthfinders help you in this tourney?
Chris Lane
(3:11 PM)
It helped in the sense of it allowed me to keep my boat in the right depth of water, trying to find where the fish were or what depth they liked.
Duane Bethke (Smallmouth Nation, Mi.)
Chris, if someone is on the fence between buying the 8' Blade vs the 10' blade Powerpole, what advice would you offer? Did the 10 footers help you win the Classic?
Chris Lane
(3:11 PM)
10 footers truly helped me win the Classic. If there is a decision to be made, for the individual, it is do they fish in deeper than 8 feet of water. If so, go with the 10, if not, stick with the 10.
Ron (Austin, TX)
Do you and Bobby share information prior to tournaments?
Chris Lane
(3:12 PM)
No. We do not share information as far as locations, but we do try to figure out what the fish are trying to tell each of us.
steven (alabama)
was the water at a good temp or were yo fishing slowly and congrats to you roll tide
Chris Lane
(3:13 PM)
Fishing very slowly. We had freezing temperatures and night with warming temperatures during the day. Typical pre-spawn action.
Curt (Texas)
What is your favorite method of fishing for bass? Do you feel like this tournament played to those strengths ?
Chris Lane
(3:13 PM)
I feel that it did. My favorite way is to flip, pitch cast during the pre-spawn bite. That's what was happening. It played into my gameplan perfectly.
Fred (L)
What's the best tip for a recreational fisherman?
Chris Lane
(3:14 PM)
Make sure you have fun, whether you catch fish or not.
Derrick R (Lake Sam Rayburn Texas)
Chris, were you a little bit exited when you pulled that lunker out the live well Sunday evening?.... Congratulations on your win
Chris Lane
(3:14 PM)
The pictures say it all!
Doug (California)
Best thing that you've done since winning last week?
Chris Lane
(3:15 PM)
What we're doing today.
Chris Lane
(3:15 PM)
Telling people about the sport of bass fishing.
Clint (Virginia)
What role do your sponsors play in your carrer? Is it important to them that you are using their equipment to win a tournament, or are the more worried about you getting them noticed reguardless whether or not you win using their products?
Chris Lane
(3:15 PM)
It's about getting them noticed. It's about making people believe in their product. Once that happens, and you do well, it comes together very nicely.
Scott (CT)
What's the most you've caught during a tournament?
Chris Lane
(3:16 PM)
There was a 28 pound day in January to win the Bassmaster Southern Open.
Ryan (SF)
do you have a one that got away story?
Chris Lane
(3:16 PM)
In that event, I do not. Not one that I thought would have mattered.
Jeff (Chicago)
When is your next tournament?
Chris Lane
(3:17 PM)
Florida for the Bassmaster Elite Series, the week of March 15. St. John's River.
steven (AL)
how deep were you fishing? were you fishing slow? was the water really cold?
Chris Lane
(3:18 PM)
A foot and a half the first day. The water was warm. 3-4 feet on Days 2 and 3 with the water being colder.
Kurt Gomez (Slippery Rock, Pa)
Have you ever gone fishing outside the U.S like EL salto in Mexico?
Chris Lane
(3:18 PM)
No.
Chris Lane
(3:18 PM)
Actually, yes, bone fishing in the Bahamas.
Brendan (Long Island, NY)
Do you think winning the Bassmaster Classic impact your preformance on the St. Johns River in a positive or negative way?
Chris Lane
(3:19 PM)
I do not. I'm going to go in with the same mentality of the past year and a half.
Chris Lane
(3:20 PM)
Which is to stay focused on the task at hand and that is competing at the highest level in these Bassmaster Elite Series tournaments.
Chris Lane
(3:20 PM)
Thank you for all of your support. We look forward to the 2012 season being fantastic.