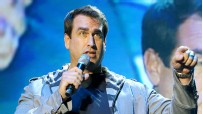 Riggle's credits include "The Hangover," "Talladega Nights" and "Step Brothers."
Welcome to SportsNation! On Monday, actor, and member of the Marine Reserves, Rob Riggle stops by to chat about his latest project, the film "21 Jump Street" that hits theaters March 16.
Riggle plays Mr. Walters in the movie based on the 1980s TV show. Jonah Hill and Channing Tatum star as two youthful looking police officers who are sent undercover at a local high school as a part of the secret Jump Street unit. While undercover, the duo discovers not only a dangerous drug ring but also that high school has changed.
Prior to launching his comedy career, Riggle joined the Marines in 1990 to become a pilot and is still a Marine Reservist lieutenant colonel. In addition to his movie work, he has worked as a stand-up comedian, cast member on "Saturday Night Live" and a regular on "The Daily Show." Fans can follow him on Twitter: @robriggle.
Send your questions now and join Riggle Monday at 3 p.m. ET!
More Special Guests: Previous chats | SportsNation