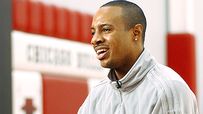 Williams was the No. 2 overall pick in the 2002 NBA draft.
Welcome to SportsNation! On Monday, we'll be talking brackets when former Duke star and 2002 Naismith Player of the Year Jay Williams stops by to chat.
Williams led Duke to the 2001 NCAA championship, defeating Arizona 82-72 in the title game. He led all players in the 2001 tournament with 154 points, averaging 25.7 per game.
Williams can be found on Twiiter: @RealJayWilliams.
Send your questions now and join Williams Monday at 4 p.m. ET!
More Special Guests: Previous chats | SportsNation
Buzzmaster
(4:19 PM)
Jay's here!
Adam (ZouCrew)
Jay, I have 3 teams left from my draft...Baylor, NC State, Louisville...Chances any of them make the Final Four? Tell me we get ONE, Jay...
Jay Williams
(4:21 PM)
I think NC State has a really good shot to make the Final Four. With the play of CJ against Robinson, that's a good matchup. UNC gets by Ohio without Marshall, but then I would give the edge to NC State in the next game.
Chris (DC)
Biggest upset from the first weekend, in your mind?
Jay Williams
(4:21 PM)
Norfolk State or Lehigh over Duke. If you had that in your bracket, I don't know what you were smoking.
Derrick (Chicagon)
Best Sweet 16 matchup in your mind?
Jay Williams
(4:22 PM)
Marquette-Florida. Get the icy hot ready, get the stretching done and make sure you're hydrated before you watch this game, because the pass will be frenetic.
Steve (FL)
Did Florida just get a couple of good matchups, or are they really playing as well as their scores indicate?
Jay Williams
(4:22 PM)
Florida is one of the best teams in the country when their guard play is at a high level. When they allow their defense to be dictated by making 3-point shots, that's when they struggle.
Dave (NJ)
Potentially the most lopsided 16 matchup?
Jay Williams
(4:23 PM)
We at ESPN have been running a commercial ad with Dicky V and Dan Shulman since Indiana made that shot against Kentucky. I think there's some motivation there for the Wildcats.
Tim (Texas)
Which No. 1 see is playing the best?
Jay Williams
(4:24 PM)
I would have to say Kentucky. Cats. Cats. Cats.
Jay Williams
(4:24 PM)
But, just because they're playing the best, doesn't mean they'll be able to sustain that high play, game after game after game. It's a tournament of one-game tournaments.
Steve (Sycamore IL)
I equate the play of Darious Johnson Odom and Jae Crowder of Marqueete to that of you and Shane Battier in 2001. How hard is it to share the spotlight and still contibute to the overall team's success?
Jay Williams
(4:25 PM)
The reason why we won in '01 is nobody cared where we got drafted, it was all about what was best for the team.
Kevin (VA)
Jay during that Duke game, when watching the game, when did you finally start believing that Lehigh would win? I kept thinking we were going to see a furious Duke run like always and they would pull it out, but that run never came.
Jay Williams
(4:26 PM)
I knew from the opening tip that it was going to be a ballgame. The one thing that's been lacking for Duke all year is their leadership. Austin Rivers is the closest thing they had as a leader, but it's hard to ask a freshman to take you to the promised land.
Joe (Peoria, IL)
With the tremendous guard play by both Marquette and Florida, this has the look of another track meet up and down the court. Can Marquette's impressive defense shown against both BYU and Murray St. slow Florida down enough to pull away from them in this game?
Jay Williams
(4:26 PM)
It's going to have to. That's the way Marquette wins the ballgame, if the guards are able to contain the dribble penetration and outside shooting of Florida.
Jay Williams
(4:27 PM)
It will be very difficult for Florida to matchup with Crowder.
Paul (Cleveland)
Do you think that any of the Ohio teams( Cincinnati, Xavier, Ohio State, or Ohio) can make it to the Final Four? Are they all one and done in the Sweet sixteen? Who will get the farthest Also, who will get farthest in the tournament, NC State, or UNC?
Jay Williams
(4:28 PM)
Out of all of the teams, Ohio State would have the best shot. But frankly, I don't know if they'll get by Cincinnati.
Jay Williams
(4:28 PM)
Gates = Grown man.
Dan (Cleveland)
Can UNC survive without Kendall Marshall?
Jay Williams
(4:28 PM)
They can survive past Ohio, because they have more talent. But getting past the nexst round will be very difficult. Marshall makes UNC's offense easy. When he's not on the court, they become very stagnant.
Brent (Des Moines, IA)
Do you see any chance that Indiana hangs around with Kentucky this time around with retribution being a factor and the Hoosiers playing away from Bloomington?
Jay Williams
(4:29 PM)
If Zeller's able to get Davis in foul trouble like in the first matchup, then that's the difference. We all know IU can shoot the three.
Fred (Las Vegas)
Do you think having the lower seeds have upsets in the first round is good or bad for the tournament. It was exciting to see Norfolk State upset Missouri, but seeing them blown out by 30 to Florida was not so fun.
Jay Williams
(4:30 PM)
It's the beautiful game about the tournament. Everybody gets a shining moment. The most talented teams don't always win, it's the teams that play the best that day that move on.
Tom (Racine, WI)
Over/Under 4.5: Number of 3's Brady Heslip hits against Xavier
Jay Williams
(4:32 PM)
Tommy, I'll take the under. Xavier won't sit back in the zone.
Greg (Houston)
I think Michigan State has kind of snuck under the radar this year, but they seem like they're playing the best ball of hte season right now....how legit are they to win ti all?
Jay Williams
(4:33 PM)
They will go as far as the Toolbox takes them. Toolbox = Draymond Green. You need a hammer, saw, wrench, he provides everything for that team.
Fred (Dallas)
Which non-No. 1 is playing the best?
Jay Williams
(4:34 PM)
It's kind of like a mirage, but I would say Florida. For them it's always aobut the confidence and swagger of their guards. They way they handled Norfolk State could be a huge boost going against Marquette.
Jay Williams
(4:35 PM)
I think by the play of the Big Ten all year, they've proven to the country that they're the best conference this year. Ohio State, Michigan State, Wisconsin and Indiana all in the Sweet 16. Their halfcourt grinding styles were built for the tournament.
Buzzmaster
(4:35 PM)
Thanks for chatting Jay!