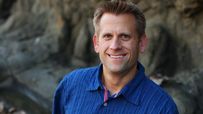 Welcome to SportsNation! On Monday, Sport Science host John Brenkus stops by to chat about his Emmy Award-winning TV show.
Sport Science uncovers sports' biggest myths and mysteries by utilizing cutting-edge technology to measure momentum, friction and the laws of gravity. In addition to his role as host of Sport Science, Brenkus, a Univeristy of Virginia graduate, is also the director and creative director of all BASE Productions programs.
Send your questions now and join Brenkus Monday at 2 p.m. ET!
More Sport Science: Chats | Index | Videos | Blog | @Sport_Science
Buzzmaster
(2:01 PM)
We've got John!
Steve (NYC)
So who's hit you harder, Melvin Ingram or Suh?
John Brenkus
(2:02 PM)
The hit that hurt the most was from Dwight Freeney.
John Brenkus
(2:02 PM)
Suh threw me the farthest. Ingram scared me the most. And Freeney crushed me the hardest.
Derrick (Chicago)
how much of an effect do you think the altitude has had on the women's final four?
John Brenkus
(2:04 PM)
We just did a test on the effects of altitude in athletic performance. With smart substitutions and a consistent rotation of players should alleviate any effects the altitude would have. The specific effects boil down to an individual's cardiovascular conditioning and their ability to absorb oxygen in their body. Hard to say the exact effect, because it's so individually specific.
Dave (NJ)
How incredible is it that so many things had to go right for Laettner's shot to go in and it did?
John Brenkus
(2:05 PM)
It is indeed crazy and incredibly improbable. To think that was the in heyday of college basketball. It's hard to see that happening again with that much at stake.
Greg (VA)
John, how much did that putting segment help you in your own golf game? Learn a lot that you can bring along the next time you're out on the course?
John Brenkus
(2:06 PM)
It was pretty amazing to get a private lesson from Dave. That guy is the real deal. He definitely deconstructed my putting stroke and built it back up where I was much more efficient than when I started. I did run out and play a round to see if the putting lesson helped. The truth is I do putt much better now I just have to work on all of the other shots.
Fred (Alabama)
John, the belly putter segment gave me pause. I've always thought they don't make any sense, but after seeing you explain it all, I think it might be worth at least trying....I was curious as to your thoughts on the belly putter before and after doing that segment.
John Brenkus
(2:08 PM)
I highly reccommend using a belly putter for intermediate to short putts. On long putts, for me, it was very difficult to guage the speed with the belly putter. But on short to intermediate putts, I putted much better with the belly putter. It eliminates wiggle on the backstroke, since it's grounded by your torso.
Kris (Boston)
It took Ingram 2.8 seconds to get to you....what's going through your mind during those 2.8 seconds?
John Brenkus
(2:09 PM)
The same thing that's always going through my mind: This is going to hurt.
Joey (SC)
Did you have a good time working with Melvin Ingram? Is he one of the all around best athletes you've ever worked with? And do you think he should be a top 10 pick?
John Brenkus
(2:10 PM)
He should be a top 10 pick. He is an amazing athlete. There is not a position on the football field he couldn't play, including QB. I am very optimistic he will have an immediate impact on whichever team is fortunate enough to draft him.
David (LA)
John, I was watching an old segment of yours when Kevin Love tried to set the record for a 90-foot shot. What do you remember about that day? Looked exhausting from Kevin's point of view. That many shots had to be draining.
John Brenkus
(2:12 PM)
Kevin was as determined as anybody I've met to set the record that day. He kept shooting over and over and over and it just seemed like it wasn't going to happen. When I said to him, this is the last shot, I meant it. We had to move on to the next segment, because it was starting to cost us overtime. He agreed that he would take one more shot. And, fortunately for us, God was smiling on us and the shot went in. We all freaked out and couldn't believe it he made it on the LAST shot.
Sam (Baltimore)
What new test or piece of technology that Sport Science has started using recently do you like the most?
John Brenkus
(2:13 PM)
We have a couple of toys in particular that I'm excited about. Stay tuned.
Karl (Denver)
John, after doing that segment on Amen Corner, knowing what you know now, how well do you think you would play those three holes?
John Brenkus
(2:14 PM)
Not well. Knowledge is only part of the battle. In fact, now that I know how difficult it is, it probably would psych me out before I ever strike the ball.
John Brenkus
(2:14 PM)
I can't imagine playing at an elite level in The Masters with all of that pressure on the line. Amazing!
Darren (Miami)
John, do you think fatigue due to the altitude played a part in UConn's loss to Notre Dame?
John Brenkus
(2:15 PM)
It's hard to say for certain, because the effects of altitude really boil down to an individual's ability to absorb oxygen. It certainly could have effected it, but it's hard to say for sure.
Paul (Miami)
Do you think that the Masters people knew about the science that you described in your Amen Corner episode and that they used that science to make the hole that much harder?
John Brenkus
(2:16 PM)
The designers of the course certainly use science to design a difficult course that's still asthetically gorgeous. I really admire what they've been able to do.
Evan (AZ)
how long did those 2.8 seconds with Melvin Ingram feel?
John Brenkus
(2:16 PM)
If it was any longer than 2.8 seconds, I probably would have been able to talk myself out of standing there and taking the hit.
John Brenkus
(2:17 PM)
The build up prior to the 2.8 second is really nervewracking. And then thank goodness it's over quickly.
KEvin (CT)
Did the segment on putting give you any thoughts of using a belly putter yourself?
John Brenkus
(2:17 PM)
Belly putters rock.
Noah (Rimersburg, PA)
What was our most serious injury while being part of Sports Science?
John Brenkus
(2:18 PM)
Nothing super serious. (I'm knocking on wood as we speak.)
Ryan (San Diego)
Do you think professional golfers would be helped by going to a belly putter? Why don't they?
John Brenkus
(2:20 PM)
I'm not surprised they don't use them. Those guys have gotten to be at the top of their game using the equipment that makes them feel comfortable. I think the belly putter could benefit amateurs more than pros in a lot of ways since the amateurs haven't played golf for hundreds of thousands of hours.
John Brenkus
(2:20 PM)
With that being said, I think belly putters could benefit pros if they believe that it will help their putting game. The science is solid, but putting comes down to both science and psychology.
John Brenkus
(2:21 PM)
Lots of great segments coming your way. Stay tuned! Thanks for all of the great support.