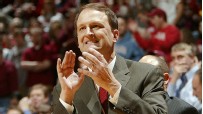 Dakich played for Bobby Knight at Indiana from '81-'85.
Welcome to SportsNation! On Tuesday, we'll be talking about the newly crowned champion of the 2011-12 men's college basketball season with former coach Dan Dakich.
Currently an ESPN basketball analyst, Dakich coached Bowling Green for 10 years, winning more than 150 games. He also served as the interim coach at Indiana in 2008 following Kelvin Sampson's resignation.
Send your questions now and join Dakich Tuesday at 11 a.m. ET!
More Special Guests: Previous chats | SportsNation
Buzzmaster
(11:01 AM)
Coach is here!
Doug (AL)
How hard is it to get a bunch of star players like Kentucky has to buy into a program and style of play that's totally about the team?
Dan Dakich
(11:02 AM)
Incredibly difficult. John Calipari has made a really difficult job look very very easy. There are very few coaches that can do what John's doing with the success that he has had.
Greg (VA )
What was the biggest key to the game last night for Kentucky?
Dan Dakich
(11:02 AM)
I thought there were two huge keys. No. 1, Teague in the first half. I thought he controlled Kentucky and his ability to score and made it easier because Davis wasn't scoring. And I thought Davis was in the heads of Kansas before the game even started. I thought his defensive presence was the second biggest key.
Sal (Boston)
It seems like we always hear about deep teams and bench play come the tournament, but both teams only played 8 guys last night and only one or two of the bench players really played major minutes. Is bench play and a deep team overrated?
Dan Dakich
(11:04 AM)
Way overrated. Coaches have always shortened their benches come tournaments and league play. But the modern day player wants to play. The days of having 10-11 really good players are over, because kids get dissatisfied quicker.
Kevin (CT)
Coach, a 9:30 start for a championship game is too late! I could barely stay awake for the end....do you think they need to make this an earlier game?
Dan Dakich
(11:05 AM)
Absolutely. 100 percent. Couldn't agree more. Start the game at 8 and let's go.
Darryl (Atlanta)
Coach, Robinson was 18 and 17 last night if Kansas wins, is he the MOP?
Dan Dakich
(11:06 AM)
Yeah, but for Kansas to win, others would have had to have done better as well.
Alan (TX)
Coach is it just me or did Kansas look like they were never really in it last night? From being down 10 or more pretty early in the game, they just never got things together, it seemed.
Dan Dakich
(11:06 AM)
I felt the same way. I felt like Kentucky controlled the game and even though there was a late run, the game felt like it was never in doubt.
Steve (NYC)
How is Calipari able to continue to get the best players to his program?
Dan Dakich
(11:07 AM)
I think it's a combination of things. John's track record of developing first round NBA talent. The history, tradition, fan base of Kentucky. And John's style of play and ability to sell all factor in.
Kris (GA)
Can we still be impressed with Kansas' season? Not sur emany thought they'd be here.
Dan Dakich
(11:08 AM)
Hell yes! Any coach not named Calipari would take what Kansas did this year: winning a conference title, getting to the Final Four, getting to the championship game. Any coach in America would take that, not named John Calipari.
Ryan (LA)
Do you think they got it right with the MOP going to Davis?
Dan Dakich
(11:09 AM)
No. I thought the MOP in the game was Lamb. I thought that Davis and Teague tied for No. 2.
Patrick (Wichita, KS)
Should we be talking more about Jeff Withey for KU? All the man did was set a NCAA tournament record for blocks, held the preseason PoY and PoY to a combined 6-29, and recorded the second most blocks in a tournament game in history. Do you think that his defense may have be the decisive factor for KU getting to the title game?
Dan Dakich
(11:10 AM)
Withey had a great season. Breakout season. He's a terrific example of how Bill Self and his staff really develop players. His offensive game is behind his defensive game, but he had a great year and a great tournament.
Josh (KY)
What are you more impressed by with regards to Davis and MKG - talent or attitude?
Dan Dakich
(11:11 AM)
Both. I think their attitudes are spectacular. You never seen either one looking away when a coach talks to them. They seem to be kids that really want to get better and want to win. Their attitude is refreshing and hopefully emulated by those in basketball and coming into basketball.
Derrick (Chicago)
How special of a player is Anthony Davis?
Dan Dakich
(11:12 AM)
He's going to be an all-Pro for a couple of reasons. No. 1, he has obvious talent. He has a terrific feel for basketball. No. 3, and most importantly, he has a real desire to work and get better and be a sponge and be coached. The combination of all of that leads me to believe that he'll be a great, great NBA player.
Dave (GA)
How crazy is it that you'd recruit a 6-3 PG and get a 6-10 PF?
Dan Dakich
(11:13 AM)
That's really overblown. Anthony Davis became a really highly recruited player after he became a 6-10 PF. That story about him being a guard first is really overblown.
Jon (CT)
"We always say somebody -- sometimes even me -- could've given 5 percent more or even 10 percent more.......But with this group, I don't know if they had any more to give." -Self. I think this line is part of what makes college basketball so great. I still enjoyed watching the game even though it was very one-sided cause you could tell Kansas was giving it everything they had. Do you think they could have done anything else?
Dan Dakich
(11:14 AM)
No. I thought that Kansas just got beat by a better team that was playing really well. Sometimes the better team doesn't win because they didn't play very well. But in this case the better team played better as well.
Dave (NJ)
Coach, Kentucky is an up and down team, why do you think last night's game was so low scoring? The defense that good or was there some nerves in play?
Dan Dakich
(11:15 AM)
I think Coach Calipari said after the game that they took the foot off the gas and lengthen possessions. And I think Kansas was smart not to run with them. When they tried to, they went down immediately.
Greg (CT)
best game of the tournament?
Dan Dakich
(11:16 AM)
Two games stood out for me: Lehigh and Duke. Seeing a team like Lehigh beat a program like Duke. The most fun to watch for me was Kentucky-Indiana.
Brad (Beverly, Ma)
What do you think of all the people who are asking how long till Kentucky is stripped of the title because of Calipari?
Dan Dakich
(11:17 AM)
I think in the world there is a lot of jealousy. People are always looking to take people down. But that's something that Coach Calipari is going to have to live with.
Tom (Chicago)
Dan, I thought Kansas' biggest mistake came with about two minutes left and the guard drove the baseline and left his feet with nowhere to go, resulting in a turnover. I believe Kansas was down five, and then Kentucky hit a bucket. As a coach, does anything make you crazier than a play like that (except maybe shooting the ball with a foot on the three point line)?
Dan Dakich
(11:18 AM)
Two plays stood out for me as a coach. The back cut late that Kidd-Gilchrist blocked. And the turnover where Davis jumped out on the shooter. In both cases resulted in a score at the other end. Those are the kind of plays that keep you up at night as a coach.
Willie (San Francisco)
Who is your way too early No. 1 ranked team for 2012-13?
Dan Dakich
(11:19 AM)
I think I agree with the guys at ESPN that Indiana is the No. 1 team in the country as we sit right now. That will change with recruiting, who comes back, but they're the choice right now.
Awayne (INDY)
No Cindarella this year,is that a good or bad thing?Some think that the traditional powers make for more interest but the the little guy taking on the giant works fo me too.
Dan Dakich
(11:20 AM)
I think Cinderellas and giants make the tournament great. We had Cinderellas. We had 15 beating 2. But when we get to the final 8 and then 4, ratings show that people want to see the best teams and the most recognizable teams. That's why I'm guessing that last nights ratings will be enormous.
Will (NJ)
Having been on a college campus, what would you say to students that set their place on fire after a win?
Dan Dakich
(11:21 AM)
Call a lawyer.
Chad (Indianapolis)
Do coaches ever get to truly feel great about winning? It seems like you guys are programmed to always be thinking about what's next. Do you think Coach Cal had a good night and how long can that feeling last?
Dan Dakich
(11:22 AM)
Coach Cal had the greatest night of his life last night. He'll have the greatest day of his life today and the second greatest night of his life tonight. And then get after it in recruiting on Thursday and Friday.
Dan Dakich
(11:22 AM)
Winning regular season games is a relief and losing feels like death. That's the way a coach looks at a season.
Chris Fiegler (Latham,NY)
Do you think that the Most Outstanding Player for Kentucky will be in the 2012 NBA Draft?
Dan Dakich
(11:23 AM)
Davis is gone. He'll be the No. 1 pick. This time next year, he'll be a starter on a rebuilding team.
John (Indianapolis)
SEC! SEC! SEC! Since UK football fans try to ride our coattails at Alabama, does this mean we get partial credit for their national title this year?
Dan Dakich
(11:24 AM)
No. You had nothing to do with it. Don't forget that South Carolina won the NCAA baseball championship last year as well.
Awayne (INDY)
Many give Calipari a hard time for recruiting the one and done types.Why is it it a bad thing to try and get the best players possible? I know not all programs can be successful over a period of time with these guys but a team like Kentucky you are gonna get talent every year.
Dan Dakich
(11:25 AM)
It's absolutely not. Every coach in America tried to recruit Davis and Kidd-Gilchrist, knowing they'd be one and done players. Calipari just happened to be a better recruiter and got them.
Dan Dakich
(11:25 AM)
Thanks everybody for a great season. I hope everybody has a wonderful spring and summer.