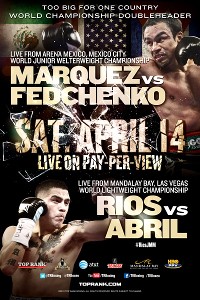 Welcome to SportsNation! On Tuesday, Brandon Rios stops by to chat about his WBA lightweight title fight on Saturday.
Rios (29-0-1, 22 KO) faces Richard Abril (17-2-1, 8 KO) for the vacant title live from Mandalay Bay Resort & Casino in Las Vegas, starting at 9 p.m. ET/6 p.m. PT on HBO PPV.
Rios is looking to re-gain his WBA belt that was stripped from him in December when he didn't make weight for his title defense against John Murray. Rios stopped Murray via TKO in the 11th round.
Rios originally won the WBA lightweight championship in Feb. 2011 and then defended it in July before his fight against Murray. The Texas native has won 11 straight fights, including 10 knockouts.
Send your questions now and join Rios Tuesday at 1 p.m. ET!
More Special Guests: Previous chats | SportsNation
Buzzmaster
(12:53 PM)
Brandon Rios will be here at the top of the hour to take your questions!
Buzzmaster
(12:59 PM)
Brandon's here!
Rey McAllen TX [via mobile]
What up Bam Bam, how was your training camp and what round do you predict you will knock Abril out?
Brandon Rios
(1:01 PM)
My training camp has been going very well. This time it was different. You won't see the same Brandon that you saw in New York. I hired a nutritionist. I am eating my breakfast right now, which I didn't do last time. I'm ready.
Tony Martinez (El Monte California )
Brandon I'm a big fan of yours you have become my favorite boxers. Do you feel a lot of pressure to knockout everyone that is put in front of you?
Brandon Rios
(1:01 PM)
No, it just happens. I'm a hard hitter. I break down my opponents and kock them out. I'm just going to do what I do, and fight. Thank you for being a fan and supporting me. Love all you fans.
Dfritzlo (Miami)
You are one of a few boxers that follow some of your fans on twitter. How did you get the idea to do this because when you followed me and some other fans we were very appreciative .
Brandon Rios
(1:02 PM)
It means a lot to connect with my fans. I don't do this for a paycheck. I really love my job and the fans. I want to give them the show that they pay for. They want to see a fight, so I fight. I like to interact with my fans, I like to hear what they say good or bad.
David (Salem,Oregon)
Brandon, In a interview with ESNEWS Richard Abril said he's going to break your jaw. What's your response to that?
Brandon Rios
(1:03 PM)
Good luck with that. Hopefully he doesn't break his hand. I have an iron jaw. It's hard. He's just talking. He's trying to hype something that doesn't need hyping. I hope he is ready and can follow what he says, because I'll be ready.
Fabian (San Francisco)
Bam Bam, will be attending this fight live on saturday...can't wait...will it go past 6?
Brandon Rios
(1:04 PM)
I don't give predictions, but it could be a late stoppage, because he's going to run. He's going to try and stay away with his reach, he's taller than me. But I'm ready for 12 rounds. I'm ready for a fight. Thank you for attending the fight.
Bully [via mobile]
How is your weight cut going? U looked like a sick mofo your last weight cut. But like a true Mexican u all heart !
Brandon Rios
(1:05 PM)
I learned a lot from the last time. I wasn't doing it right. I hired a nutritionist right away for this camp. The weight is coming off perfect. There is nothing to complain about right now. I'm happy with the decision I made. It's going to come off.
Jose (San Antonio)
Predictions for Paquiao Bradley???
Brandon Rios
(1:05 PM)
Thats going to be a good fight. Pacquiao has a tough opponent in front of him. It will be a good fight for the fans. Bradley is a tough son of a gun. And Pacquiao is one of the toughest out there.
Ron houston tx [via mobile]
Will you be fighting Marquez if he wins on saturday?
Brandon Rios
(1:06 PM)
If he wins and I win, of course, why not? That's the step I'm ready for. But rght now, I'm ready for Saturday. I'm sure Marquez is focused on Saturday as well. We'll take things day by day and we'll be ready.
Miguel Philly [via mobile]
Bam, do you see yourself eventually moving up to 147? Also do you see yourself fighting victor Ortiz in the future to squash old beef. By the way I would like to see you knock him out with his soft chin lol
Brandon Rios
(1:07 PM)
Yes. I see myself moving up soon. First of all, I have to get my lightweight title back. Then go up to 140, open the doors and fight there. And 147? Why not I'm a big boy. But right now, I'm just concentrating on getting my title back.
Jeff (OH)
Brandon, what does it feel like going through what you went through during the weight cut last fight? You looked MISERABLE.
Brandon Rios
(1:08 PM)
You know whay? Honestly, I was. I don't want to go through that ever again. I don't want to experience that again. I look at myself now and I couldn't believe that I went through that many days without eating. I did feel as bad as I looked.
Ry (OH)
Brandon, how is the camaraderie between yourself and the other fighters in Robert Garcia's stable?
Brandon Rios
(1:10 PM)
Working with Robert is a pleasure. It's great. We have a great relationship. It's not like we're just fighters training. We're brothers with different mothers. He does great with the other fighters. But I think we have a closer bond than anyone else. He knows when I'm having a bad day or a good day, I don't have to tell him. If I win, he wins. If he wins, I win.
HR (ELGIN IL)
In November of last year we saw Sergio Martinez on the 24/7 of cotto-margarito. Have you ever trained with him?
Brandon Rios
(1:10 PM)
I've never trained with him. But a long time ago, I did some sparring with him. It was great. A new experience for me. Sergio is a one of kind fighter.
Hector (south Whittier)CA [via mobile]
BamBam always one of my favorite names good luck and in what round is he going down
Brandon Rios
(1:12 PM)
I came up with the name Bam Bam because Robert and my doctor, they came up with it, actually. They said I needed a nickname. I didn't have anything in mind. They used to call me chico in amateurs. They looked at my old fights and they had boom boom, bang bang and bam bam. I heard it and I like Bam Bam. I love the nickname. It goes very well. A lot of people don't even call me Brandon, just Bam Bam.
Devin (St. Louis)
Bam Bam...my first time seeing you fight was when you made Anthony Peterson bail out and start throwing low blows. I've been impressed ever since. How high in weight do you think you will go before your career is over. I'd like to see you fight Berto at 147 one day.
Brandon Rios
(1:14 PM)
We had a phone conference not too long ago and they said if they had an American heavyweight with my guts, there would be an American heavyweight champion. That's what I told Robert. Why not? Pacquiao is an 8-time weight class winner, why not me?
Sam (Pittsburgh)
Your double left hook will be the key. Fans here in Pittsburgh looking forward to another action fight from you. Best wishes.
Brandon Rios
(1:15 PM)
We worked on a lot of different things in the gym. He's an awkward, long fighter. We worked on a lot of different tactics. I'm going to always work on whatever my corner tells me. I'm going to be 100% ready. This has been the best training camp of my life and I feel great.
Brandon Rios
(1:16 PM)
To everybody out there, thank you guys. I love you guys. Thank you for the support. If you're out in Vegas, come out to watch the fight, not just me, but the undercard too, there are going to be some good fights there. If you're at home, buy it, in HD. You can see the real blood coming out in HD.