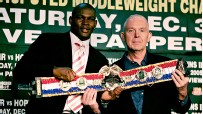 Nigel Collins (R) will be working ESPN's "Friday Night Fights."
Welcome to SportsNation! On Friday, we'll have former Ring Magazine editor-in-chief Nigel Collins stopping by to chat about this weekend's fights.
After nearly 30 years with Ring, Collins now works with ESPN's "Friday Night Fights" crew. This week's main event is Adonis Stevenson vs. Noe Gonzalez in a 12-round, super middleweight bout (9 p.m. ET, ESPN2/ESPN3.com).
Collins can be found Tweeting during the fight: @ESPNFNF.
Send your questions now and join Collins Friday at 2:30 p.m. ET!
More Special Guests: Previous chats | SportsNation
Buzzmaster
(2:34 PM)
Nigel is here!
Greg (VA)
Best division right now?
Nigel Collins
(2:35 PM)
There are a couple of them. The Junior Welterweight division. Easily the worst is the heavyweights. Now a lot of the guys in the lighter divisions moved up to the junior welterweight division. The featherweight is coming on as well.
Paul (Denver)
what does Adonis need to do to win tonight?
Nigel Collins
(2:36 PM)
Well, this is sort of simplistic, but he needs to land his big punches. He's in ther with a guy who's a big puncher. The only time Adonis lost, he lost to a journeyman. He has to land his bombs before the other guy lands his.
Nigel Collins
(2:36 PM)
In a fight between big punchers, the guy with the best chin usually wins.
Carl (CO)
with today's training and dieting, do you think a heavyweight from years gone by could compete with today's fighter?
Nigel Collins
(2:37 PM)
Yes. Especially with the cream of the crop. Joe Louis fought some big guys and knocked them cold. The Klitchskos are big guys. Mike Tyson wasn't that big. That's not that long ago. The most important thing is knowing how to fight. The best from any era could compete today.
Ryan (San Diego)
How do you like Tweeting during fights?
Nigel Collins
(2:37 PM)
I enjoy it because it puts me in close contact with the boxing fans and we can exchange ideas. The instant back and forth is a lot of fun.
Kevin (CT)
Noe....does he had a chance?
Nigel Collins
(2:38 PM)
He does have a chance, because I think he's on a 14 fight winning streak. It's been a long time since he lost and I think Adonis' chin is not the best. But I'd still put my money on Adonis. It should be a fun fight.
Alan (TX)
Will we ever see Pacquiao-Mayweather?
Nigel Collins
(2:39 PM)
I think the shelf life on that fight has expired. I don't think that's a bad thing. I don't think it would be a good fight. Just because you're the two best fighters in the world, doesn't mean it will be a good fight. I have a feeling that Mayweather would do the normal thing, back up and pop a shot. They're both a little past their peak.
Will (LA)
Who are some of the more overrated boxers in your mind?
Nigel Collins
(2:40 PM)
That's a tough one.....Tyson Fury. Great name. He's getting a lot of publicity.
Larry (DC)
Nigel, it's not like Pacman and Floyd are two young chickens and they can afford to wait...by the time they fight will we even care? And if we care, will we get anywhere near the kind of fight we will hype it to be?
Nigel Collins
(2:41 PM)
I think that it's too late for it to be a great fight. Frankly, I'm bored of hearing about it.
Jeff (RI)
Will we see an American heavyweight do well in the next 10 years?
Nigel Collins
(2:42 PM)
Yes. The Klitschko's aren't going to fight forever. Vitali is 40 and he's got a political career ahead of them. Wladimir is 35. What they do they do well, it's just not very exciting.
Evan (FL)
Does Stevenson's experience help him tonight?
Nigel Collins
(2:42 PM)
I think even though he's had fewer fights, he's fought better opposition. He's been fighting better fighters since his lost. He's had been fighters than Gonzalez has.
Peter (DE)
How do you like doing TV now as opposed to magazine work?
Nigel Collins
(2:43 PM)
TV work is always fun. It's sort of a sink or swim situation, whereas you can always go back and rewrite your story. TV pushes you to be on your toes.
Xavior Williams (Highland Sprins, Va)
Do you think Mayweather and Pacquio will ever fight and do think Mayweather is the one to blame for them not fighting yet?
Nigel Collins
(2:44 PM)
I think the two promoters are to blame, equally. Both of them can generate huge amounts of money fighting other people. The jackpot they can get from fighting other people are huge. Fighters don't think that way, but promoters do.
Sam (Boston)
Best pound for pound fighte rin your mind?
Nigel Collins
(2:45 PM)
It changes after every fight Pacquiao and Mayweather have. Right now it's Mayweather, but if he doesn't look good the next time out and Pacquiao does, it will change. You're only as good as your last fight.
Nick (DE)
What are your predictions for this weekends three cards?
Nigel Collins
(2:47 PM)
Jermain Taylor gets another easy win. But I think he's in trouble when he fights a real opponent. I think Abner is a special fighter. Morel is a good boxer, he's hard to fight against, but I don't see that spart of greatness. But I do in Abner. He's someone we'll enjoy for a while.
Dave (NJ)
What fights are you looking forward to?
Nigel Collins
(2:49 PM)
I'm looking forward to the rematch of Berto and Ortiz because the first fight was really a great fight. I'm interested in Hopkins and Dawson. Does Bernard have one great performance left? It's very intriguing, though might not be a great fight. I'm looking forward to the Pacquiao-Bradley fight. It will be more competitive than Mayweather and Cotto.
Nigel Collins
(2:49 PM)
Thanks for the support over the years. Follow me on ESPN Friday Night Fights.