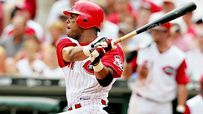 Larkin won a silver medal in the 1984 Olympics.
Welcome to SportsNation! On Friday, we'll have the newest member of the Baseball Hall of Fame, and ESPN MLB analyst, Barry Larkin, stopping by to chat about the MLB season.
Larkin, a 12-time all-star, won the 1995 NL MVP and was a member of the 1990 Cincinnati Reds team that won the World Series.
Larkin played collegiately at Michigan, where his No. 16 is retired. This spring, he is working with the Capital One Cup to help recognize the best Division I college sports program. The Cup comes with $400,000 in scholarships and the winner is announced at the ESPYs in July.
Send your questions now and join Larkin Friday at 2 p.m. ET!
More Special Guests: Previous chats | SportsNation
Buzzmaster
(2:03 PM)
Barry is here!
Tim (DC)
Are the Nationals a Contender or Pretender?
Barry Larkin
(2:05 PM)
I think they are a contender. MLB is a pitcher's league. I love Strasburg, Zimmerson, Gonzalez. They have Brad Lidge with some experience in the bullpen. They have some great arms in the bullpen. They have one of the best leaders in the game in Zimmerson. I love Ankiel. They have some good pieces there. Werth is having a good season so far. And Davey Johnson is a really good manager to play for.
John (Los Angeles)
Hi Barry, big fan of yours. Dee Gordon is off too a tough start, what kind of advice would you give him to help get him going?
Barry Larkin
(2:06 PM)
Just stay consistent in your approach. Young players in the game will struggle. They'll struggle offensively and defensively. You don't want to go away from your basic core principles. You don't want to go away from your approach. You want to stay true to your game. Pete Rose once told me to not change anything in your approach. Do what got you to the big leagues. Any young player will struggle. It's those guys that can stay consistent will see consistent results.
Kevin (MA)
Does working with Capital One Cup bring back memories of your playing days at Michigan?
Barry Larkin
(2:08 PM)
Absolutely it does! I'm really looking forward to being a part of the College World Series again. I remember going out to the CWS and going out to the environment. It will be good to go back and be a part of the Capital One Cup advisory board in that capacity. College was such an important part of my development as a player and as a person. I went to Michigan on a football scholarship, but got redshirted and played baseball my freshman year for the first time and did really well.
Tristan (Santa Barbara)
How about the Dodgers...pretender or contender?
Barry Larkin
(2:10 PM)
Well, I love Kershaw, obviously. I really like Billingsley. They have great arms in the bullpen. Matt Kemp is a beast. Ethier and Kemp, I don't know if they're still leading the league in RBI, but at one point they were 1-2. What's going to have to happen is the guys around those two are going to have to make it happen. Eventually people are not going to pitch to those two. Dee Gordon or whoever is going to have to get on base. Uribe, is he an every day player? We'll have to see. I like the new ownership group, I think it's going to be a place where players will want to go play for Magic. I think it's great for baseball when you have an East Coast presence, as you do. When you have a strong Detroit Tiger team in the Midwest. You have a very strong team in Texas. It balances out very nicely when you have West Coast teams who are relevant and very good. I think MLB likes to see that.
Paul (Miami)
Do you think Epstein and his guys have the Cubs set in the right direction?
Barry Larkin
(2:13 PM)
Well, I look at Starlin Castro as the building block for that team. I like Darwin Barney as well. That's a great start. There will be some down years, but you will start to see some consistency from the Cubs. One thing I don't think people are aware of is it's really difficult to play day games. It's very tough. Then you have to play the night games with the day games. You have to make adjustments when you go home. It's tough playing in Chicago. I can empathize with those guys trying to make the schedule work for those guys. Soriano doesn't get a lot of credit at being a good leader, but he works very hard. He is one of the first guys in the clubhouse and works hard. He is a leader. Dempster is great. Samardzija has upside. Theo has pieces. They haven't won and that will continue for a while. It's just tough to play in Chicago. It's tough to play that kind of schedule. At Wrigley, the field plays tough with the wind. It's all about making adjustments.
Jason (NY)
What do you think of the new and rather eccentric ballpark down in Miami? And is it a concern from the team that they're already having attendance issues?
Barry Larkin
(2:16 PM)
I think it's colorful. They wanted to make it colorful. The home run fish descending piece of art in centerfield. It's nice to see it going off, for a while it was stagnate. The ballpark for me is about the fans' experience. The park itself plays big. The beautiful thing about that park is in the middle of the summer when you had all of those rain delays and that won't be the case any more. That's big. There's nothing worse than as a player having all of those delays and you don't know when to ramp it up and when to sit down and relax. That is one of the toughest things as a player to not know so you can't prepare. The ballpark is about the fan experience. So far, so good.
Alex (Anaheim)
Barry, I remember watching you play at old Busch Stadium as a kid. How much does it mean to be a member of the Hall of Fame?
Barry Larkin
(2:18 PM)
To be quite honest, I was really surprised when the call came. I was told I'd be notified about the call at 1:30pm ET. There is a show about the announcement to the public at 3. 1:30 came and went. 2:30. 2:45. I was resigned that I didn't make it. I got a call at 2:55. I was pleasantly surprised. It really caught me off guard. I remember being stunned. Elated. I felt numb when I was listening to the guy tell me I was elected. It's incredibly humbling. It's very exciting to be considered one of the best players in the history of baseball and be on the same team as Ruth, Robinson, Aaron. I got a chance to speak to so many hall of famers. It's been incredible.
Barry Larkin
(2:18 PM)
Keep your eye on the Capital One Cup at CapitalOneCup.com. Root on your teams.