Chat with Darrell Waltrip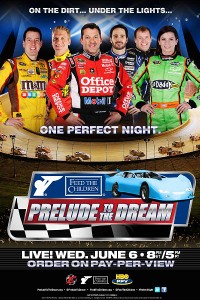 Welcome to SportsNation! On Tuesday, we'll have former NASCAR driver and current analyst Darrell Waltrip stopping by to chat about the upcoming Prelude to the Dream children's charity race.
On June 6, HBO PPV will host coverage of the event starting at 8 p.m. ET/5 p.m. PT on Tony Stewart's dirt track at Eldora Speedway in Rossburg, Ohio. This year's race will benefit the Feed The Children charity.
Fans can stay up-to-date on all of the latest news on the Prelude race on Twitter: @PreludeToDream and Facebook.
Waltrip won 84 races in his career, while capturing three points championships.
Send your questions now and join Waltrip Tuesday at 2 p.m. ET!
More Special Guests: Previous chats | SportsNation
Buzzmaster
(1:59 PM)
DW is here!
Nate C. (Vermont)
Hey DW, big fan of you and the guys on NASCAR on FOX. You guys do better than anybody. Anyway how competitive do the Cup guys get in this race? I know they love to win, but how seriously do they take this race in the aspect of competition?
Darrell Waltrip
(2:00 PM)
Like race drivers always do, they've taken it to another level. In the beginning, they just drove whatever car is availble. But over the last 3-4 years, the drivers have built their own cars for the race. They've made deals with the best dirt car makers. They take it very seriously. Lot of bragging rights.
Shane (Chillicothe, OH)
Darrell, Im a big fan of you I enjoy everything you bring to NASCAR so I just want to say Thank you. My question is would see a day when NASCAR runs a dirt track points race?
Darrell Waltrip
(2:01 PM)
I don't think we will, but I would certainly like it if we did. Dirt track racing is exciting. ARCO runs a couple of races on dirt. Stock cars on dirt would be awesome. I'd love to see it.
James (Rochester, NY)
Even though Jimmie won Hendrick's 200th race, what is your reaction to Jeff Gordon's season so far?
Darrell Waltrip
(2:02 PM)
With 200 wins for Hendrick, Jeff has 85 of those and Jimmie has 56. There are others that have contributed, but those two are the franchise. Jeff is in a funk, but he needs something to happen. Blown engines, cut tires, wrecks. I'm sure this is the most bizarre season he's ever experienced.
Mike (Minnesota)
Has Tony ever asked you to race the Prelude?
Darrell Waltrip
(2:04 PM)
Tony's a pretty smart fella. He made sure I have a job calling the race. I think he made a deal with my wife that he wanted me to be there but not to be there in a car. With that said, I've driven some bizarre things around that track: water truck, monster truck, last year I drove a mini-sprint car that Ray Evernham built, an army vehicle. Every year, it's some new vehicle that I get to drive.
Bad Brad 2 Fan (Milford)
Brad has won 2 races this season and he has some more great tracks coming up do you see him as a future nascar champ and hall of famer and when do you think he will win the cup
Darrell Waltrip
(2:04 PM)
What I've seen so far is feast or famine. They've had some issues that have forced some poor finishes, but they've also had some brilliance. You need to be consistent to win championships. They need to work on that.
James Piccarreto (Rochester, NY)
After 11 races & heading into the all-star race next week, which driver do you think has made the most progress?
Darrell Waltrip
(2:06 PM)
I like the turn around of Denny Hamlin. That's been a good change for Denny. I like where Jimmie Johnson is right now. I think him and Chad have found their stride. The biggest turn around has been Greg Biffle. He's very competitive every week. That's a big change.
Mayra (Chicago)
You have been in NASCAR a long time, is this down turn in sponsorship and viewers cyclical or what does NASCAR need to do to improve it?
Darrell Waltrip
(2:07 PM)
I think it's probably cyclical. We see that it ebbs and flows. It has through the years. I don't think it's anything to panic about. We're no different than anybody else, we're effected by the economy. From a sponsorship standpoint as well as fans traveling to races. I do think NASCAR needs to just be NASCAR, do what they've always done, stay the course and ride with the flow.
Nate C. (Vermont)
What repercussions do you see the Newman-Busch incident having?
Darrell Waltrip
(2:09 PM)
None. It was after the race. Darlington is an agravating place to race. Kurt raced on Friday night. He was having the drive of the race up to a few laps to go. Crew members on pit road are very emotional and after a race is over with, things happen. Something happens and you fall out of the race, it creates turmoil in the pits. That's what it was, two pit crews arguing over what happened in the race. That's just the emotion of being in a race.
Jason (Palo Alto)
of your 84 victories what your favorite win
Darrell Waltrip
(2:10 PM)
A couple stand out with Hendrick. I won the first Coke 600 for Rick. I won the Daytona 500 for Rick. All of the races I drove for Rick are still some of his favorite and mine too, Atlanta, Martinsville. I got 9 wins for him and every one of the were special.
Kevin (CT)
what kind of racing at the prelude?
Darrell Waltrip
(2:11 PM)
If you've never seen the race or attended the race, where 25,000 people show up, it's one of the most fascinating races I get to do all year. To see the world's greatest drivers sling cars around a half mile dirt track is one of the best things I do all year. It catches your eye on how good these guys are in something they do little of: dirt track racing.
Nate C. (Vermont)
Which Junior do you see breaking the winless streak sooner? Earnhardt or Truex?
Darrell Waltrip
(2:12 PM)
Well, I believe it would be Dale Jr. They're right on the cusp of winning a couple of races. Martin has been good, but Dale has been in a more consistent spot to win. They're both right there and ready to win, but I think Dale Jr. has a slight advantage.
Loganojgr20 (Milford)
I thought when joey entered cup he would be the next best thing like a gordon earnhardt or johnson but he hasent lived to his expectations do you see him going to another team if he doesnt get better like hendrick when jeff leaves or a rcr possibly to boost his career
Darrell Waltrip
(2:13 PM)
I think Joey is on the hot seat this year. I think just like you say, he hasn't produced the way you'd expect him to. If you don't produce, something has to change. They've done a lot of things to help him. He seems to have a better attitude this year, but it hasn't produced results.
Rob Reed (Waukee, IA)
Hi,With your experience in a car and the booth, what is the one thing a fan at the race track can watch that doesn't get caught on television or a regular fan may not see? With your experience what racing things do you look at?
Darrell Waltrip
(2:15 PM)
A lot of things. I think all of the activity that goes on in the pits, from the time the green flag comes out until the checkered flag falls. It's a beehive of activity. With the TV, we can only cover so many parts of the race at once. We can only show you the front 1, 2, 3, 4 or part of the track. If you're at the track, you might be able to see another battle taking place, maybe for 19th and 20th place. And the atmosphere, we can't reproduce the sounds and smells. There are some things about racing we can't give you, unless you're there live to experience it.
Darrell Waltrip
(2:17 PM)
I'm looking forward to the Prelude. Danica will be there for the first time. Last year it was Travis Pastrana there for the first time. Jimmie Johnson said a few years ago that it was a training ground for him to win his 5th championship, because driving on dirt you need such control. Tony said that driving on dirt teaches you how to drive a car that's less than perfect. If you can transfer that over to your Cup car, it really helps you.
Buzzmaster
(2:17 PM)
Thanks DW!