Chat with Stephan Verdier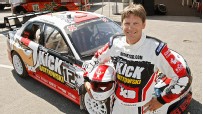 Verdier was an X Games skier before taking on Rallycross.
Welcome to SportsNation! On Monday, X Gamer and Rallycross driver Stephan Verdier stops by to chat about this summer's X Games as well as the start of the Global RallyCross Championships season, which gets underway May 26 at Charlotte Motor Speedway in Charlotte, N.C.
Verdier finished fourth overall in 2011. For the 2012 season, Verdier will be teaming his Rhys Millen Racing No. 12 car with the new Disney XD animated series "Motorcity" as a sponsor. Fans can follow him on Twitter: @StephanVerdier or on his website StephanVerdier.com.
Send your questions now and join Verdier Monday at 3:30 p.m. ET!
More Special Guests: Previous chats | SportsNation
Buzzmaster
(3:19 PM)
Stephan will be here at 3:30 p.m. ET to take your questions!
Alex (LA)
Do you get any cool perks by working with Disney XD?
Stephan Verdier
(3:22 PM)
I got a new set of Mickey Mouse ears for free!
Stephan Verdier
(3:22 PM)
I a guest appearance in the new show Motor City. I will play Terra Deweller. I got a few lines.
Omar (Irvine CA)
What are the biggest differences between your new car vs your old car?
Stephan Verdier
(3:23 PM)
The biggest difference is the new one is built by a professional team. The old one was built by me in my driveway! The Motor City car is 100% done by engineers. Everything works the way its supposed to work. It's a real race car.
Sam (Boston)
How does a guy go from XGames skier to XGames driver?
Stephan Verdier
(3:24 PM)
By getting old! I'm too old to ski. I get hurt too often. When I get hurt skiing, I heal too slow. I have a cage around me now. Skiing teaches you a lot about racing. In skiing, you don't have an engine. Every time you use the brakes, you lose time and speed. You lose your momentum. A lot of skiiers are good drivers. Also, picking a good race line as quickly as possible. In skiing, you have to change your lines. You can pick up a race line very quickly.
Steve (Houston)
You've only been involved in RallyCross for a short period....how do you think you've been able to have such success in a short period of time?
Stephan Verdier
(3:26 PM)
I've been racing for a long time. I think by doing it and starting in open wheel and then in rally and drifting. All of these different disciplines gave me a lot of different tricks to use. RallyCross has a lot of different pieces, like drifting and using your brake to take corners. All of the racing taught me to be good in RallyCross. And the right equipment helps.
Dave (NJ)
What's the worst crash you've been in in a rally car?
Stephan Verdier
(3:28 PM)
In a rally car, I've been lucky and haven't crashed too much. In Rally, I rolled the car and was upside down in a ditch. It was a scary moment. We were stuck upside down. Last year, the first bad crash I missed a corner and went 70 MPH into a guardrail, luckily there was the rail because there was a 1,000 foot cliff. And the other was at the XGames, I missed my braking point and broke two ribs. I passed out. On TV, there was a camera on me and I was going in and out of consciousness and bobbing my head. Everyone was thinking I was upset for crashing.
Peter (RI)
You've got the new sponsor this year with Disney XD....how does something like a new sponsor change or impact things on the trck?
Stephan Verdier
(3:30 PM)
Luckily, Disney XD came out and sponsored me. Monday night on Disney XD, by the way, Motor City. What impacted me was with funding. With the funding, I was about to go to Rhys Millen Racing and get a second seat. I don't have to work on the car at the race, just focus on the race. The other thing is I have a lot of committment to them, to make sure they get the maximum exposure. This year if I don't win, some people might not be happy about it. But one goes with the other, more money is more responsibility. Disney XD has done great for me. I hope to give them back the exposure, starting this weekend.
Amar Sehmi (Yorba Linda CA)
How many times do you use the handbrake on these cars?
Stephan Verdier
(3:31 PM)
That's a good question. More often than people think. We run a all-wheel drive car. When we come into a sharp corner, most of the time it's easier to jump the e-brake and lock the back tires and make the tight turn. It's a really good tool to correct the car, as soon as you understeer, you pop the brake and once you get into the over steer situation, you take it off. I learned that from the drifting.
Derrick (Chicag)
I'm a new fan to the sport, but I love watching you guys race...what is the biggest difference between driving those rallycars and something like the stock cars we see in NASCAR?
Stephan Verdier
(3:33 PM)
The difference is in NASCAR, the cars are close to each other, they're really the same. If you take the body off, they're all the same. Our cars, if you take the shell off, you'll see the shell from the actual car. We have to keep those parts on the car. Our cars are much smaller, like around 2300 pounds and NASCAR is around 4500. We use a 4 cylinder engine, NASCAR has a V8. The biggest difference is we have 4-wheel drive, they are rear wheel drive. I have never driven a NASCAR, but I know that our cars are a little more nimble.
Kevin (Detroit)
You've teamed up with Disney XD in the past....how have you liked working with them?
Stephan Verdier
(3:35 PM)
Yes, the first time I teamed up with them was at the XGames. I think Disney XD is a really good team to work with. It's been nice. It's strange to see Disney in motorsports, but it's a fun company to work with. We all loved Disney when we were kids, but we are all just big kids. They are new in the sport and they love it. When you see the love from the company, it's great. The Motor City cartoon is great. The people working on the show are car enthusiasts. They love everything to do with the car. It's been really fun so far.
Greg (VA)
Since you're working with a Disney animated series, any chance we'll see you do any voice-over work for a show????
Stephan Verdier
(3:37 PM)
No, unfortunately, there is nothing in the plans. But maybe they will want my French voice for cartoons in France. You have to do your voice before they actually do the drawing. The director tells you the scene and you have to do the scene and they draw the character from your voice. Hopefully I do some more. We have some more spots with me and Mike Chelton asking me to do a hairpin with my car and he does it with his car. You see a little interaction with the real world with the cartoon world in Motor City.
Alan (Dallas)
Is there anything different you think we can see from the team this year?
Stephan Verdier
(3:39 PM)
I think last year, the team was the first year. They've been progressing a lot on the development of the car. You'll see us more competitive. We have a new engine. Rhys will drive it for the first couple of races to test it out and then I will get it. They've been working hard on the set up. All together, the car is already faster than it was last year. Between the two of us, you should be able to see improvement on the speed of the team. Rhys and I work together well, so there will be a lot of sharing. Until we get to the main race, then it will be every man for himself.
Chris (NYC)
how do you like the exposure Disney gets you?
Stephan Verdier
(3:40 PM)
It's unbelievable. I'm at ESPN because of them. That's the big thing. You always want sponsors to help you with racing. But with Disney and Motor City, they've been able to get me a lot of exposure. They've given me more than I've given them so far. We're working hard to give each other exposure. It's a perfect relationship.
Stephan Verdier
(3:41 PM)
Thank you for following me. Watch the race on May 26. But first, watch Disney XD tonight for Motor City. It's a cool show. It will be a cool race. Thank you for supporting me.