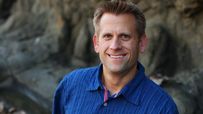 Welcome to SportsNation! On Monday, Sport Science host John Brenkus stops by to chat about his Emmy Award-winning TV show.
Sport Science uncovers sports' biggest myths and mysteries by utilizing cutting-edge technology to measure momentum, friction and the laws of gravity. In addition to his role as host of Sport Science, Brenkus, a Univeristy of Virginia graduate, is also the director and creative director of all BASE Productions programs.
Send your questions now and join Brenkus Monday at 2 p.m. ET!
More Sport Science: Chats | Index | Videos | Blog | @Sport_Science
Buzzmaster
(2:00 PM)
We've got John!
Stev (NYC)
With Tiger winning yesterday, will we see a segment on him leading up to the US Open?
John Brenkus
(2:00 PM)
Indeed.
Alan (New Mexico)
How interesting was it to get one of the best lacrosse players into the lab?
John Brenkus
(2:01 PM)
It was a real thrill for us. Lacrosse is the one sport that I wish I had played as a kid. Working with Paul confirmed for me how amazing of a sport it is. He is an awesome ambassador for a rapidly growing sport. I think 10 years from now, lacrosse will be a much bigger sport.
Derrick (Chicagao)
I've seen that you keep creating segments on some of the NFL rookies...how much fun is it every year to analyze the next crop of NFL stars in the lab?
John Brenkus
(2:02 PM)
It's been a blast! Our tests have really served as a good indicator how NFL ready a player is. Success within the league depends upon a lot of factors. One of them being are you ready to perform at the highest level.
John Brenkus
(2:03 PM)
All of the players we've had in the lab have been pretty amazing and we look forward to many more years of it.
Kevin (DC)
John, I follow you on Twitter and I'm intrigued by your comment about having a SS segment on Charissa Thompson for SportsNation....what kind of things did you do?
John Brenkus
(2:03 PM)
You got to tune in. It's pretty darn funny!
Michael (Jamesburg NJ)
What is the one thing/event/etc. you have always wanted to put in the lab and test?
John Brenkus
(2:04 PM)
We're at 500-plus experiments and there are hundreds more to come. So, yes, there are a lot of things that we would love to do.
Chris (FL)
how much debate goes into creating a final list of segment topics?
John Brenkus
(2:05 PM)
The debating process is an important step in creating a Sport Science segment. The idea by itself needs to survive the spirited debates that go on behind the scenes. It really is survival of the fittest. That way, the segments you see on TV are the best of the best.
Sammy (Boston)
were you aware prior to getting Rabil into the lab how strong and fast lacrosse players were?
John Brenkus
(2:06 PM)
I knew they were amazing athletes, but I didn't realize the degree to which the sport has evolved.
John Brenkus
(2:06 PM)
Paul is an elite athlete playing an amazing game.
Andrew (Los Angeles)
It must be hard to be a goalie in the NHL, like Jonathon Quick. Do you know how much force is hit against a goalie like quick when an attacker slapshots the puck at him? And do you know how much time he has to react to save the puck?
John Brenkus
(2:08 PM)
We have done some goalie segments (in the early days of Sport Science). One interesting fact is that when you see an amazing save by a goalie, frequently it's because they have amazing reflexes as opposed to amazing reaction times.
John Brenkus
(2:08 PM)
The puck is traveling so fast, you don't have time to think about it, reacting takes too long. Go to YouTube and type in "Sport Science goalie."
Dave (Boston)
Were you surprised to see that a lax player can throw it faster than a pitcher?
John Brenkus
(2:09 PM)
I think the most interesting thing is that lacrosse players have evolved so quickly and recently to increase the velocity of the ball.
Terry (WI)
have you ever gotten far along with a segment and realized it won't work? Any examples?
John Brenkus
(2:10 PM)
No. A segment doesn't get to the testing phase unless it's passed all of the hurdles that ensures something like that won't happen.
John (Pittsburgh)
do you go into a segment with an idea of what might happen? How often are you surprised at the results?
John Brenkus
(2:11 PM)
The best part of my job is learning something new every day. So, regardless of the outcome of an experiment, I'm either confirming a suspicion or learning something new. Either way, it's a win.
David (NYC)
Any way to do a segment and test on how Sanchez/Tebow will work?
John Brenkus
(2:12 PM)
I love it!
Person (DC)
will you guys be taking a look at wade's 3 at the end of game 4?
John Brenkus
(2:14 PM)
We have done segments on missed shots, in particular the shot that Butler missed in the NCAA finals against Duke. Wade's shot didn't rise to that level, but we're always on the look out for amazing events, especially the endings of games.
David (NYC)
if i'm not mistaken, you did a segment on Wood's Masters shot a few years back...any chance we get one on the Memorial one?
John Brenkus
(2:14 PM)
Stay tuned....
John Brenkus
(2:15 PM)
More great segments coming your way. Thanks for all of your support!