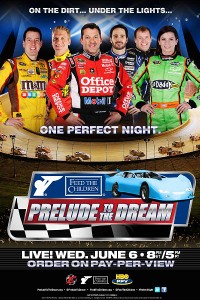 Welcome to SportsNation! On Tuesday, we'll have the driver of NASCAR's No. 14 Chevy Tony Stewart stopping by to chat about Wednesday's Prelude to the Dream children's charity race that he is hosting.
HBO PPV will host coverage of the event starting at 8 p.m. ET/5 p.m. PT on Stewart's dirt track at Eldora Speedway in Rossburg, Ohio. This year's race will benefit the Feed The Children charity.
Fans can stay up-to-date on all of the latest news on the Prelude race on Twitter: @PreludeToDream and Facebook.
After winning this third title in 2011, Stewart currently ranks eighth in the 2012 Sprint Cup standings. He has two wins on the season.
Send your questions now and join Stewart Tuesday at 5:30 p.m. ET!
More Special Guests: Previous chats | SportsNation
Buzzmaster
(5:02 PM)
NASCAR driver Tony Stewart will be here at 5:30 p.m. ET to take your questions!
Buzzmaster
(5:27 PM)
Tony Stewart is here!
Norlene (Endeavor WI)
I work with my local county food bank and I really like that Feed the Children was picked this year for the Prelude. What determined the Charity that was picked this year?
Tony Stewart
(5:30 PM)
Actually, there is a group of us here at the track that decided. We took all of the applicants and Feed the Children was a unanimous decision by all.
Mack (Wilmington DE)
Mr. Stewart! I watched the Prelude for the first time last year and loved it. How does your Eldora crew get all those dirt cars ready for all those drivers?
Tony Stewart
(5:31 PM)
We actually, the first year, we had to call a lot of the car owners to get cars for the drivers. As the years have gone on, it's been a big enough event where a lot of the big car owners and builders are offering their cars.
Vince (Greenville, SC)
What's the weather looking like for the Prelude?
Tony Stewart
(5:32 PM)
Actually, it's supposed to be a clear day all day. There might be a little sprinkle early, which might help us. Then it's out and I'm really happy not to have to worry about weather issues this year.
Gina (Manchester, NJ)
Tony, are you going to start at the back again this year for the main event? It's always fun to see you drive through the field!
Tony Stewart
(5:32 PM)
We'll see. We'll have to check and see how the night's going and make a decision from there.
Teri (North Hollywood, CA)
Hi Tony! Do you enjoy intimidating other driver's? It seems like there are a lot of guys that are truly afraid of you.
Tony Stewart
(5:33 PM)
I think I'm pretty fair to most of those guys, but it's nice if you intimidate them a little bit. I think we all have a lot of respect for each other.
Jim (NY)
Tony, I have been a fan since you came to NASCAR. You started out pretty hot this but seem to be having some trouble lately. Are you making any changes to try to get back in the groove? Thanks
Tony Stewart
(5:34 PM)
Just try to figure out a different package than what we're running right now. You try to make things better through the winter. Some of the thigns that we may have thought were better, may not have worked. We have to figure out how to fix it.
Aaron Gorman (Sheboygan, Wisconsin)
Hey Smoke, I know the Dream this weekend its a Late Model race but have you considered doing the Prelude to the Dream with Sprint Cars?
Tony Stewart
(5:35 PM)
No way. Everybody is busy enough. Especially this week. We have Cup testing tomorrow before we even come here. There would have to be a lot of changes to the cars before they could drive on dirt. The whole concept is to bring drivers to cars they're not used to and see them adapt.
Gary (Indiana)
Smoke, besides yourself who do you think is the favorite this year for the Prelude? And who is the darkhorse? I have mine ordered on Direct TV PPV and will always purchase it. GREAT job Smoke
Tony Stewart
(5:36 PM)
There's too many contenders, to be honest. Austin and Ty Dillon. Bowyer. Kahne. Half of the field, truly could win the race this year. There are guys that have been here in Eldora enough that are figuring it out.
Norlene (Endeavor WI)
I enjoy many forms of racing andI have rented the pay for view for the last 5 yrs to support the charity that is chosen.One of my favorite parts of the event is what Darrell Waltrip will drive. My question is what will it be this year. Thanks I'll be watching :) Norlene
Tony Stewart
(5:36 PM)
No hints. You'll have to wait until tomorrow.
Shane (Chillicothe, Ohio)
Mr. Stewart first want to thank you for what you have brought to Ohio and Eldora. My question is do you ever see where NASCAR may make a dirt race a points race? That would be awesome!
Tony Stewart
(5:37 PM)
I doubt it. I don't think they've ever, in their 60-plus years, have had a dirt race. I dont' see them adding one now.
Tim (El Cajon, CA (JJ Country))
Tony! Just wondering if you have given Danica any tips or practice time on your dirt track?!!?
Tony Stewart
(5:37 PM)
She hasn't practiced, but I've got Josh Richards the Late Models champion helping her out this week. She has the best Late Model teacher you can find. She should be in good shape.
Jim (NY)
Your press conference at Dega was great. What did the other drivers think of it?
Tony Stewart
(5:38 PM)
Everybody just thought it was funny. It was a frustrating day, so I wasn't being very serious about anything. The drivers and crews came up the next week and thoguht it was funny.
Jody (Auburn, AL)
You do a lot of Sprint Car racing. Does that kind of racing, and the experience you'll get in the Prelude To The Dream, help you in NASCAR?
Tony Stewart
(5:39 PM)
Probably what gives me an edge at Eldora is that I race here so much. I think some other guys have more laps here than I do even.
Justin (Mt Airy, NC )
How are the drivers selected that will race in this race? Or any of them ask to compete or do that simply volunteer? Great race for great cause by the way!
Tony Stewart
(5:40 PM)
We've had guys asking for the last 5 years. We send out invites to the guys from the year before. Guys that can't make it because of scheduling conflicts let us know and then we go out to the guys who have asked to participate.
Curt (Indianapolis)
How has Tony Kanaan improved since he first ran the Prelude To The Dream in 2010?
Tony Stewart
(5:41 PM)
Quite a bit. He is one of the guys that I think has been a lot of fun to watch the last few years. He had never driven anything like this on a track like this. To see him last year was really impresssive. That's the fun part of this event, seeing guys who don't drive cars like this and see how they progress.
justin ousley (warsaw, indiana)
Hey smoke! What are some fun pre-race activities for the prelude tomorrow
Tony Stewart
(5:42 PM)
The hard part, we're all going to try to get here on time. We have the Pocono test, so it will be a big challenge to get us all from there to the airport. Once we land here, get everyone to the track and ready the cars.
Sherrie (NC)
Tony, do you forsee the field for the Prelude becoming way bigger then what it is at this point. I see that some drivers from years past are not there this year.
Tony Stewart
(5:42 PM)
I'll be honest, I don't think it would ever get this big. With that, who knows how much larger it can get. I'm very grateful to all of the drivers and fans, they've made it what it is.
Ed (Columbus.Ohio)
Cars gassed up non-perishables in the car ready to shoot up to Eldora in the morning!! How did this partnership with Feed the Children come about or why did you choose this Charity to support?
Tony Stewart
(5:43 PM)
I wasn't the first one to see their application. The hardest part of the event is picking the charity. There are a lot of them out there that deserve consideration. When I heard that stat that one out of every five kids go to bed hungry every night, that's not something I think everyone is aware of. It's a great charity and it helps bring awareness.
Teri (North Hollywood, CA)
How has being an owner/driver changed you?
Tony Stewart
(5:45 PM)
It's been a lot more work for sure. It's just a lot more committments with our time. You don't get any extra time. They don't add days to the year for us. It's fun to get through this process and realize how many good people we have. It's neat to see the people that can help pick up the loose ends and help you get through it.
Jerry L. (Cinton, Iowa)
Two things, after the past two weeks, does the Prelude come at a good time to give you a chance to step away from the Cup team and also, I will be attending my 1st Dream this weekend and is there anything about the track that I should know, food, things to do, etc. Thanks
Tony Stewart
(5:45 PM)
I think so. I think it always has in the past. This year with the test, it makes it a very tough week. It makes me appreciative of the guys that are coming. It makes me very very proud that the guys have all said they're still coming.
Tony Stewart
(5:46 PM)
Thanks for all of your support. I you haven't ordered it yet, you dont' have to have HBO to get it, just check with your local provider, contact them to find out how to get it. There are still tickets available as well. Come have some fun with us.