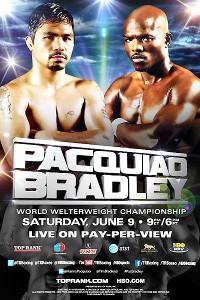 Welcome to SportsNation! On Wednesday, we're going inside the boxing ring when boxing great Manny Pacquiao stops by to chat about his WBO welterweight title fight on Saturday.
Pacquiao (54-3-2, 38 KO) takes on Timothy Bradley (28-0, 12 KO) in Pacquiao's fourth defense of his belt in the last three years. The fight will be live from the MGM Grand in Las Vegas Saturday at 9 p.m. ET/6 p.m. PT on HBO PPV.
Pacquiao hasn't lost in 7 years, winning 15 fights during that time. He is the first fighter to win world titles in eight different weight classes. In the lead up to this fight, he's been sharing his thoughts on his career with ESPN.com.
Send your questions now and join Pacquiao Wednesday at 2 p.m. ET!
More Special Guests: Previous chats | SportsNation
Buzzmaster
(1:46 PM)
Boxing great Manny Pacquiao will be here at the top of the hour to take your questions!
Buzzmaster
(2:04 PM)
Manny's here! Let's roll!
Nathan (Bay Area, CA)
Bradley is a relentless and durable fighter who will just keep coming. Are you preparing for a hard 12 round fight?
Manny Pacquiao
(2:06 PM)
Yes. I always prepare for a 12 round fight. Because you never know what type of fight will happen. Also, I like the style of somebody that comes forward, like Hatton, like Cotto and Margarito.
Chris (Austin, TX)
When Freddie Roach talks trash and predicts an easy fight, it seems to make the audience expect a knockout. Does that add pressure on you to chase your opponents down, making you more predictable by your opponent?
Manny Pacquiao
(2:07 PM)
Coach, my master, likes to talk for me. I never predict anything. It's my job just to prepare and be ready. My coach he has his own opinion all of the time. It motivates me, because I like to show a good fight. I want my coach to be proud of me.
Stuart (Englewood, NJ)
Have you altered your stance or position to avoid a potential Bradley headbutt?
Manny Pacquiao
(2:07 PM)
We work on different things in the gym. I like to listen to Freddie. He's someone that works on the strategy with Fernandez.
jay (louisville ky)
How was training in this camp?
Manny Pacquiao
(2:08 PM)
It was really good. It was peaceful. Very different from my others. Just focused on the fight.
Jon Ordaniel (San Diego, CA)
Hi Manny, I am a big fan of yours and am looking forward to your upcoming bout w/ Tim Bradley. I was wondering who will be walking you to the ring Saturday? Is it going to be Justin Bieber?
Manny Pacquiao
(2:08 PM)
No. Not that I know of. I like to just go up there with my team. My team has been there with me throughout. They're very supportive and very very loyal.
Ralph (Bergenfield, New Jersey)
Are you worried about Timothy Bradley's headbutt tactics?
Manny Pacquiao
(2:09 PM)
No. It's part of boxing. You just have to prepare for the best Tim Bradley. We worked on different things in the gym and for different styles of opponents. I don't think Bradley will headbutt on purpose.
Richard (santa monica)
Manny, do you ever see yourself challenging for a middleweight title?
Manny Pacquiao
(2:10 PM)
That's a little too heavy. Even now, I am still trying to gain weight for my 145 fight.
Roscoe gray (North Hollywood)
Manny Pacquiao who do you think has more speed you or Roy Jones?
Manny Pacquiao
(2:11 PM)
Roy Jones is one of my idols. He was much heavier than me in his prime. I don't know.
christian (new york city)
What is your favorite Filipino meal when you are not in training?
Manny Pacquiao
(2:11 PM)
I eat very little when I'm not training, just because I don't like to eat heavy. I eat the same foods. I like adobo and beef soup.
Aaron (Curtis)
What do you think will be the most difficult aspect of fighting Tim Bradley?
Manny Pacquiao
(2:12 PM)
I think he's hungry. He's motivated. He's young. Those factors are very important in this fight. But we prepared. We are 100% conditioned and we are ready.
Andy (Houston)
How many fights do you have left? Do you anticipate moving up andy weight classes?
Manny Pacquiao
(2:13 PM)
I like fighting. So, I think I will be fighting a little bit more. I really enjoy it. It's my job. I'm just having fun now.
the Donald (palm beach fla)
We all believe you can beat Mayweather. Do you ever get sick of him ducking you?
Manny Pacquiao
(2:13 PM)
I wish him the best. God bless him. I hope that we can fight some day soon.
Scott (Northglenn, CO)
What's the hardest part of your training regimen?
Manny Pacquiao
(2:15 PM)
Nothing is very difficult or hard. The hardest part is doing going to the gym. I do about 2,000 sit ups a day and stay in the gym 3-4 hours.
ethan royce (las vegas)
do you think the cramps on your legs will bother you in this fight?
Manny Pacquiao
(2:15 PM)
My legs are good this time. I worked on different things to prepare. We're OK.
Duane (Victoria)
When was the last time that you felt fear before a fight? Thank you.
Manny Pacquiao
(2:15 PM)
Never.
Varad Deshmukh (Columbus, Ohio)
Can you tell us a way that your refound faith has impacted your training in a positive way?
Manny Pacquiao
(2:16 PM)
It's more peaceful. The focus is really just on my priority of God. After that, it's boxing and nothing else.
Richie (Bronx NY)
how many miles do you normally run in morning?
Manny Pacquiao
(2:17 PM)
We really don't count how many miles or kilometers I run. But I run at least 35-45 minutes per day.
Jacko C (England , United Kingdom)
out of all the opponants you have faught. who was the toughest? strongest and the hardest puncher ?
Manny Pacquiao
(2:18 PM)
There are many. Marquez is a tough fighter. Morales was very tough. I fought the legend De La Hoya. Margarito. Cotto. Different styles. One of the toughest will be Tim Bradley, because he's young and hungry. He's undefeated.
Buzzmaster
(2:18 PM)
Thanks for chatting Manny!