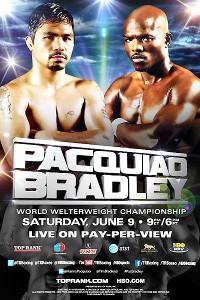 Welcome to SportsNation! On Thursday, boxing trainer Freddie Roach will stop by to chat about Saturday's Manny Pacquiao-Timothy Bradley fight.
Roach currently trains Pacquiao (54-3-2, 38 KO), who is set to make the fourth defense of his WBO welterweight title in the last three years against the undefeated Bradley (28-0, 12 KO). Pacquiao has won titles in a boxing-record eight different weight classes. The MGM Grand in Las Vegas will host the bout Saturday at 9 p.m. ET/6 p.m. PT on HBO PPV.
Roach, a Massachusetts native, won the trainer of the year award in 2003, 2006, 2008 and 2009. As a professional boxer, Roach went 39-15 before retiring in 1986.
Send your questions and join Roach Thursday at 12:30 p.m. ET!
More Special Guests: Previous chats | SportsNation
Buzzmaster
(12:11 PM)
Manny Pacquiao's trainer Freddie Roach will be here at 12:30 p.m. ET!
Buzzmaster
(12:33 PM)
Freddie is here!
Jeff (Colorado)
Saturday Night what will be the biggest key for Manny to ensure victory?
Freddie Roach
(12:33 PM)
I think the biggest key will be his focus. He's 100% there. We have no distractions right now. His mind is in the right place. We had a great training camp.
john h (augusta ga)
Congrats on the hall induction Freddie. Great job. How has the fight atmosphere been this week? Seems from a public eye perspective it seems quiet?
Freddie Roach
(12:34 PM)
The buzz is starting to come. People are coming out. It's not as big as the Marquez fight, but it's a good showing so far.
Stuart (Englewood, NJ)
Is Bradley's use of his head a concern?
Freddie Roach
(12:34 PM)
100% yes. We are very concerned about that. He does come with his head first. It's a concern, but it's something we've been working on staying away from.
Joe (Pittsburgh)
How difficult has it been to manage training 2 top boxers (Pac and Julio Jr) when they both have big fights in consecutive weekends? Add Amir Khan to that mix and I'm sure your time is extremely limited.
Freddie Roach
(12:35 PM)
It's been a little bit difficult. But Julio chose to go with one of my assistants until I got to Vegas. It's been long days, I train Manny at 2, Amir at 4 and Julio at 8, I get home at 11.
Silva (San Diego)
Hi Freddie, What do you say to those who claim Manny has lost a step?
Freddie Roach
(12:36 PM)
Seeing the last fight, I can see how they might say that. But that was totally distractions. We don't have those any more. We'll prove how good he is Saturday night.
Jeff (Colorado)
What does it mean to you to be inducted into the Boxing Hall Of Fame?
Freddie Roach
(12:36 PM)
It's a great honor. I had to rent a plane to get there on time. I had to spend some money. I'm pretty cheap. But it was nice to be there. I'm really excited.
Jaime (RGV TX)
Can Bradley match Manny's speed?
Freddie Roach
(12:37 PM)
No. Everyone's telling me he has this speed. If you watch Bradley at 147, he doesn't have the speed. He has it at 140. We're going to overwhelm him at 147 with speed and power.
Alaa (Israel)
Hey Freddie,In his three fights against Marquez, Pacquiao showed that he is extremely vulnerable to counterpunches as he tends to come forward. Are you worried that Bradley might follow Marquez blueprint on Saturday night and counterpunch Paquiao? And have you prepared Pacquiao for fighting a counter puncher?
Freddie Roach
(12:38 PM)
I think Bradley is going to come at us, but Manny thinks he's going to run. If he runs, that will pose some problems. But nothing to change the outcome at all.
Matt (Chicago)
What are Bradley's greatest strengths that Manny has to watch out for?
Freddie Roach
(12:38 PM)
He's a tough guy. He's durable. He has a good chin, but good chin's don't win fights.
Mike O (Gilbert az)
Will Manny call out Floyd after Saturdays victory?
Freddie Roach
(12:39 PM)
Doubtful. Manny's just not that type of guy. We would love to fight Mayweather, but it's not in his character to call people out. I will though.
Craig (Sarasota)
Good morning Mr. Roach, do you have a good cutman? I really believe that Bradley is the worst headbutting fighter in the world.
Freddie Roach
(12:39 PM)
Yeah, we have Miguel. We are well prepared and we have one of the best cutmen in the world. There will be no interfering with whose job is whose.
Lou (NJ)
Hi master Roach congrats on HOF by the way, does Manny really having calves issue lately? If he does what's the problem?
Freddie Roach
(12:40 PM)
We seem to have taken care of the cramping problems. We haven't had any so far. He gave up basketball, that was a new part of him getting rid of distractions. He thought he was doing too much. It hasn't happened once in training camp. It looks like we're on the right track, but you never know.
ryan (phil)
would the right had be more effective than the left hand this time?
Freddie Roach
(12:41 PM)
Yeah, both hands are going to be effective with this guy, I feel. A guy that comes in head first is a target and we'll try to keep it as a target. When he comes in, on the counterpunch, bang it up. That's how we're going to knock him out.
Kerem (London)
Who would win if pacquiao & khan had a fight
Freddie Roach
(12:42 PM)
I hear a lot of rumors of people calling people out and so forth, but they're good friends. I don't think they'd fight.
Joydeep (Philippines)
Would you say Bradleys best performance was againt Peterson and is that the kind of Bradley you expect to face this Saturday?
Freddie Roach
(12:43 PM)
I think that was his best fight but that was at 140. I think he's much more muscular and slower at 147. I expect his best, but we're ready.
Alaa Jubran (Israel)
Hi Freddie, Do you think Pacquiao's religious awakening can negatively affect his killer instinct in the fight against Bradley on Saturday night?
Freddie Roach
(12:44 PM)
No. He's always been a compassionate person. He knows after the last fight that he has to be aggressive in this fight. It won't slow him up at all.
Jeff (Colorado)
Timothy Bradley says he plans on isolating Pacquiao, how do you and Manny plan on countering that?
Freddie Roach
(12:44 PM)
How can he isolate Manny with his speed? He doesn't have the tools.
Charles (Ogden, Utah)
Nine years ago at the time of the first Barrera fight could you have imagined Manny being where he is today?
Freddie Roach
(12:45 PM)
No. That was a great win. It was the fight that put us on the map. To have 8 world titles and be here, never in a million years would anyone have thought that.
Aaron (MI)
Is Mike Tyson the hardest puncher you ever trained? If not, who is?
Freddie Roach
(12:45 PM)
Mike Tyson and Vladimir. Vladimir has bigger size. Mike is faster and harder yes.
Eugene (Denver)
If Manny doesnt get to fight Floyd after this fight who do you see or would like to see him fighting next?
Freddie Roach
(12:46 PM)
Mayweather is the guy we would want. If that doesn't happen, we're not going to sit around and wait. I would like to see him fight Victor Ortiz or some of the younger guys coming up. Bob wants Marquez, but I don't see why we'd do that fight. WE've already beat him twice.
Mike (Gilbert Az)
Does Bradley have the footspeed to run from Manny?
Freddie Roach
(12:47 PM)
No. He has size 11.5 shoes. We'll keep that clumsy guy at bay. People say he might run, but I say he might walk backwards, but he won't be hard to find.
Mike (Houston)
Manny has his family with him for this fight. Has this improved his training mentally at all?
Freddie Roach
(12:47 PM)
It's always good when the family is along. They're in a good place. Him and his wife are doing well with the bible study. I don't think the kids are into boxing. Manny's in a good place right now.
Freddie Roach
(12:48 PM)
Thanks a lot for your support. Don't miss this one, it could end quick!