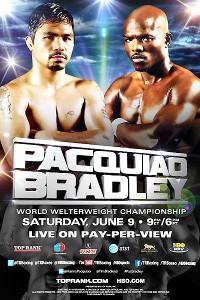 Welcome to SportsNation! On Friday, legendary boxer, and HBO fight analyst, Roy Jones Jr. stops by to chat about Saturday night's fight between Manny Pacquiao and Timothy Bradley.
Pacquiao (54-3-2, 38 KO) takes on Bradley (28-0, 12 KO) in Pacquiao's fourth defense of his WBO welterweight belt in the last three years. The fight will be live from the MGM Grand in Las Vegas Saturday at 9 p.m. ET/6 p.m. PT on HBO PPV.
Jones (55-8) dominated the super middleweight and light heavyweight divisions for years. He made 13 successful light heavyweight title defenses over six years and over a two-year period defended his super middleweight title seven times.
Send your questions now and join Jones Jr. Friday at 2 p.m. ET!
More Special Guests: Previous chats | SportsNation
Buzzmaster
(1:56 PM)
Roy Jones Jr. will be here at the top of the hour to take your questions!
Buzzmaster
(2:00 PM)
Roy is here!
Jeff (Colorado)
What is Bradleys biggest key to victory Saturday night?
Roy Jones Jr.
(2:01 PM)
The head that he uses so well.
Jeff (Colorado)
Bradley often times comes in a little unbalanced with his head low, what punch or strategy can Pacquiao use to make Bradley pay for that?
Roy Jones Jr.
(2:01 PM)
He has to use the uppercut a lot and open his hands up.
William Ford (Dallas, Tx)
Roy huge fan, how has training camp being going? Are you still training with Tom Yankello? Lastly, after you become cruiserweight champion do you have a desire to fight Tarver again or move up to heavyweight or call it a career?God Bless
Roy Jones Jr.
(2:01 PM)
My training camp is going really good. I feel wonderful.
Matt (VA)
We've seen Bradley go down against Holt. Do you like his chances of getting up if Manny puts him down?
Roy Jones Jr.
(2:02 PM)
Yeah, I do like his chances to get back up. He might have to get back up, because Manny is one good puncher. But I do like his chances to get back up.
CJ
how's the buzz?
Roy Jones Jr.
(2:02 PM)
It's wonderful like always.
Tom (NM)
Roy, any Johnny Tapia stories you'd like to share with us?
Roy Jones Jr.
(2:03 PM)
I was a fan. I don't have many stories of him but I was definitely a fan.
Bigtomb (Mauldin,South Carolina)
wasup Roy,I noticed Bradley packed on alot of muscle for this fight . Isnt that going to take some of his speed away. Hes going to need all the quickness he can get to beat Pacman ..P.S. love the Body by Vi shakes
Roy Jones Jr.
(2:03 PM)
Yeah, it will normally, but he's not one of the fastest guys to begin with. Speed wasn't one of his ways to victory.
Rigel V. (Mesa, AZ)
Do you think at this point of Manny's career that he has enough motivation continue fighting for another couple of years?
Roy Jones Jr.
(2:04 PM)
Most definitely.
josh (brooklyn)
hey roy, do you really think bradley is going to trouble pacquiao? or are we going to see another dominating performance by the pacman? i am a huge huge fan good luck in your next fight!
Roy Jones Jr.
(2:04 PM)
I think he will cause him some trouble. I think he will cause him all types of problems.
Tomuhs (calgary)
Do you think the key to this fight lies in Pac's ability to force Timmy to fight backwards?
Roy Jones Jr.
(2:04 PM)
Yup.
Mack T (Milwaukee)
Is Mayweather Scared to Fight Pacquiao? What do u think he has been ducking Pac for some years now! ps you should Train Nonito Donaire he is a lil RRJ With some of your Polish WATCH OUT!!!
Roy Jones Jr.
(2:05 PM)
No, I don't think he's scared. Quite frankly, no fighter is scared to fight anybody. We become fighters to fight. I think it's more the fact that he can make so much money to fight other people and not have to worry about losing his undefeated record, so why fight him? Not that that is the right thing to do, but why do it.
Jeff (Colorado)
Obviously Roy your stepping back in the ring in just a short few weeks, how do you respond to critics who say you should retire?
Roy Jones Jr.
(2:06 PM)
I tell them that they don't know the talent that I possess. They didn't tell me when to start boxing, so why should they tell me when to stop?
Kumar W (Phoenix)
Who do you thnk will win he fight tomorrow? And Who are you picking between Mayweather and Pac Man?
Roy Jones Jr.
(2:07 PM)
It's a tough call. It's a tough one to call. I'm really concerned about Pacquiao not taking Bradley as seriously as he should. He's a tough opponent and I don't know if Pacquiao is taking him like that.
Cesar Romero (San Francisco, CA)
Roy, I just wanna hear "And new Cruiserweight champion of the woooorld, Roy Jones Jr." so bad hahaha. Good luck on the 30th. I vow I will somehow find a way to watch Polish PPV
Roy Jones Jr.
(2:08 PM)
Neither can I! Beating this guy gives me the chance to have that title shot. The winner of our fight gets that chance and I can't wait.
Mike (Los Angeles)
How was your biggest Victory in your career?
Roy Jones Jr.
(2:08 PM)
For me, the Reiss victory.
Lamar (Oakland)
Roy, have you checked out my boy Andre Ward fight yet? Still undefeated and olympic gold medal winner.
Roy Jones Jr.
(2:09 PM)
Yes sir. He's nothing but the truth. I knew that from the beginning of his career. I got him out of a deal. He's the truth. I knew that when he turned pro.
Mike (Los Angeles)
Do you think that the biggest mistake you've taken was lose the muscle in the HW division (not fight Holyfield) to go down to 175 then fighting Tarver?
Roy Jones Jr.
(2:09 PM)
That was a tough move, but it was one I had to make.
Darryl Smith (Anaheim, Ca)
Would you ever consider a fourth fight with Tarver if he were Cruiser weight champ of the world and he open to the idea.
Roy Jones Jr.
(2:10 PM)
Oh yeah, most definitely.
Matt (Chicago)
How do you see the Pacquiao/Bradley fight going?
Roy Jones Jr.
(2:10 PM)
In the early rounds, I have concern for Bradley, but in the late rounds, I have more concern for Pacquiao.
Roscoe Gray (North Hollywood)
Hi Roy I still watch all your fight and would like to know how did you get such fast hand speed?
Roy Jones Jr.
(2:10 PM)
A lot of technique and a lot of gifts from God.
Matt (Chicago)
Are you planning on having any more fights?
Roy Jones Jr.
(2:11 PM)
Yeah, after I win the title, I may unify. There was a heavyweight guy that told me yesterday that he wants to fight me. So maybe that too, if I can feel comfortable.
Mike (Los Angeles)
What are your pics for tomorrow? Pac/Bradley, Jones/Baily, Arce/?
Roy Jones Jr.
(2:12 PM)
Jones-Baily will be a very good fight. One I can't wait to see. I'm excited for that.
KDB (England)
Any chance fighting in England any time soon?
Roy Jones Jr.
(2:12 PM)
Yes there is. I've been looking for a chance to fight in England right now. So it's very much a possibility.
Tom (FL)
Roy, after you win the title, you need to head on over to England and shut David Haye up.
Roy Jones Jr.
(2:13 PM)
I think that might be a good idea.
Matt (Chicago)
Do you think the Pacquiao/Mayweather fight will ever happen? If so, how do you see that fight going?
Roy Jones Jr.
(2:14 PM)
Really, that's a tough one to call. Before the Cotto fight, I thought Mayweather might have to put him off easily. But Cotto showed that Floyd could be hit with a straight left hand. That's Pacquiao's best punch.
Roy Jones Jr.
(2:15 PM)
Thank you for all of your support. I understand your concerns about sticking around boxing for too long. But I love myself too much to stick around too long. So, if you see me in the ring, you should know that I will be OK.