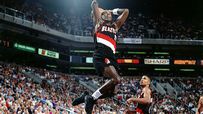 Drexler reunited in the NBA with former college teammate Hakeem Olajuwon from 1995-98.
Welcome to SportsNation! On Wednesday, we'll have an all-time NBA great Clyde Drexler stopping by to chat about the NBA Finals, as well as the 20th anniversary of the 1992 U.S. Olympic Dream Team, which will be celebrated Wednesday night on NBA TV in the documentary "The Dream Team."
Drexler, a member of the 1996 NBA's 50th Anniversary Team, was elected to the Pro Basketball Hall of Fame in 2004, following his 15-year career. He was a 10-time all-star and won the 1994-95 NBA championship as a member of the Houston Rockets. His 22,195 points ranks 30th all-time in NBA/ABA history.
Send your questions now and join Drexler Wednesday at 11:45 a.m. ET!
More Special Guests: Previous chats | SportsNation
Buzzmaster
(11:32 AM)
Clyde's here early!
Jeff (Miami)
What was it like reliving your time with the Dream Team through the making of this documentary?
Clyde Drexler
(11:33 AM)
It was phenomenal. Those are great moments in our past. To relive it is even more spectacular because time has passed and you realized what you were able to do.
Danny (Kenosha, WI)
Who has a better big 3 Heat or Thunder?
Clyde Drexler
(11:36 AM)
I think they're both pretty potent. The Heat have three all-stars. Harden has never played on an all-star team, I'll go with the Heat right now.
Brian (NJ)
Was the infamous "shrug" game by MJ the greatest performance you've ever seen in a game?
Clyde Drexler
(11:37 AM)
Anything MJ did was phenomenal.
Nick (Oz)
How many superstar scorers do you think could thrive next to a point like Westbrook? Durant's ability to take over a game without needing to dominate the ball is incredible.
Clyde Drexler
(11:40 AM)
I think Westbrook is a top three point guard in the game, probably a bigger piece to the puzzle than Durant is. I think he's phenomenal, highly underrated and just a great overall guard.
Steve (DC)
Best memory of your time on the Dream Team?
Clyde Drexler
(11:40 AM)
My best memory just being on that team with those players. Just realizing that was a special group of guys, and being a part of the greatest team ever assembled.
Alex (Anaheim)
How does playing in the Olympics compare to playing in the NBA?
Clyde Drexler
(11:41 AM)
Both very special. Both unique opportunities. Loved them equally. Very hard to decide which is more special than the other.
Luigi (MK)
If you could choose from any player you played against, who is Kevin Durant most comparable to?
Clyde Drexler
(11:42 AM)
George Gervin is the guy that I would choose. Bob McAdoo would be another. Maybe Alex English, but he doesn't play with the athleticism, but he certainly had the jumpers.
Deven (Buffalo, NY)
What are your thoughts on flopping in today's game? Should it be noticed?
Clyde Drexler
(11:43 AM)
I think if anyone flops, it should be a technical. Keep the game pure. Don't let the floppers choose how the game plays out. It should be a technical.
Clyde Drexler
(11:43 AM)
It makes it difficult for the officials to determine what happened. You can bait the official into making a bad call. If I was an official and I found out he was flopping after I gave him a call, I would never give him another call.
Brian Baker (Waldorf, MD)
Clyde, you are indeed my all-time favorite player. I followed you from the University of Houston, Phi Slamma Jamma Days thru Portland and Houston. I was overjoyed when you won the title in 1995 with the Dream only wishing you had accomplished that feat with the Trailblazers earlier in your career. I loved the way you played the game and I truly appreciate what you brought to the game of basketball. My question for you is as I watch Lebron James, I just can't understand why he does not continue to take it to the basket every opportunity he gets. No one in the league can stop him. I don't see why he settles for fade away jumpers when he could easily get a better shot going to the basket. What is your take on that?
Clyde Drexler
(11:44 AM)
I think LeBron is phenomenal, first of all. It's hard to go to the basket every time, because they'll have 3-4 big guys waiting for him. You have to mix it up. I think he does a good job of that. But I think he can do a good job of getting to the basket, especially in the fourth quarter.
Barry (Alkire)
Who was the best player you ever played with college or pro?
Clyde Drexler
(11:45 AM)
Entire career? The best player? I've guarded a lot of great players from Julius Erving to Larry Bird to Magic Johnson to Michael Jordan. You pick. They will all embarrass you on a nightly occasion.
Travis H. (MI)
Do you think Isiah Thomas should have been on the Dream Team?
Clyde Drexler
(11:46 AM)
I do think he should have been on the team. He deserved to be on the team. I did not have a problem with him. Players should not be able to choose which players are on the team.
Abhi Aggarwal (Houston)
Hello, Mr. Drexler. I am a huge fan of your game and announcing. Who do you think will win the NBA finals?
Clyde Drexler
(11:46 AM)
I have the Heat in six.
Steve (Chicago)
how much of a hard time did you guys give Charles for the elbow?
Clyde Drexler
(11:47 AM)
He's a physical guy. He's a power forward. His job was to control the physicality. He's going to do what he wants.
Leonard (Haiti)
can the Heat beat the Thunder
Clyde Drexler
(11:48 AM)
The Heat will have to close the interior of their defense, keep Westbrook out of the paint. They'll have to post up Bosh. They need a postup game to beat the Thunder. They have legit big guys coming off the bench.
Jones (Seattle)
Would you want to play in this era of basketball(2003-present) opposed to your time?
Clyde Drexler
(11:49 AM)
I really enjoyed the era I played in. Obviously the money would be better in this era. In this era in the era of no hand checking, my eyes light up when I think about that. I drove to the basket more than any player in the history of the game, probably. Woooooh. I would have loved it.
Hanson (DC)
What exactly went wrong with Spurs? They looked klike a legend in the making and poof they are gone.
Clyde Drexler
(11:50 AM)
The Spurs got old overnight. I think everyone was disappointed, because they were playing so well until those last four games. But you have to love Tony Parker.
McStyles (portland)
Clyde, what was your rookie year like/ was it what you were expecting? harder, easier/
Clyde Drexler
(11:51 AM)
My rookie year was much harder. In the NBA, I realized, everyone plays hard every play. They're all super athletes and they all know what they're doing. Everyone there was a good athlete.
Clyde Drexler
(11:53 AM)
I want to thank the fans for being there. Don't forget to tune in tonight 9 p.m. ET The Dream Team presented by Right Guard on NBA TV. You will see something very special in this documentary. And NBA fans will be treated in the best NBA Finals series in the last 10 years, I think. You have the best threesome in the league in both conferences, both in their primes. These are teams that can dominate for the next 5-10 years. It's a treat.