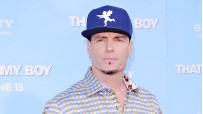 In addition to rapping and acting, Ice hosts "The Vanilla Ice Project" on DIY.
Welcome to SportsNation! On Wednesday, rapper/actor Vanilla Ice stops by to chat about his latest project, the Adam Sandler movie "That's My Boy" that hits theaters Friday.
Ice, @vanillaice, plays the brother of the dimwitted Donny Berger (Sandler). Berger fathers a son, with his teacher, in his early teens, Han Solo Berger (Andy Samberg), and raises him as a single parent until Han moves out at 18. Now, 12 years later, Donny needs to pay off the IRS or face jail time, while Han is a wealthy businessman who gets a surprise on the eve of his wedding when his uninvited father shows up, hoping to get some long lost father-son time.
Send your questions now and join Vanilla Ice Wednesday at 12:45 p.m. ET!
More Special Guests: Previous chats | SportsNation
Buzzmaster
(12:42 PM)
Ice should be joining us momentarily! Keep your questions coming!
Rob
(12:52 PM)
Hey everyone... I'm ready for your questions.
Rob (Oakland)
What do you get the most enjoyment out of these days .. music, acting for real estate?
Rob
(12:53 PM)
It's all one big adventure. Get in where you fit in. They are all fun to me. Music is my life. That's what led to everything else. I discovered the real estate thing and I had a total blast doing the movie.
Gerry (Springfield, Mass)
Did you get to meet Rex Ryan during filming for the movie?
Rob
(12:54 PM)
I met him and had a long talk with him. He's great. I love his style. He's hilarous in the movie. He has a great line about Tom Brady. Who would have known he was such a funny guy.
T-Mack (Jersey)
Google says your net worth is $20 mill. That about right?
Rob
(12:55 PM)
I'm not a guy that likes to boast and brag. I'll leave that to the rappers today. I'm fine. I've made good investments.
Timo (San Diego)
More exciting to work with Adam Sandler or Erin Andrews?
Rob
(12:56 PM)
Adam! But, Erin on another note was amazing and awesome and funny to work with. Such a sweetheart.
Marty Banks (Boston)
Is it easier or harder to play yourself in a movie?
Rob
(12:56 PM)
It's easy. I get to smile and laugh at it. I can make peace with it. It's all about the Ninja Turtles now.
Jason (Orlando)
Who should be on the Mt. Rushmore of rap?
Rob
(12:57 PM)
Not egotistical so not myself. Biggie, Tupac, Jay-Z and Lil Wayne.
Kellen D. (Baltimore)
It seems like you turn up at a lot of events. What's on your bucket list of "things to do" in the future?
Rob
(12:58 PM)
I take life day by day. I always expect the unexpected. I keep my hustle tight. I try not to think too much about tomorrow or yesterday. Yesterday is history and tommorow is a mystery.
Alex (Anaheim)
I'm jealous because my mom got to meet Adam Sandler. What's it like working with him?
Rob
(12:59 PM)
He's the greatest guy ever. Totally cool family man. Just fun to be around off camera and off. We became great friends. His wife watches The Vanilla Ice Project so that's how it kind of came about.
JP (Columbus, OH)
Rob, who ya got in the NBA Finals?
Rob
(1:00 PM)
JP, watch SportsCenter! I'm from Miami so I love everything about it. I'm pulling for the Heat but it will be touch. OKC really stuck it to 'em last night. Very upset by that.
Jeff (St. Louis)
I saw you on SportsCenter earlier today and you told the anchor to call you Rob. I hope you're not mad, but you'll always be Vanilla Ice to me. Do you get upset with fans who call you Vanilla Ice?
Rob
(1:01 PM)
No way. I love it. I've made peace with it even though I hated on myself for awhile. We are who we are because of who we were. Positives and negatives make you who you are. It's a Teenage Mutant Ninja Turtle world now and I love it.
Rob (Oakland)
Are you going to plan any celebration in a couple years for the 25th anniversary of Ice Ice Baby?
Rob
(1:02 PM)
You have a great name, Rob. Celebreations? Now that you mention it, yes, I think I will. In fact, I'll celebrate it every year.
living legend (jupiter)
I dunno if you can promote yourself....but do you have a website where we can go to keep up with your comings and goings?
Rob
(1:02 PM)
VanillaIce.com. Twitter is @vanillaice. Also, you go enter a content to have your house Iced at DIYNetwork.com!
Scott (Orlando)
Is it annoying getting noticed everywhere you go in public or are you just kind of used to it?
Rob
(1:03 PM)
Hell no. Shake a hand and make a friend. Smiles are contagious. Karma is real.
Eric (Houston)
Were you cool that the movie pokes fun at you a little bit by calling you Uncle Vanny and saying you work at an ICE rink?
Rob
(1:04 PM)
I loved it! It's one of the funniest parts of the movie. I was skeptical at first, but then I watched the movie and I knew Adam would be funny, but I was surprised at my own part. I got nervous wondering if it would be funny, but it was and the feedback was good. So I guess I did OK.
Ben (Ann Arbor)
Ice, were you a Canes fan in the day or was that for show?
Rob
(1:05 PM)
It has been ALWAYS. I'm getting a Canes tattoo shortly. I love them good or bad. Scandal or no scandal.
stephanie (oklahoma)
Do you have any regrets in your life?
Rob
(1:06 PM)
I have so many regrets in my life, but they are all great. Yesterday is history, tomorrow is a mystery. I'll say it again. You can't change anything but you can learn from it.
Johnny (Midwest)
Rob, I have literally zero experience in doing large home projects. On a scale of 1-10, how hard a time would I have trying to install my own hardwood floors? I got a how-to book, but I'm still a little skeptical..
Rob
(1:07 PM)
Do you own a tool kit? You need someone with experience to help you with the carpentry. But it's not as hard as you think. The hard part is getting started. Hanging wallpaper is the hardest thing actually.
Dagwood (FarNorCali) [via mobile]
What was it like being in the pace car at Pocono? You always a big Nascar fan? Ford, Chevy, Dodge, Toyota?
Rob
(1:08 PM)
I'm still pinching myself. I love NASCAR and the poeple of NASCAR. One of the greatest experiences I have had. So awesome.
Diego (Florida)
Which actor or actress would you most like to work with?
Rob
(1:09 PM)
I don't really think about stuff like that, but if I did I guess I would say The Rock! He's from Miami.
Rob
(1:09 PM)
How about DeNiro? Ray Liotta! Anybody from the SNL crew!
robert (san diego)
rob, how about an instruction book based on 'the vanilla ice project'? i'm a big fan of your show, and always like the ideas from a guy's perspective. you don't get, " that's gonna look pimp" from the other shows.
Rob
(1:10 PM)
Yes. We are going to do some stuff online. Stay tuned to DIYNetwork.com for all kinds of tips and instruction.
Dagwood (FarNorCali) [via mobile]
Lil' Wayne? Shoot... I won't tell Snoop. ;)
Rob
(1:12 PM)
Hahaha! Nice one. Snoop could be in there I guess. He's the fifth one on the mountain! Thanks for the questions! Appreciate it! Check me out on Twitter @VanillaIce and at VanillaIce.com and DIYNetwork.com!