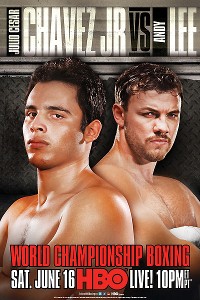 Welcome to SportsNation! On Wednesday, we're going inside the boxing ring when Andy Lee stops by to chat about his WBC middleweight title fight this weekend.
Lee (28-1, 20 KO) takes on Julio Ceasar Chavez Jr. (45-0-1, 31 KO) for Chavez' middleweight belt. The fight will be live from the Sun Bowl in El Paso, Texas Saturday at 10 p.m. ET/PT on HBO World Championship Boxing. The fight will be the first in Texas for Lee, a London native.
Lee is 13-0 since his only loss in 2008 to Brian Vera, a loss he avenged last year with a 10-round decision. Lee won his only bout of 2012, with a second round TKO of Saul Duran in March.
Send your questions now and join Lee Wednesday at 1:30 p.m. ET!
More Special Guests: Previous chats | SportsNation
Buzzmaster
(1:31 PM)
We've got Andy!
Bob (VA)
Do you use it as motivation when Chavez is already setting up his next fight before he has even gotten in the ring with you?
Andy Lee
(1:33 PM)
Yeah, it made me laugh a little bit. I think it will be a good thing for me if he's looking ahead a little bit. In history these things have a way of coming back to bite you if you're looking ahead. I just smirk at that.
UTEP_Miner (El Paso)
Has the weather/altitude of El Paso,TX been a factor at all for you? Thanks and good luck to you on Saturday.
Andy Lee
(1:34 PM)
Not really. It isn't hot here, but I've been training in the heat in Detroit. We had the heat turned up. I was training like that every day. I'm used to the heat. Since I've been here in El Paso, I've been training at 9 p.m., the time we'll be fighting. If it's going to be hot for me, though, it will be hot for him.
O'Donnell (China)
Do you feel you have the power to knock Chavez Jr. out?
Andy Lee
(1:34 PM)
Yeah, I think so. All through my fights I always come on strong in the end and he seems to tire at the end. With the punches and tricks I've learned, I feel like I can knock him out, especially in the later rounds.
Liam (Chicago)
Were you a Steve Collins fan growing up? Being that you are both Irish and fight at middleweight.
Andy Lee
(1:35 PM)
Yeah, I remember watching him fight. He was a good inspiration. I hadn't really heard much about him, because he was based in America, but when he came back, he was so tough mentally and a good fighter. I had a chance to meet him one time. I looked up to him as a kid.
Jonathan (Atlanta)
Andy, I hope you can get a win for the Irish this Saturday, as I don't see the lads picking up any points at the Euro's. :(
Andy Lee
(1:36 PM)
We flew in on Sunday and connected in Phoenix, me and my brother were screaming at the TV in a restaurant at the airport. If they can get a result against Spain, they might have a chance. Maybe a draw, if they play good defense.
Craig (Sarasota, Fla.)
Mr. Lee any concerns about how much weight Chavez Jr. gains in between the weigh in and the fight? You'll probably be facing a light heavyweight on saturday night.
Andy Lee
(1:37 PM)
Not really. He's going to be big. They're putting the weigh-in at 1 which is unusual. But I'm also a big middleweight. I'll probably come in at 176-178 and he'll probably be around 180. It's only a couple of pounds. It's nothing to be concerned about. Just have to be ready.
Liam (Dublin)
What weaknesses do you see in Chavez's game do you think you will be able to take advantage off?
Andy Lee
(1:39 PM)
Defensively, he's not. He leans forward and his weight is on his front leg. He's an offensive fighter. He gives his opponents a lot of chances to hit him. I'm a counterpuncher, so it will give me chances. I can get him to dance to my beat.
Dr. Rockso (Zazzblammymatazz)
Andy,Been a big fan since you debuted on Friday Night Fights a few years back. What is your strategy against Jr.? Are you going to try to stay outside and outbox him, or do you see this getting into a slugging match?
Andy Lee
(1:40 PM)
My thought is to box him. He's a good fighter inside, that's where he does his best work so I want to keep him at a long range. I'm sure the stage will come where we'll bang it out. I think I am a bigger puncher than he is. He's fought a lot of lighter guys and smaller guys coming up to weight to fight him. I'm the first bigger middleweight he's fought.
Tom (Levittown, NY)
Hey Andy. With questionable decisions in major fights and fighting in a tough place (Texas) to earn a decision, do you prepare in the late rounds to look for knockdowns and knockouts or do you stick to a gameplan of winning rounds? Thanks and good luck this weekend.
Andy Lee
(1:41 PM)
I'm going to try and win every round. That's how you win fights. You can't go in looking for a knockout, because if you do, it won't come. I will box and hope to win every round. If there is a chance to go for the finish, I will go for it.
miguel (mexico)
is chavez body work a concern for you?
Andy Lee
(1:42 PM)
He's a good body puncher. I'm a good body puncher too. I've fought guys who throw a lot of body punches. I think I will go for his body a little too and see how he likes it. I've conditioned myself and I'm not worried about it.
Bill H (New Jersey)
Andy. Do you think it will be more critical to control the fight when each of you are in the center of the ring or will it be more critical for you to control the fight on the ropes and in the corner?
Andy Lee
(1:43 PM)
I think you want to control inside and outside. Working on some moves in the middle. I've worked with our assistant trainer on how to control it on the inside. I'm prepared for both, the inside and outside aspects of the fight.
Stephen McElrone (Fermanagh Ireland)
Good Luck Andy from everyone in Ireland. The system is against you with Chavez re-hydration questions and the judging at Top Rank promotions. How are you going to overcome these odds?You and manny have mentioned a knock out does this mean it will be a slug fest?
Andy Lee
(1:44 PM)
It would be knocking him out. That's the best way to win a fight by knocking him out. Judges can be questionable and there have been some recent bad decisions. With Pacquiao and Bradley that could help me a little bit. With that decision, that may help me because judges will be on their best behavior. They can't go for another bad decision. But a knockout is the best way as I will take it out of their hands.
Andy Lee
(1:45 PM)
Thank you all for the messages you've sent over Twitter. I look forward to winning on Saturday and to many more great fights.