Chat with Cedric the Entertainer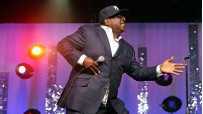 Cedric got his start in acting on "The Steve Harvey Show."
Welcome to SportsNation! On Thursday, comedian and actor Cedric the Entertainer stops by to chat.
Cedric has had a busy spring, with a new movie being released "Madagascar 3" in early June and his new TV show "The Soul Man" that debuted Wednesday. He now owns more than 40 TV and movie credits.
Send your questions now and join Cedric Thursday at 4:45 p.m. ET!
More Special Guests: Previous chats | SportsNation
Buzzmaster
(4:51 PM)
Cedric the Entertainer is here to chat!
Will (Detroit)
How much of your personal life have you drawn on for story ideas for this show?
Cedric the Entertainer
(4:56 PM)
I was able to draw on a lot of my personal experiences. That's one of the reasons I have elements of the show that were from my life. We based the show from moving from Las Vegas to St. Louis where I lived. The guy's going through a transition, and that was like a few years ago when I was trying to decide if I wanted to keep doing comedy.
Who Dat (Louisiana)
Who are you routing for in the NBA finals?
Cedric the Entertainer
(4:57 PM)
I'm actually that the Heat go ahead and close it out tonight. It's not that I'm jumping on the bandwagon. I just want LeBron to quiet all of the haters.
Aron (STL)
Cedric saw in the preview of the new show you wearing a MIZZOU is the show based in MO and how much do you follow the Tigers now a days?
Cedric the Entertainer
(4:58 PM)
We shoot the show in LA, but the show is the story of a guy who moves to St. Louis. I wanted to be able to rep the state and the opportunity to wear the colors is something I wanted to do. I keep up with them. My sister used to teach there so I kept up more but she's since moved on to Memphis. But I keep up.
Bernie fan (Who Ya With)
Congrats on a great career thus far, how do you continue to find material that has been funny for so many years?
Cedric the Entertainer
(4:59 PM)
For me, it's all about observational. I let life come to me. I look for the funny and absurd and those regular things in life. I look forward to sharing that on stage. I still love standup, even with the opportunities in TV and movies. That's what keeps is live for me.
Jeff (RI)
How much input did you have into the creation of this show?
Cedric the Entertainer
(5:00 PM)
I co-created the show, along with Suzanne Martin, who also created Hot in Cleveland. I was very involved in the show from the beginning. What he does. How and why he's a minister. I was a part all of the way through.
Derrick (Chicago)
How different do you think your career would have been if you were only known as Cedric Kyles?
Cedric the Entertainer
(5:00 PM)
I would have been an insurance adjuster at State Farm.
Chris Fiegler (Latham,NY)
What Character did you lend your voice for in Madagascar 3?
Cedric the Entertainer
(5:01 PM)
I really enjoyed the Madagascar movies. I've been a part of all three of them. You know that the kids will go and love them and enjoy them. The only thing about voice over work is that you don't actually work with your co-actors. I think it would have been fun to do scenes with Sacha Baron Cohen.
Alex (Anaheim)
Hi Cedric, loved the Original Kings of Comedy. What's the best part about being a comedian?
Cedric the Entertainer
(5:02 PM)
I guess the best part is that immediate response from a live audience and the thoughts and material going on in your head. That's the most exhilarating aspect of it. Them saying yay or nay to the jokes you've written.
Mel (Fulton Ky)
You are one of my favorites, and I'd like to know if you cook. What about grilling? Are you a charcoal or gas man?
Cedric the Entertainer
(5:03 PM)
I'm a charcoal guy, coming from St. Louis. We've recently gotten a combination grill. Gas is faster and cleaner, but I like that whole attitude of doing the charcoal thing.
Joe (USA)
Have you ever thought about releasing some music? You have a great voice?
Cedric the Entertainer
(5:04 PM)
I have definitely thought about recording. I play around with recording it's a hobbby of mine. We've been dabbling in it and we've thought about releasing a few songs to see what people think.
Joe (USA)
What's next?
Cedric the Entertainer
(5:05 PM)
The next project is going to be a cool independent movie "Grass Roots" comes out July 2. It's more of dramatic role for me. I want people to go check that out.
Cedric the Entertainer
(5:08 PM)
Watch "The Soul Man," we just got news that we were the second highest opening premiere on the network. Tune in every night at 10 p.m. on TV Land!