Chat with McEnroe, Fernandez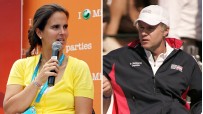 Welcome to SportsNation! On Monday, we'll take a look at the 2012 Wimbledon tournament when tennis analysts Patrick McEnroe and Mary Joe Fernandez stop by to chat. ESPN and ESPN2 will air every match of the tournament starting June 25.
A successful doubles player, winning 16 titles, including the 1989 French Open, McEnroe, @PatrickMcEnroe, has worked with ESPN since 1995.
Fernandez was also a successful doubles player, winning 17 career titles, including the Australian (1991) and French (1996) opens. She was also a two-time Olympic gold medalist at the 1992 and 1996 Games. She will captain the U.S. Olympic team at the 2012 London Games.
Send your questions now and join the chat Monday at 11:45 a.m. ET!
More Special Guests: Previous chats | SportsNation
Buzzmaster
(11:42 AM)
Hello! Patrick and Mary Joe Fernandez will be joining us momentarily! Keep your questions coming!
Mary Joe Fernandez
(11:44 AM)
Hello everyone!
Buzzmaster
(11:45 AM)
Patrick is nearby! Will be here shortly!
David Jones (Toronto)
Melanie Oudin ... just a nice story getting a Wild Card or could she make some noise?
Mary Joe Fernandez
(11:46 AM)
It's great to see Melanie doing well agian. This was her first WTA tour title. After breaking through at the US Open, expectations and pressure became challenging. But she has been training in Flushing and working really hard. It's great to see it is paying off. She reached R16 at Wimbledone that year so she likes playing on grass. Her serve is flat and the surface really helps her. She has a great work ethic and is definitely on the way back.
Steven (Seattle)
Serena look pretty bad at the French, she can't be considered a top contender going into Wimbledon, can she?
Mary Joe Fernandez
(11:47 AM)
Yes, she can. She is a four time champ. She will be that much more determined to right the ship. It was a big shock going out in the first round. I expect her to do very well.
Andrew (New York)
Mary Joe, what is your 2012 Olympics team looking like?
Mary Joe Fernandez
(11:48 AM)
We are going to find out soon, but the women it looks like Serena, McHale, Venus and Levechenko.
Brian Ames (TX)
On a scale of 1-10, how lame was Nalbandian's excuse that the ATP puts players under so much pressure and that it somehow excuses what he did?
Patrick McEnroe
(11:49 AM)
10 being the lamest? 10.5. It's fine to have issues with the ATP, but that was not the appropriate time to talk about them.
Jason T. (Farmville)
Mary.. what other sports would you like to get a glimpse of if you have time at the Olympics?
Mary Joe Fernandez
(11:50 AM)
Swimming! Gymnastics! Soccer!
Tim (San Diego)
Who will win another major first? Federer or Tiger Woods?
Patrick McEnroe
(11:51 AM)
Tough question. How about another one period? I'm going to say Federer. I'll throw it back ... who will end up with more? Federer has 16 and Tiger has 14?
Justine (Orlando, FL)
How confident is Maria Sharapova heading into Wimbledon and can that confidence turn into a win?
Mary Joe Fernandez
(11:52 AM)
Absolutely she can. She is more comforable on the grass and winning another major after shoulder surgery will just make her that much more motivated. That's wher she won her first major, so don't forget that. And she reached the Finals last year.
Kevin (Miami)
How hard is it to switch so quickly from clay to grass? The French Open just ended a couple of weeks ago and Wimbledon starts in a week.
Patrick McEnroe
(11:53 AM)
Probaby the toughest change in tennis. That's why so few have won them both in the same year. Nadal, Borg and a few women.
Mary Joe Fernandez
(11:53 AM)
And Federer once.
Patrick McEnroe
(11:53 AM)
It's not as hard as it used to be however, and so many players play from the backcourt anyway now. The biggest challenge is movement.
Martin Bailey (Charlotte, NC)
For each of you, which is your favorite tournament to go to as a fan?
Mary Joe Fernandez
(11:54 AM)
U.S. Open!
Patrick McEnroe
(11:54 AM)
Wimbledone has the tradition, but the U.S. Open is more fun. It's pure entertainment. But I do love the Australian Open. It has a little of both. Just takes awhile to get there!
Danny C (NY)
How many more titles do you think Federer has in him?
Patrick McEnroe
(11:55 AM)
He has already won four titles this year ... but I think MAYBE he has 1 or 2 majors left.
Mary Joe Fernandez
(11:55 AM)
Remember when we thought he would win 20? It gets harder.
Tom (Massachusetts)
Do you think they'll ever be a top ten serve and volleyer again?
Patrick McEnroe
(11:56 AM)
Could if they change the speed of the court and balls. Sure.
Patrick McEnroe
(11:57 AM)
Is Raonic is serve and volleyer? He could potentially be Top 10.
Mary Joe Fernandez
(11:57 AM)
No chance for the women.
Ricardo (Los Angeles)
Back to the Wimbledon grass and it being actually slower nowadays, do you think that Wimbledon is a bit of a more favourable surface for Nadal to beat Djokovic in than the hardcourts in Oz and Flushing?
Patrick McEnroe
(11:58 AM)
Absolutely. To even beat Federer? If it was the way it was in the past, no way. The balls are heavy and don't move as fast now. Remember in the past when they bounced the ball for a serve, they would have to SLAM the ball into the grass. Now it's like a hardcourt.
Greg (VA)
Has there ever been a discussion about moving the French or Wimbledon? It seems like the players have much more of a chance to prepare for the French and clay than they do Wimbledon and the grass.
Patrick McEnroe
(11:59 AM)
How about now? The talk is on-going. I could see it happening.
Jason (Syracuse, NY)
How much tennis do each of you get to play for fun these days?
Patrick McEnroe
(12:00 PM)
We are getting ready to hit on the grass court here at ESPN shortly! Watch on SportsCenter in the 12pm hour!
Paul Majors (FL)
What was the worse case of losing your temper on the court when both of you were playing?
Mary Joe Fernandez
(12:00 PM)
I never did! I did get a warning once though because I bounced the ball so hard it left the court.
Patrick McEnroe
(12:01 PM)
That might be a better question for my brother.
Ty (Atlanta)
Wimbledon has a reputation for not always seedingn players according to the officil rankings, do you think they should seed Venus Williams or kim Clijsters?
Mary Joe Fernandez
(12:01 PM)
Yes, they should see both.
Patrick McEnroe
(12:01 PM)
I agree.
pete (ny)
hello. Do you guys think its about time they put a roof on at French and U.S. Opens? these rain delays are irritating for everyone.
Patrick McEnroe
(12:02 PM)
It would be nice.
Mary Joe Fernandez
(12:02 PM)
Easier said that done.
Patrick McEnroe
(12:02 PM)
Same issue as always. Money.
Peter (Texas)
Where do you think Andy Murray will win his first major? If at all?
Mary Joe Fernandez
(12:03 PM)
I predicted at Australia he would win Wimbledon. He plays well on the grass. He doesn't have a lot of pressure on him right now so that could help.
Patrick McEnroe
(12:04 PM)
It's a large assumption to think he will win one. It's getting harder and harder every year just because the other players are getting better and better and he is getting older. It's like Sergio Garcia. Remember when he was always on the verge of winning?
Scott (Northglenn, CO)
Do you know what Marcel Rios is up to these days? He used to be my favorite player...
Patrick McEnroe
(12:05 PM)
Being cranky! I think he has a couple kids now. Hopefully not as cranky with them as he was with the press!
Ty Gillis (Valdosta, Ga)
If Venus Williams has some good days health-wise with her illness could she be a contender?
Mary Joe Fernandez
(12:05 PM)
That is the key, how she can manage as the tournamnet progresses. She is a dangerous floater. It's all about how she can manage the symptoms.
Jen (Jersey City)
Do you think Sharapova will hold on to the no. 1 ranking for a while or do you foresee her losing it after a short period of time?
Mary Joe Fernandez
(12:07 PM)
If Maria loses early she could potentially lose it. We'll see.
Matt (Winston-Salem, NC)
Why don't more tennis players write instructional books? Pro golfers have helped tons of amateurs this way.
Patrick McEnroe
(12:07 PM)
Not as much money in it. That's the truth. Read Tennis For Dummies! I wrote one!
Wilson (New York)
I LOVE tennis chats. Do more of these ESPN!If we consider the Olympics a major, we have three majors left this year. Of the men, who has the best chance to win more than one of the three majors left?
Patrick McEnroe
(12:08 PM)
Djokovic.
Kenyon (Madison, WI)
Why does Stosur struggle on grass so much?
Mary Joe Fernandez
(12:09 PM)
She has that western big swing on the forehand. Her game should translate, but I think she gets frustrated easily and mishits a lot of balls.
Scott (Northglenn, CO)
Does Andy Roddick win another major?
Mary Joe Fernandez
(12:09 PM)
No.
Patrick McEnroe
(12:10 PM)
Nope. He's just trying to get healthy and get back in the mix.
Wilson (New York)
Have you ever seen a player improve as much as Djokovic did last year?
Patrick McEnroe
(12:10 PM)
Pretty good, but he went from 3 to 1. To suddenly win three straight majors was pretty amazing.
Nick (Bristol, TN)
Thoughts on Nalbandian possibly facing charges for what he did to the linesman yesterday?
Patrick McEnroe
(12:11 PM)
Silly.
Mary Joe Fernandez
(12:11 PM)
Ridiculous.
James (Orlando, FL)
If Serena wins another Wimbledon title and her total becomes 5, will Venus still be considered the best grass court player of her era?
Mary Joe Fernandez
(12:12 PM)
It depends on what "era" you consider. Wait until they are both done playing and then decide.
John (CT)
Where do you project Del Potro will be by the end of the year? He seems to be improving ever so slowly (and should have beaten Federer at the French.
Mary Joe Fernandez
(12:12 PM)
He will be right about where he is ... maybe up to 5.
Patrick McEnroe
(12:13 PM)
Between 5-10 for sure. 5 would be the max.
Kevin (Pittsburgh PA)
Who are each of your picks to win Wimbledon?
Patrick McEnroe
(12:13 PM)
No! Wait until the draw comes out! But we will post them the day after on ESPN.com.
Lily (Maine)
There's a lot of talk about Wozniacki winning her 1st slam. Will she ever win one??? She's not getting any younger.
Mary Joe Fernandez
(12:14 PM)
She's still pretty young. She is struggling, trying to modify her game to a certain degree and she has taken a few steps back. She has to find what her strengths are again ... being solid, being a backboard ... those things got her to No. 1 but no major.
Patrick McEnroe
(12:15 PM)
She's also between 5-10. That's just where she is right now as a player. Woz has maxed out already. Not to say she couldn't get lucky and win a major, but I don' see her getting back to No. 1.
Master Ace (Alabama)
Will there be a player who will 4 majors in a row since Serena did it in 2002-2003?
Patrick McEnroe
(12:16 PM)
We'll see it again at some point, probably on the women's side.
Nick (Bristol, TN)
Any chance we could see an "interloper" make the Wimbledon semifinals on the men? Someone other than Djokovic/Fed/Nadal/Murray? Like a Raonic or a Dimitrov?
Patrick McEnroe
(12:17 PM)
Absolutely. Probaby the best chance of all the majors at Wimbledon. Raonic, Isner, Tsonga, Berdych are you best bets.
Tiffany (Bowie MD)
Petra Kitova has a great grass court game do you see her winning up to 5 Wimbledon titles?
Mary Joe Fernandez
(12:18 PM)
5 is bold, but I could see her winning another one. Lefty helps and she hits it so hard and flat. When she is on, like she was last year, watch out!
Patrick McEnroe
(12:20 PM)
Thanks for the questions! Looking forward to breakfast, lunch and dinner at Wimbledon! Watch SportsCenter this afternoon for a live "match" on the ESPN grass court!
Mary Joe Fernandez
(12:20 PM)
Yes, thanks for all the great questions! Every Wimbledown match on ESPN this year. Tune in for all the action! Take care!