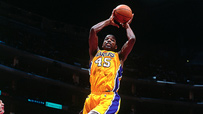 Green was an all-star in 1990.
Welcome to SportsNation! On Tuesday, former NBA player, and three-time champion with the Los Angeles Lakers, AC Green stops by to chat about the NBA Finals.
Green, @NBA_Ironman, entered the NBA as a Laker, as the 23rd pick in the 1985 draft. He went on to win three titles with the Lakers - two with the Magic Johnson-led teams (1987 and 1988) and one with the Kobe Bryant-Shaquille O'Neal 2000 team.
Despite playing for four teams in his career, Green still set the NBA record for most consectutive games played with 1,192. He missed three games in his second year, and then played every game for the next 14 years. Fans can follow his work at ACGreen.com.
Send your questions now and join Green Tuesday at 4 p.m. ET!
More Special Guests: Previous chats | SportsNation
Buzzmaster
(3:56 PM)
Former Laker AC Green stops by at the top of the hour to take your questions!
Buzzmaster
(3:59 PM)
He's here!
Chirag (North Carolina)
Who's the better defensive team?
AC Green
(4:01 PM)
I think Oklahoma has really shown more flashes of opportunistic defense. But at the same time, it's not light years ahead of what Miami has also. It's been even. When they need to, they've been able to buckle down and get stops. That's been the interesting thing to watch as a player.
marcell [via mobile]
Was it hard AC on you mentally when you were approaching the record for most games played?
AC Green
(4:02 PM)
I think that's when I officially became aware of it, when I probably got to 900, the late 800s. My trainer, Roger, who's currently the trainer of the Knicks, we were both with Dallas at the time, he was a wreck. He didn't want anything to go wrong on his watch. He had the sleepless nights.
Steve (Charlotte)
If OKC loses the Finals, will it be a disappointment or just another lesson learned?
AC Green
(4:03 PM)
I think it's both. It's definitely going to be a disappointment. Hopefully their faith will help them understand. They will have to correct their wrongs. They'll bounce back. If that were to be the case, that's what they would learn, I think, more than anything else. But I definitely wouldn't write them off.
Raj (South Carolina)
What have you noticed about the first 4 games of these Finals?
AC Green
(4:04 PM)
The games have been movie scripts. It's been funny how the first two games were carbon copies of themselves. It was a big lead, the other team comes back and a close finish in the end. In Game 3, it was a contest all of the way through. It kept people watching and everyone was watching to see how it would end. And yes, indeed, it brought drama at the end.
Andre (Niagara Falls)
What was your secret to maintaining your iron man streak from 86-01? Any rituals/superstitions?
AC Green
(4:06 PM)
No. It's a great question. No, there weren't any certain patterns I had. It came down to keeping a strong mind and keeping focused more than anything else. You just develop good habits. You can have bad habits, and this happened to be a good habit. It was my normal preparation and it starts with the mind.
Deven (New York)
Do you think KD's foul troubles have costed the Thunder some games that they've should have won?
AC Green
(4:07 PM)
Well, I think that's going to be the adjustment that Oklahoma will have to make is keeping him on the court when he's in attack mode. Without him on the court it changes the dynamics of OKC. You can't have a passive Kevin Durant.
Jared (Virginia)
AC, you played with several great players throughout your career. Who was the best player you ever played with? (My guess: Magic)
AC Green
(4:09 PM)
Well, I definitely had a lot of fun with someone like Charles Barkley, he was a laugh a minute. Shaq was the same. He was a more massive Charles. I had a great time playing with Kobe. Starting out with Kareem, he was more of a gentle giant, but the force he brought to the game was as equivalent as the guys I already mentioned. Big Game James Worthy. What he brought to the game. Magic was one, because I had more years with him than anyone. The difference is he brought it in practice. I saw how he prepared. I didn't get a chance to see that with everyone else for as long. He was one that really enjoyed his teammates succeed more than himself. That's a quality that not many people, let alone players, possess.
Alex (Anaheim)
Does anything in life compare to playing for a team like the Lakers?
AC Green
(4:11 PM)
I think getting the chance to really work with youth and seeing youth really "get it." Get a message of empowerment that they can succeed and see the potential within them and seeing them live it out, that's really fulfilling. It makes me think of those type of years and the thrill that was there. That's really fun. That's one of the things that I can say from a pure human standpoint. Teams that you might work with or coach or volunteer for, you love it. You love seeing them accomplish their goal. It brings joy to you to see them achieve it considering how much they worked for it. Not everything you work for you get, so seeing them get it is special.
Deven (New York)
Is Russell Westbrook shooting the ball too much?
AC Green
(4:12 PM)
No, Russell has to be aggressive. He has to be attack mode for himself just to be involved in the game. It's better. It helps his team. Scotty Brooks will let Russell know if he's shooting too much. I know Scotty, I trust him. I think he has a perfect handle in this position on that whole question.
Deven (New York)
On a Scale of 1-10, how would you rate Lebron's performance?
AC Green
(4:13 PM)
I have been very impressed with LeBron. I like what he's brought to the game on a consistent basis. He understands that he has to find a way that works for him to create separation from outside distractions, whatever they may be. You have to find a way to get within that internal strength. He's been able to do that on a consistent basis. From the tip to the final buzzer, he's been a part and effective. He hasn't been perfect, but he's been a part a whole lot more than the critics have given him in the past.
Trey (Dallas)
Do you think anybody will break your record for consecutive games played?
AC Green
(4:14 PM)
I think it might be a long time before someone gets close to that particular record. I talk about it on my @NBA_Ironman handle on Twitter. In the modern day it seems to be a challenge to do it for so long.
AC Green
(4:15 PM)
Tweet me and tell me what you think.
AC Green
(4:16 PM)
Let's enjoy this ride. It's been three great games. It's exciting. It gets me wanting to watch it. That's a big thing to pull off, me going and looking for the next game. The guys haven't let me down. I have friends on both teams so it's hard, you just want everyone to play hard. Tweet me your thoughts. I love the interaction.
Buzzmaster
(4:16 PM)
Thanks AC!