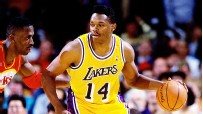 Perkins was the fourth overall pick in the 1984 draft.
Welcome to SportsNation! On Thursday, former NBA player, and 17-year veteran, Sam Perkins stops by to chat about his career as well as the 2012 NBA Finals.
Perkins played for four teams during his time in the league - Dallas Mavericks, Los Angeles Lakers, Seattle SuperSonics and Indiana Pacers - and reached the NBA Finals with each of them but the Mavericks. He averaged 11.9 points and 6.0 rebounds per game for his career.
In college, Perkins played on the Michael Jordan-led 1982 NCAA champion North Carolina Tar Heels team. He also co-captained the 1984 gold medal winning U.S. Olympic basketball team.
Send your questions now and join Perkins Thursday at 3 p.m. ET!
More Special Guests: Previous chats | SportsNation
Buzzmaster
(2:58 PM)
Sam is here!
Stormfan (USA)
Can the Thunder rise again and win the NBA finals?
Sam Perkins
(2:59 PM)
I think so. I don't think the Thunder came all of this way to win just one game. They've been in situations where they've come back. I think they'll win tonight and bring it back to OKC. But on the other hand, Miami does not want to go back to OKC. That's a tough place to win one game.
Deven (Buffalo, NY)
Hi Sam. What would a first title mean for Lebron James if they win tonight?
Sam Perkins
(3:01 PM)
Getting that first title would be, like redemption. Like a monkey off his back. I think it would mean the world to him. If he does win one, he has to be considered the best if he wins a couple of more. There are guys that have won one title, but with LeBron, he has deemed a great player, but he has to get more than one to get that admiration.
Chirag (North Carolina)
Do you really think the Big Three era in Boston is over?
Sam Perkins
(3:02 PM)
Yeah, it's probably come to the point where they ran that course as much as they could. I think Ray Allen will probably be the one to go. Pierce is under contract. Garnett, if he gets attraction from other teams, it will be difficult for him to stay.
Andre (Canada)
Who was your favorite PG to play with between Magic, The Glove, or Mark Jackson?
Sam Perkins
(3:03 PM)
Wow! That's a tough one. I stayed with each team for about the same time. I think even Mark would give it to Magic. He's probably the best to play. Gary and Mark were great too, but Magic's the premier guard that I played with.
Andre (Canada)
What are your thoughts on your Tarheels' incoming draft class of Barnes, Marshall, Zeller, and Henson? Who do you see having the best pro career?
Sam Perkins
(3:04 PM)
It's good that they all will be projected in the first round. Harrison is probably out of them all will be drafted first. After that Henson will probably drop to the middle. It's a a matter of who needs what, who wants what. Those guys, Kansas, Kentucky, they all have good players and all play the same position, in a sense.
Stone (Indianapolis)
Smooth, you were one of the greatest shooters I watched growing up.. who was the second best shooter on the Pacers outside of Reggie?
Sam Perkins
(3:05 PM)
I would have to say Chris Mullin. He's my man. He saw limited action, but he was probably one of the best players of his day. Jalen Rose too, but Chris was one of the premier plaeyrs on the team.
Alex (Anaheim)
You always had good range for a big man. How much did you practice that stroke during the season?
Sam Perkins
(3:07 PM)
It was the offseason that really did it for me. I had to practice constantly. Test my range. See what I was doing. Why the ball was falling short or long. Even though you don't want to change your shot, I changed my shot for any situation where someone was coming at me on a three, turn around jump shot, in transition. I tried to work on it. The offseason was where the work went in and just took care of it in the season.
Steve (Chicago)
What was it like playing college basketball with two hall of famers and one hell of a college player in Al Wood?
Sam Perkins
(3:08 PM)
At the time, you didn't know they were hall of famers. It was good playing with James and Michael. We were all kids at the time, trying to do some things and have fun in college. There was no egos or anything like that. It was more that we went to Carolina and we were trying to win as many games as we could. We had a good time in college. It was fun to play. We won a championship and got an education. It all worked out.
Chris Fiegler (Latham,NY)
Will we see a Game 6 in the 2011-2012 NBA Finals between the Heat & the Thunder?
Sam Perkins
(3:09 PM)
Oh yeah, you will. The only reason I say that is because Oklahoma will come out strong tonight. I'm sure they probably want to take it back home. But Miami has shown resilience. They know what it's like to chase a championship. Miami was down again at the beginning of the last game. I think OKC takes it back.
JC (LA)
Which NBA Player defended you the best?
Sam Perkins
(3:10 PM)
Early in my career it was Kevin McHale. He was pretty hard with his long arms. He let you dance and dance and just stood there until you made your move. The other guy was Karl Malone. He was such a power forward that you couldn't back him down. Those two were probably the hardest, most difficult.
Andre (Canada)
Which current NBA player resembles you the most in your opinion?
Sam Perkins
(3:11 PM)
I would say Bosh right now. He's the only one probably, if anyone.
Scott (Northglenn, CO)
So do you have a soft spot for sweet shooting big men? Who do like currently? Love, Bosh?
Sam Perkins
(3:11 PM)
Yeah. I always cheer for them. Guys like Dirk, Bosh, Aldridge. I don't know too many that shoot outside. But some of these guys do it well.
Scott (Northglenn, CO)
Did you enjoy the city of Seattle, and do they deserve a team again?
Sam Perkins
(3:13 PM)
Oh yeah, they probably will. It's bound to come. There was some uproar about getting a team in Seattle. I enjoyed it as well. They'll have a team up there in the next 3-5 years. There's a lot of talk about it. It will be a different city when that happens.
Sam Perkins
(3:14 PM)
Thanks for your support. All of the times that you were cheering for the teams I was on, I had a good time. I had a good time doing it, even though I probably didn't show much emotion while I was out there, I was having a ball.