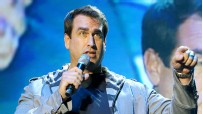 Riggle's credits include "The Hangover," "Talladega Nights" and "Step Brothers."
Welcome to SportsNation! On Wednesday, actor, and member of the Marine Reserves, Rob Riggle stops by to chat about his role as the host of the 2012 ESPYS that will air live on ESPN at 9 p.m. ET on July 11. Voting is currently underway.
Prior to launching his comedy career, Riggle joined the Marines in 1990 to become a pilot and is still a Marine Reservist lieutenant colonel. In addition to his movie work, he has worked as a stand-up comedian, cast member on "Saturday Night Live" and a regular on "The Daily Show." Fans can follow him on Twitter: @robriggle.
Send your questions now and join Riggle Wednesday at 2:30 p.m. ET!
More Special Guests: Previous chats | SportsNation
Buzzmaster
(2:15 PM)
Rob Riggle will host the ESPYS on July 11. He'll be here to take your questions shortly!
Tom (Boston)
Has there been a time when you think you bombed, but you actually did well?
Rob Riggle
(2:32 PM)
Yeah, I've done some shows late at night for some drunks, where it wasn't going well at first but then you get them back. That's a good feeling.
Jeff (SF)
do fans come up to you and just ask you to be funny? How do you respond?
Rob Riggle
(2:33 PM)
It happens sometimes. Thank God most people are normal. But when it does happen, I guess, I just do the ol' pull my finger.
Dave (Leicester, MA)
Do you think you can fill Seth Meyer's comedic shoes?
Rob Riggle
(2:34 PM)
Not going to try to fill his shoes, going to do my own thang and have fun doing it.
Steve (CA)
I'd be scared out of my mind to get on stage to tell jokes that I don't know if people will find funny. Do you have he same fear or do u just overcome it?
Rob Riggle
(2:34 PM)
No, that's a very common fear, everybody has it. I just try to think if I think they're funny. If I think so, then I don't mind telling people.
Kyle (VA)
How much of your personal life do you draw on as material for your stand up act?
Rob Riggle
(2:35 PM)
A lot, actually. A lot, a lot. I don't really talk about the Marines very much. But the rest of it, I pull almost everything.
Riley (KC)
You've had a lot of good character roles are those the kind of roles you seek out? Just the ones that you get offered?
Rob Riggle
(2:35 PM)
Both. But probably more what I get offered.
Willy (Seattle)
Is there a role that you declined to audition for that you wish you could go back and try to get?
Rob Riggle
(2:36 PM)
No. I haven't declined any audition, so no.
Rob Riggle
(2:36 PM)
There have been some roles I've said no to, and have had no regrets about those.
Kevin (CA)
Your comedy is more stories and impressions rather than straight joke telling. Is it harder to make an impression on people especially producers and the suits with that kind of material?
Rob Riggle
(2:37 PM)
No. Funny is funny, whether it's three jokes per minute or it's story telling. I don't really do any impersonations. Maybe on SNL a little bit.
Rob Riggle
(2:37 PM)
They saw something, so they hire me for some reason, so hopefully I have fun doing it.
Larry (OKC)
How do you find funny? everyone has their own idea, so how do you decide what to use or not use?
Rob Riggle
(2:38 PM)
I just trust my instincts. I trust my judgement. What I find funny some people might not find funny, but I can't help them.
Rob Riggle
(2:38 PM)
I just have to try and enjoy what I'm doing and if I do, then generally speaking other people will as well.
Darren (NC)
How did you know that you still had "it" following active duty when you decided to try comedy?
Rob Riggle
(2:39 PM)
You never know if you have "it" you just go out there and try. A lot of people don't even try. It's all about trying. That's the thing about comedy they let you know quickly.
Derrick (Houston)
What role did you either have to audition the most or beg the most to get?
Rob Riggle
(2:39 PM)
I think I had to audition twice for 21 Jump Street.
Rob Riggle
(2:39 PM)
That was it.
Steven (Dallas)
What line of yours gets repeated back to you the most?
Rob Riggle
(2:40 PM)
It's tough. Not up in here. Pow. In the face. They're all tied.
David (Chicago)
Rob, I've seen you doing a lot of work for ESPN already and the ESPYS aren't here yet....are you trying to position yourself for a job, should this whole comedy thing not work out?
Rob Riggle
(2:40 PM)
Yes.
Rob Riggle
(2:40 PM)
I have to pay the bills too.
Carl (Houston)
At the end of every stand up act, the comedian always says "thanks, you've been great"...but that can't be true, right, not EVERY audience is a great audience?
Rob Riggle
(2:41 PM)
You're right, not every audience is great. But the alternatives aren't great either. "Thank you, you've sucked tonight" is generally not good in the entertainment world.
David (NYC)
how involved are you in the reserves? Do you still have to go every once ni a while for training or to be deployed?
Rob Riggle
(2:42 PM)
I am actually a trainer so I do training for Marines. I do what I have to do to get my satisfactory year done. But I'm going to retire this year.
John (Florida)
What athletes are you most looking forward to meeting at the Espys? For me it would be Lindsey Vonn, girl is the best and very good looking.
Rob Riggle
(2:43 PM)
Yeah...I want to meet Drew Brees. Eli Manning. Aaron Rodgers. I want to thank them for my fantasy teams.
Ryan (SD)
It seems like a lot of comics have a history of running their mouths when they were younger...what's the worst trouble you got into when you were a kid because of your mouth?
Rob Riggle
(2:43 PM)
Nothing specific just a series of near beat downs by people much bigger than myself.
Dave (Massachusetts)
I've heard that there is a third 'Hangover' in the works. You should make a cameo, have you been contacted?
Rob Riggle
(2:44 PM)
I heard they're making a third one. I have not been contacted.
Alex (LA)
How were you able to maintain your funny when you were on active duty?
Rob Riggle
(2:45 PM)
It doesn't go away. I just put in check a little bit. And I mean just a little bit.
Trevor (KC)
Will the Royals ever be a good team again in our lifetimes?
Rob Riggle
(2:45 PM)
Yes. We're not far from it now. We've got unbelivable young talent. It just matters if we can hold on to it. But yes. I'm a believer.
Kevin (TN)
What's your favorite place to do stand up?
Rob Riggle
(2:46 PM)
I like Denver and I like Chicago....but Tennessee is great too.
Popovich (Dallas)
Alright, who is your favorite athlete and why?
Rob Riggle
(2:46 PM)
Muhammed Ali.
Chris (Illinois)
favorite sport to rip or make jokes on?
Rob Riggle
(2:47 PM)
Bowling is up there. Curling. Bocce ball.
Devon (NJ)
What's your favorite movie, doesn't have to be one that you acted in?
Rob Riggle
(2:48 PM)
Caddyshack.
Elaine (CT)
If the prompter goes out during the ESPYS. What would you do??
Rob Riggle
(2:49 PM)
I start the magic show portion of the evening early. Where I will make several white tigers disappear on stage. I also carry a Roman candle with me on all times. I'll just light that and run around in a circle until it comes back online.
Ross (NY)
What the Teams that you follow?
Rob Riggle
(2:50 PM)
Kansas Jayhawks is my alma mater. I like to follow the Chiefs and the Royals. I like to follow the Kings. Navy. I lived in New York for 10 years, so I'm interested in what they're doing, always. And anybody who's playing Missouri.
Carrie (NYC)
Is there a significant difference between doing standup and movies?
Rob Riggle
(2:50 PM)
Standup is immediate feedback and it's live and you have to roll with it in the moment. You don't get to do it over and over. Film, you can try things, experiment. If it doesn't work you can try something elese, but you don't get immediate feedback.
TJ (Chicago)
Why did ESPN select you to host the ESPYS?
Rob Riggle
(2:51 PM)
I don't know. I just got a call one day saying they want you to host the ESPYS, to which I replied "Host?" No they said, host. I made them confirm that's what they meant and they said yes.
Rob Riggle
(2:52 PM)
Thanks for your questions. I hope you watch the ESPYS this year. All I can promise is we'll have a lot of fun.