Live Online Chat with Ashley Fiolek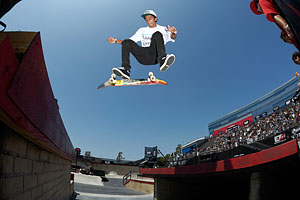 On Thursday, June 28 at 9:45 p.m ET, two-time X Games Moto X gold medalist Ashley Fiolek will be participating in a live online chat with XGames.com.
Fiolek, the first deaf pro motocross rider, was forced to pull out of this year's X Games LA just recently due to a concussion suffered in a crash on June 2. She was a favorite to win the Women's Moto X Racing finals, which are taking place on Saturday, June 30 at 9 p.m ET at X Games LA 2012.
Send your questions now and join Fiolek here on Thursday, June 28 at 9:45 p.m. Eastern Standard Time.
Ryan (Tarzana, CA.)
Do you tune your own bikes?
Ashley
(9:45 PM)
No! I have my own mechanic! I have no idea how to do it.
Sal (New Orleans)
What do you think about all the little kids on the mega ramp?
Ashley:
(9:46 PM)
They're gnarly! They're crazy. I would never try it!
Jennifer (Florida)
Have you ever met Pastrana?
Ashley:
(9:47 PM)
Yeah we're really good friends! I went to his wedding, I set him up with his wife.
Briana (Chatsworth, CA.)
What do you want to do after moto cross?
Ashley
(9:48 PM)
I don't know yet. Maybe auto racing, trucks, I just acted in a TV show, so maybe I'll act.
Derek G. (Cleveland, Ohio)
How was the Conan show? Did you get to meet him?
Ashley
(9:49 PM)
It was awesome! He was an awesome guy and really funny. It was good exposure for moto.
Julia (Pomona)
I thought concussions only lasted for a couple of days. How come you can't ride?
Ashley
(9:50 PM)
I hit my head like 7 times this year and my doctor was worried about me.
Larry (LA)
You started riding at 3, when was your first big crash?
Ashley
(9:51 PM)
My first big crash was at 10 years old. I wrecked on a double and knocked my front teeth out and broke my nose.
Bob (NYC)
How old were you when you got better than your dad?
Ashley
(9:52 PM)
I don't know if I'm better than my dad. Well, maybe at 3!
Charly (Billings, MT.)
Have you been on any other TV shows?
Ashley
(9:53 PM)
I was on a Fuel TV, and I was just on an episode for "Switched at Birth"
Alyssa (NY)
Can you tell us a little bit about your role on Switched at Birth?
Ashley
(9:54 PM)
I play a racer on the show and my name is "Robin" and my role is kinda secret so you have to tune in during the fall.
Brian (New Jersey)
Would you date a bmx'er?
Ashley
(9:55 PM)
I've dated one before so it's an option.
Chris (Freedom, PA)
What inspires you to work as hard as you do?
Ashley
(9:56 PM)
My fans inspire me, they motivate me, I want to put on a good show for them. And my Mom and Dad are always supporting me but mostly I want to do it for my fans.
NWFMXer (USA)
Considering all the news with concussions in other sports and how they've damaged the long-term health of some athletes, has retirement crossed your mind?
Ashley
(9:57 PM)
My doctor told me that you have a lot of issues with your head. But as a rider you don't think about that.
Mariana (Idaho)
Why aren't there more girls who can ride like you?
Ashley
(9:58 PM)
There are some. There's a lot of fast girls- they're coming up. It's a lot of hard work, but thank you.
Nikki (Ramona, CA.)
You've broken a lot of bones so you must be pretty tough. How do you separate being so beautiful and still stay tough?
Ashley
(9:59 PM)
THANK YOU! I try not to break bones- I don't know what else to say to that but thank you!
Beth (Temecula, CA.)
I ride with my brothers, do you practice with the guys? Are they scared that you're as good as them?
Ashley
(10:00 PM)
I do ride with guys. I grew up riding with guys. I think it's cool to ride with the guys.
Dominique (Raleigh, NC.)
Other than moto, what's your favorite X Games sport?
Ashley
(10:01 PM)
I like to watch Best Whip and I like BMX.
Lance (Burbank, CA.)
How about Rally racing?
Ashley
(10:02 PM)
I've been to a couple of Rally races and it's something I want to try, so maybe in the future
Ashley (Lawrence, KS.)
Do you ride by the vibrations?
Ashley
(10:03 PM)
Yes, that's how I learned how to shift. Most people hear when to shift but my Dad taught me to feel it.
Doug (Steamboat Springs, CO.)
Do you have a boyfriend and does he ride a motorcycle?
Ashley
(10:04 PM)
No boyfriend for me right now. Maybe you can be the lucky guy!!!!
Nathan (Los Angeles, CA.)
Do you like to free ride or just race?
Ashley
(10:04 PM)
I love both!
Judy (Orlando, FL.)
How do I talk my dad into letting me ride a motorcycle? I'm a 12 year old girl but he says it's for boys.
Ashley
(10:06 PM)
Tell him no! Motocross is for girls and boys. Show him that you're motivated and he'll let you ride.
Cindy (Tacoma Park, MD.)
Have you ever done freestyle motoX?
Ashley
(10:07 PM)
I'm not sure I can do that- it seems pretty hard to me.
Jethro (Biloxi, Miss.)
Why don't they let the girls and guys race together?
Ashley
(10:09 PM)
In amateur races you can. At the pro level they keep them separate now. But if the girls qualifying times are the same as the guys they'll let us race together.
Ryan D. (San Diego)
Is there a rivalry between you and Jessica Patterson? Are you guys friends?
Ashley
(10:10 PM)
There's a battle between us on the track. We're not friends but we're not enemies. We just keep it on the track.
Peanut (Texas)
Biggest Moto insperation
Ashley
(10:11 PM)
James Stewart and Ryan Villopoto are my biggest inspirations.
Ben D (San Francisco )
What are you doing in LA if you're not competing at X Games?
Ashley
(10:13 PM)
X GAmes is just the greatest event, I like to watch it and hang out with everybody!!
Marcela Rivera (Mazatlan, Mexico)
Hey Ashley! I'm 17 year old girl, huge motocross fan and you are my idol. I want to get into motocross so badly, any advice?
Ashley
(10:14 PM)
Thank you first of all. Get a bike, start riding, stay motivated and have fun1
Tim (Bs.As,ARG)
What's the best part of competing in an xgames?
Ashley
(10:15 PM)
To win a gold medal!!! And the fans most of all!
Cody C. (North Richland Hills (TEXAS))
What got you started in moto?
Ashley
(10:16 PM)
My Dad used to race and he brought me to a race when I was little- I got hooked!
Tanner Woolstenhulme (Idaho Falls, ID)
If you were an ice cream flavor, what do you think you would be?
Ashley
(10:16 PM)
Chocolate of course.
Payton (Canada)
I read your autobiography and loved it!! What inspired you to write a book?
Ashley
(10:18 PM)
Actually, the woman that wrote a column on me before inspired me to write it. I'm glad you liked it.
Cody C. (North Richland Hills (TEXAS))
whats the best bike you've ever had?
Ashley
(10:19 PM)
Honda 250F has been my favorite bike.
Brad (NH)
Will you ride differently now that you've hurt your head? Are you less risk tolerant now?
Ashley
(10:20 PM)
I don't think so. It's just moto cross and I'm going to ride the same.
Cohen (Ohio)
Ever try a back flip?
Ashley
(10:21 PM)
I did it at a foam pit before at Travis' house!
X Fan (Iowa)
Who do you think is going to win tonight's Moto X Freestyle?
Ashley
(10:23 PM)
I really want Taka to win, he's in first right now. But I think Nate will win.
Daylin (San Leandro, CA)
Would you ever try moto x step up or best whip?
Ashley
(10:24 PM)
I really want to do Best Whip. There's no girls out there doing it so maybe I'll get into that.
Daylin (San Leandro, CA)
Do you do anything special to prepare for a race?
Ashley
(10:25 PM)
Just a lot of training, eat healthy, I have a trainer. Nothing special
Stephanie (Minnesota)
If you weren't doing moto what do you think you would be doing?
Ashley
(10:25 PM)
Hopefully acting. Maybe something in sports, maybe off-road racing
Daylin (San Leandro, CA)
Are you into skateboarding? If so, which skaters do you look for at X Games?
Ashley
(10:27 PM)
Before I started racing I thought about skating. My friend Lyn-Z is a skater and I like watching Ryan Sheckler.
Mike (Wentzville, Missouri)
Any tips for my girlfriend while she trys to get her pro license?
Ashley
(10:29 PM)
She should try some big amateur races, get used to the pressure of being on the track and she'll be alright.
Marcela Rivera (Mazatlan, Mexico)
What's a good bike to start racing? I'm 17. I thought about a honda crf 150 for my height, i'm petite:(
Ashley
(10:31 PM)
A 150 is good to start off with. But you have to be on a 250 to be in the pros
Jenny (Orlando, FL)
Hottest guy you have ever met at the xgames?
Ashley
(10:32 PM)
That's a hard one....I don't know they're names but I like a lot of the BMX guys.
Rosario (Mendoza, Arg.)
what feelings have when you ride a motorbike?
Ashley
(10:33 PM)
It's an amazing feeling, it makes me feel good. It's hard to describe.
Jesenia Parrales (Brooklyn, New York)
All these questions about racing, but i'd like to know if you surf? or any other hobbies you have :) (love your hair by the way)
Ashley
(10:34 PM)
I like to snowboard. And when I travel I like to snowboard and eat sushi!! Glad you like my hair.
Anthony (Crystal River, Florida)
Are you gonna be at Dade City MX track any time soon?
Ashley
(10:37 PM)
I was just there for a race. I train in that area so maybe I'll see you.
Isaac (PTY)
HEY YOU ARE ON TV! how does it feel to be there but not being able to ride for gold?
Ashley
(10:39 PM)
I didn't know I was on TV!! It's hard not to race for the gold but I'm here to watch and hopefully I'll be back next year.
Bryce (Bronson,Michigan)
Where are you planning on riding at in michigan the week of redbud?
Ashley
(10:40 PM)
Not sure yet. Normally I do, but I have to see how my head is doing first
Hassell (Kentucky)
Who do you think has best whip, I am saying Twitch.
Ashley
(10:42 PM)
Jared McNeil!!
Jay (Indiana)
How does it feel to be the favorite and fastest female motocross racer? And the hottest haha
Ashley:
(10:43 PM)
Thank you, I take that as a compliment. I feel pretty good right now- thanks
ESPN.com:
(10:44 PM)
Well thanks Ashley! Any last words for the fans?
Ashley:
(10:45 PM)
Thanks for having me! Thanks to all my fans for keeping me motivated to race and thanks to the X Games!!!