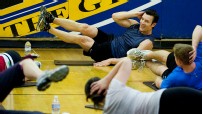 Horton turns 54 on Monday.
Welcome to SportsNation! On Monday, fitness trainer, and creater of P90X, Tony Horton stops by to chat.
Horton, @Tony_Horton, has spent over 30 years in the fitness industry, working with professional athletes, teams, movie stars and recording artists. Eventually his work led to him creating P90X, and one of the most aired infomercials on TV.
In addition to his workout videos, Horton has written two books on fitness, his second "Crush It" came out in May. In September, he will be hosting "Tony Horton Fitness Weekend" at Walt Disney World.
Send your questions now and join Horton Monday at 2 p.m. ET!
More Special Guests: Previous chats | SportsNation
Buzzmaster
(2:02 PM)
Tony's running a few minutes late in his schedule. He will be here at 2:15 p.m. ET!
Buzzmaster
(2:12 PM)
We've got Tony coming up in a few minutes! Get your questions in for this fitness trainer extraordinaire!
Buzzmaster
(2:23 PM)
Hang on folks. I believe Tony is grabbing a quick bite to eat and then he'll be with us to chat!
Buzzmaster
(2:43 PM)
He's here!
Kevin (Miami)
what do you think has been the biggest difference in fitness training since you got into the business?
Tony Horton
(2:46 PM)
I would have to say the introduction of stabilization exercises. Using Swiss balls, med balls. Anything that puts the body on an unstable surface. You're working on working on core muscles so you're a more stable athlete. It's not a linear thing any more. Training people in such a way that it's not about ego and asthetics and it's about taking the average persona nd turning him into an athlete.
Tony Horton
(2:47 PM)
For example, if you look at P90X2 (cheap promo!) we've got two new workouts called PAP. I was fortunate to work with Dr. Marcus Elliot in Santa Barbara. His techniques are a cut above everyone else. You use explosive excercises in a sequence called complexes that blow away any other weight lifting or cardio.
Peter (RI)
Be honest now Tony.....do you do P90X every day?
Tony Horton
(2:48 PM)
Go Rhody! I don't workout to me! But all of my workouts are P90X and P90X2 like. I might even steal an occational crossfit. A lot of my training these days has a strong gymnastics base. Swing hand stands on parrallel bars. Using the human body and various apparatis, things like rungs, some of these exercises, 3-4 reps and you're toast.
David (NJ)
As a long time fitness trainer, what do you feel like needs to be done about the obesity problem in the U.S.?
Tony Horton
(2:51 PM)
People need a purpose and a plan. The reason why they continue to struggle is they don't have either. If you really know why you're excercising and the reason is powerful you'll show up. Too many people wake up and have great intentions, but they don't know what they're doing and when. You need to schedule your workouts weeks and months in advance. I travel all of the time and I know what I'm doing when. Last, it's not for everyone, but certainly for me, is accountability. I hand out with like minded folks who like to exercise hard. If we set up a time to workout, odds are we will do it. And we'll push a little harder because of friendly competition. Purpose, plan, accountability are how I stay in shape, I continue to work out 5+ days a week.
Darin (Chicago)
I heard somewhere you had a career as a stand up comedian? How did that go? How funny were you?
Tony Horton
(2:52 PM)
HA! Let's put it this way....I wasn't afraid to do scary things that wouldn't kill me. The reason why I chose to dabble, and I will say dabble in stand up for two years, is I understood the ability to do something people thought scary. When I stacked the house and gave people free booze, I was a laugh riot. But on open mic night at 2 a.m. in front of five drunk guys, not so funny. But it was probably one of the greatest lessons in my life. It's probably why P90X is what it is now. Occasionally I'm funny.
Jeff (FL)
Is it better to try and do full body workouts a couple of times a week or isolate different muscle groups while working out every day?
Tony Horton
(2:54 PM)
My experience has been that the best kinds of exercises are those that force you to work on your weaknesses as well as your strength. Some guys just want to lose weight, some guys want to get big, some guys want a six pack, some guys want to be a better athlete. I don't know what your goal is, but at 54 years old, today, my goal is on being less wont to injury, maintaining a certian amount of durability as I pursue different exercises. But the short answer would be body weight or some type of resistant exercises 3 days a week and flexibility intervals and polymetrics the other four days.
Alan (Dallas)
You seem like a busy guy, so when are you able to have the time to think about your current workout systems and think about ideas and ways of improving them?
Tony Horton
(2:55 PM)
to be perfectly honest, I eat and think and sleep it ALL THE TIME. Eating breakfast, in the shower. Exercises pop into my head all of the time. A lot of my research and reading is how the human body works, functions. At my age, it's really important to stay away from patterns and routines that cause boredom, injuries and plateaus. I'm always trying new things and experimenting. After 30 plus years, my brain is wired to creating new routines.
Tony Horton
(2:56 PM)
Here's my new favorite. The 5 in 5. It's a pullup. You hang at the bottom for 5 seconds, that's rep 1, you pull yourself as high as you can and hold for 5, rep 2. Repeat. Now I've just started the 5, 5 and 5. Five at the bottom, five halfway, five at the top. Repeat. Enjoy!
Paul (Boston)
It seems like everyone has a different workout or workout routine, even regular guys at the gym, let alone world class trainers like yourself....so how does one figure out what's best for them when they want to start working out?
Tony Horton
(3:00 PM)
In my opinion, the objective when chosing a routine or a plan or a program is to see results. To see improvement. To see your range of motion improve, your reps to go up, your weight to go up. Things should get better over the course of time. P90X is as popular as it is, becuase if you have 180 pounds to lose if you're a grandmother, if you're a pro athlete, if you do it 6 days a week and eat right, the variety forces the human body...if you're exercising all the time and you're not seeing change, it's the wrong thing. IF what you're doing is providing you what you want, then you're doing the right thing. Far too many people are spinning their wheels and wasting prescious time and doing the same workout they did 15 years ago. My No. 1 advice would be change it up, mix it up, work on your weaknesses, it's variety intensity, consistency. That combination 5-7 days a week will provide the change and results you're looking for.
Tony Horton
(3:01 PM)
The other part is what you're doing and not causing injury. There are some programs out there and far too many people are hurt as a result, letting their ego get in the way.
Tony Horton
(3:02 PM)
It's a real honor to be here today at ESPN. Third time's the charm being here. One of the greatest organizations of all time, providing the men and women across the planet an inside look at what it's like to be an athlete and watch athletes in action.