Live Online Chat with Nyjah Huston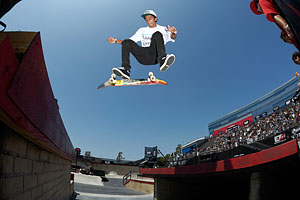 On Saturday, June 30 at 3:45 p.m ET, skateboarder Nyjah Huston will be participating in a live online chat with XGames.com.
Nyjah Huston was the youngest X Games competitor in history in 2006 at the age of 11, though this week, there will be one younger, Skateboard Big Air invite Jagger Eaton. As the defending X Games Men's Skateboard Street gold medalist and winner of the first stop of 2012's Street League contest, Huston is the only competitor in Real Street and Skateboard Street in 2012. Now 17, and having released a mind-blowing video part in 2011, Huston is at the top of his game, and skating big hand rails with the most technical moves is his forte. Huston is the one to beat in Real Street.
Send your questions now and join Huston here on
Saturday, June 30 at 3:45 p.m ET.