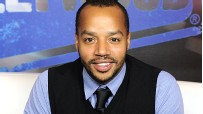 "The Exes" airs Wednesdays at 10:30 p.m. ET on TV Land.
Welcome to SportsNation! On Tuesday, actor Donald Faison stops by to chat about the NBA, his fantasy football teams, as well as the second season of his newest show "The Exes."
Faison, who starred as Dr. Christopher Turk for nine seasons on "Scrubs," had his show renewed for a second season in February, shortly after the first season ended. He co-stars along with Kristen Johnston, David Alan Basche and Wayne Knight.
Faison, @donald_faison, has more than 50 credits to his name, including 1995's "Clueless," in addition to his work in "Scrubs" and "Remember the Titans."
Send your questions now and join Faison Tuesday at 4:45 p.m. ET!
More Special Guests: Previous chats | SportsNation
LeAnne (Washington)
D, how did your fantasy football team do last year and when is your draft this season?
Donald Faison
(4:45 PM)
We haven't had our draft yet....I came in last place. This year I will win the thing, now that I know how fantasy football works.
Donald Faison
(4:45 PM)
My fiance beat me.
James (Rochester, NY)
What are you looking forward to the most on the show?
Donald Faison
(4:46 PM)
Just the fact that we got a second season. That's important. That's why we do this, to continue. I'm looking forward to being with the cast again.
Liam (Texas)
In Scrubs, you had a pretty big ensemble cast...now it's a smaller how is that working?
Donald Faison
(4:46 PM)
It's pretty cool. Everybody with Scrubs, we were all knew to having success on TV. With this, I'm working with Kristen and Wayne who have had success on TV. We all know what it takes to have a successful show.
Dylan NC [via mobile]
Donald, do you think Dwight Howard will become a Net? And who would you take in first pick in Fantasy Football Team this year?
Donald Faison
(4:47 PM)
It looks like Dwight Howard wants to be a Net. If that's what he wants, then that's what he'll get, that's just the way the NBA works it seems. He'll get his wish, if not this year, then next year.
Donald Faison
(4:48 PM)
If I get the first pick in the draft, I'm taking Aaron Rodgers. It's definitely a QB.
Kevin (FL)
Sports plays a role in The Exes...was that a selling factor to you for the show?
Donald Faison
(4:48 PM)
Absolutely. It's always good. That opens up the doors for sports celebrities to come in. We had Amare Stoudemire last year. That was pretty awesome.
Deven (New York)
Who's your favorite NBA team and who did you root for in the Finals this past year?
Donald Faison
(4:49 PM)
The Knicks are my favorite team. I wasn't rooting for Miami in the Finals.
Donald Faison
(4:49 PM)
But I'm happy for LeBron, Bosh, Wade, Chalmers, Battier. I thought Mike Miller was never going to get a ring. I honestly thought Juwan Howard would never get a ring. I'm happy for them.
Evan (Seattle)
What's it like working with such a talented cast?
Donald Faison
(4:50 PM)
It's great. It's awesome. I know what to expect when I get to work everyday, professionalism. Not that it wasn't like that on Scrubs.
Alex (Anaheim)
What was it like moving on from Scrubs? Do you feel a little like the actors in Seinfeld who became so iconic for their parts in one particular show?
Donald Faison
(4:51 PM)
I definitely don't feel iconic. When Scrubs ended, I'm very happy to be working now.
Dave (NYC))
Thoughts on adding Camby?
Donald Faison
(4:51 PM)
We now have the best defense in the conference. We'll see what happens with Jeremy Lin and Jason Kidd.
James Piccarreto (Rochester, NY)
What do you like about the show so far?
Donald Faison
(4:52 PM)
Having Amare on the show was awesome. That was definitely my favorite part of the first season. He was the king to making me seem like a professional agent. When we got him, that was great.
Donald Faison
(4:52 PM)
Everybody knows I really love basketball.
Rick (CA)
Do people think you smart because you played a doctor on TV?
Donald Faison
(4:52 PM)
No, they don't ask me doctor questions.
Deven (New Yotk)
How shocked are you that Nash is heading to the Lakers to play alongside Kobe?
Donald Faison
(4:54 PM)
To be honest with you, I'm pretty shocked. I didn't think Kobe would want anyone to hold the ball. But Nash is going to make them so much better, especially if they run the pick and roll. Look for Andrew Bynum and Pau Gasol to have big seasons, unless one of them gets traded, but don't look for that.
Carl (Houston)
when do you start shooting again?
Donald Faison
(4:54 PM)
We've already started. We're on our sixth episode now.
LeAnne (Washington)
Rodgers over Foster? Explain
Donald Faison
(4:55 PM)
I took Adrian Peterson first last year and he didn't get me the numbers and the person that took Aaron Rodgers last year won the whole thing.
Donald Faison
(4:55 PM)
Let's be honest, Aaron Rodgers is going to get you more points than Arian Foster.
Gary (VA)
do they tell you the storylines before the season?
Donald Faison
(4:56 PM)
It's an episode-by-episode thing.
ken-ohio [via mobile]
favorite part about your character?
Donald Faison
(4:56 PM)
He gets to kiss a different girl in every episode.
Derrick (IL)
How have the suits responded?
Donald Faison
(4:57 PM)
They seem to really like it. The crazy thing is it's like working for a startup company. I can't call them suits, because none of them wear suits.
Donald Faison
(4:58 PM)
Thank you very much for chatting it up. I appreciate it. Watch The Exes every Wednesday night at 10:30 p.m. on TV Land.