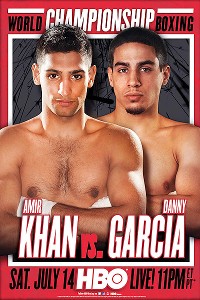 Welcome to SportsNation! On Wednesday, we're going inside the boxing ring when Amir Khan stops by to chat about his WBC light welterweight title fight this weekend.
Khan (26-2, 18 KO) takes on Danny Garcia (23-0, 14 KO) for Garcia's WBC light welterweight belt. The fight takes place at the Mandalay Bay Resort & Casino in Las Vegas Saturday at 11 p.m. ET/PT on HBO's World Championship Boxing.
Khan, @AmirKingKhan, lost the last time he entered the ring, back in December, as Lamont Peterson took away his IBF light welterweight belt. It was his first loss in three years and nine fights.
Send your questions now and join Khan Wednesday at 3 p.m. ET!
More Special Guests: Previous chats | SportsNation
Buzzmaster
(2:56 PM)
Amir is here!
stuart (englewood, nj)
Will Pacman ever be an opponent for you?
Amir Khan
(2:58 PM)
At the moment, it's 99% no. He's a good friend of mine. He trains with Freddie Roach at the same gym. The only way I could see it is if I face Floyd and beat him, then the public would demand that we fight. But I don't see us fighting. For now, it's a no, and I hope it's a no, because we get along well.
Amir Khan
(2:58 PM)
He also treats me like family every time I go to the Philippines, he has everything ready for me.
Joe (California)
Amir, they say we all learn from our mistakes. Do you think the loss against Lamont Peterson has made you a different fighter? Has working with Ruben Tabares made you a faster & stronger boxer?
Amir Khan
(3:00 PM)
Yeah. The loss made me a different fighter. I learned from that mistake. Yes, there are a lot of things I could have done differently. We weren't expecting him to come out so aggressively. But it's given me more confidence that I did well against a guy who was cheating if he wasn't taking that testosterone, I would have knocked him out.
Joe (Pittsburgh)
What has been your favorite venue that you have fought in during your career?
Amir Khan
(3:01 PM)
I had one in a football stadium. That was amazing. I fought in Manchester too and it was so compact. The crowd was so loud. There have been a lot of good fights there. When I fought there it was a dream come true. I'll never forget it.
sybil (washington stae)
Is this fight against Garcia going to be a good fight? Do you feel that you will KO him?
Amir Khan
(3:04 PM)
He's a very good basic fighter. He does everything well. But I don't see anything special about him. He doesn't have great power or movement. I don't see him pressuring me. I see me pressuring him more. I'm more interested in seeing how he reacts to my power. See him take a good punch. He thinks I'll have no power, but he'll see when I punch him and he'll go down. This is the first time I've gone into a fight looking for a knockout. I know the whole world is expecting me to win the fight, but I'm going to show them I can knock him out.
Ali (Los Angeles)
What are your thoughts on the Manny and Bradley fight?
Amir Khan
(3:05 PM)
It's one of the worst decisions that I've ever seen. He was aggressive, but Manny controlled the whole fight the entire way. He had over 100 more punches. I didn't see Manny hurt once the entire fight. I was shocked that he didn't win that fight. Decisions like these dishearten other fighters. To do everything you can do and they take it away from you. It's hard to come back from something that bad.
Moeez (Connecticut)
What's your main focus for the upcoming fight with Garcia?
Amir Khan
(3:07 PM)
My main focus is don't underestimate Garcia. I've always been careful because anything can happen. I want to show the world what I can do in being more relaxed and more powerful at the same time.
Asad (Los Angeles)
What are your plans for fights in the future and who would you like to fight? Bradley? Mayweather?
Amir Khan
(3:09 PM)
I've called Bradley out a few times in the past. He has to go fight Manny again. He's said no to me a few times. He's a good fighter. Victor Ortiz is out there. There are so many big names out there. Floyd is also the main target at 147.
Skip (NYC)
I know you make a ton of money for your fights, but as a fan it's disappointing to see the small crowds you draw in the US because it makes the viewing experience less enjoyable. Any plans for a fight in England any time soon?
Amir Khan
(3:11 PM)
I'd love to fight in England. To fight in England, you have to bring the best names over there. The big names won't fight me. When the fight negotiations take place and they keep saying no. And there's no one in England to fight me as well. I'd love to fight. I'd love to show my English fans, but there's nothing there yet.
Jason (NY)
Have you worked on your defense and fighting inside because you defense is not that great and you cant fight inside.
Amir Khan
(3:12 PM)
That was one of the main things we were working on. We spent 8-9 weeks in camp, so if we have to get inside on Garcia, we can do it. I might just take it inside myself. I've never said I'm a finished article, I'm still learning and competing. Yes, there are still areas that I need to improve in.
Amir Khan
(3:13 PM)
I just want to say to all of the fans that I wouldn't be where I am right now without you. I get hundreds and thousands of letters, Tweets, Facebook messages. I can't respond to all of them, but I do read them. Twitter is a big, big thing, I want to say thanks to all of the followers. I will try to do my best out there and make the fight as exciting as possible.