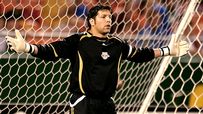 Meola helped the 1994 U.S. team reach World Cup Round of 16.
Welcome to SportsNation! On Tuesday, former U.S. men's national soccer team goalkeeper Tony Meola stops by to chat just prior to Wednesday's MLS All-Star game (8:30 p.m. ET, ESPN2).
Meola played for Team USA from 1988-2006, making 100 appearances for the national team. He started in goal for the 1990 and 1994 U.S. World Cup teams. He played 11 years in MLS, starting with the league's inaugural season in 1996.
For this year's All-Star game, the MLS team faces off against Chelsea FC at Philadelphia's PPL Park.
Send your questions now and join Meola Tuesday at 2 p.m. ET!
More Special Guests: Previous chats | SportsNation
Buzzmaster
(2:01 PM)
Hey everyone, Tony will be here shortly to take your questions and talk about the Allstate Fan Zone! Together with Tony the Fan Zone will have a "Dive for Charity" goalie game, where participants will be photographed making a diving save. Allstate will donate $100 to the Starfinder Foundation for each dive made, up to $5,000. Fans also have the opportunity to meet Tony for photos, autographs, game analysis and more. The Allstate Fan Zone is open 4 p.m. to 7:30 p.m. outside of PPL Park, with a check presentation to the Starfinder Foundation immediately following.
Jason (Miami )
What is the Starfinder Foundation?
Tony Meola
(2:04 PM)
Starfinder is a local Philly group that was founded in 2002 and they work to protect children in the community. They promote leadership and teamwork and rewarding working in a community. It's a great organization that I'm lucky to be partnering with. Hopefully a lot of people will come out! Come take a dive for $100!
Dave (SF)
When do you think we'll see the U.S. win a World Cup?
Tony Meola
(2:06 PM)
Winning a World Cup is the hardest thing to do. There have only been a handful of countries to do it. I do think the best team in Spain won it this last time, but that doesn't always happen. We are close to being able to compete with every team. There is not a team that the U.S. can't beat on any given day. It just has to happen on the biggest stage.
David (NYC)
Would you have put Ronaldo earlier in the PK ilneup against Spain in their Euro 2012 match at the end?
Tony Meola
(2:07 PM)
Yeah, you would have thought he would have been in the top three. It's one of those things, you never know what is going to happen in that huddle. Maybe he just thought they would get to the point where he could kick. I'm sure coach had some kind of hunch and this one just didn't work out. I'm sure he was as surprised as anyone. What we didn't know was if he had some kind of injury but I don't think so.
Will (Seattle)
With the popularity of the MLS at an all time high, do you wish you could still be in the league?
Tony Meola
(2:08 PM)
You always wish you could play again. I experienced a Sounders game recently and what they have built there is truly incredible. It's happening all over the country. The sport is growing every single day. I played in K.C. for eight years and we had great fans and big crowds, but what they have now is just incredible. Hopefully we can duplicate that in every city.
Tommy (Madison, WI)
Why does the U.S. consistently produce great goalkeepers?
Tony Meola
(2:09 PM)
I think it's obviously a very athletic position and we pride ourselves in having the best athletes. Growing up I had to look far and wide to find inspiration, but now young keepers can just look here in the U.S. and on TV. It's a fun position to play and hopefully we will continue to be strong.
Steve (Boston)
how much of a step backward for the U.S. is it that they didn't qualify for the Olympics?
Tony Meola
(2:11 PM)
I'm disappointed as a fan, but I'm not in any way feeling it will hurt the growth of the game. It gave us something to talk about when it happened, and it will sting some not seeing them in London, but I don't think it will hurt the growth at all. The U.S. not qualifying for the World Cup would hurt much more.
Eric (Toronto)
What do you think of the growth of the MLS these last nearly 20 years? Do you think the level of play has improved?
Tony Meola
(2:12 PM)
I think it has improves since 1996 but the pool of great players has grown as well. Coaches are seing more players now and fans are also seeing greater players come into the league. Most importantly there are just more good players out there.
Jason (Oaktown)
Are you still drumming? Any thoughts on the 25th anniversary of Appetite for Destruction?
Tony Meola
(2:12 PM)
I do occassionaly. I do some fundraisers with my old band. Not as much as I'd like to. I can't believe it's been 25 years. Probably the greatest album ever.
Derrick (Chicago)
Do you like the MLS all-star format with the MLS facing a European team?
Tony Meola
(2:14 PM)
I happen to like it just from a fan standpoint. It gives fans the opportunity to see the Champions League winners against our All-Stars. It's very difficult for the All-Star teams to get together in a short time and look organized, but I do like it. It helps show these players around the world that MLS is here and it's a formidable league. It shows the growth of the league. A lot of positives come out of this format. We are different in that we are an international sport, so I'm not sure the East/West format would work for us.
Will (Seattle)
What chance does the MLS have against Chelsea?
Tony Meola
(2:15 PM)
It's a group of good players, but yes, the club teams have a better opportunity to win because of their comfort level. They have a chance for sure. It doesn't feel like Chelsea had much of an offseason so I'm sure they will still look very good.
Karl (Denver)
What do you remember the most about playing on the 90 and 94 World Cup teams?
Tony Meola
(2:17 PM)
I guess just everytime we went on the field .. we were always the underdog it felt like. We were always having to prove ourselves and we turned a corner in 94. For years no matter what we did, we were always trying to gain respect. I'm just happy to have been a part of changing the culture.
Sam (Houston)
Do you think the MLS could sustain more expansion?
Tony Meola
(2:19 PM)
I think with the new rules with foreign players and an ability to bring guys over, we could still expand some. Some teams still have guys on their bench that could be starters in other places. That is always a good sign. I live in NY so we hear about a second NY team so you never know. It seems like that could happen. We'd love to see more West Coast teams to even it out. I have to believe with the success of the Canadien teams we could maybe see one more team there. The atmosphere looks great up there.
Alan (LA)
How proud were you to be involved in the first year of the MLS?
Tony Meola
(2:20 PM)
That was a great year. It was one of the best years for me. I felt like a pioneer. Everywhere we went was an experience. We had so many great players in the league. It was probably the tighest group of guys we all played with. It was exciting and all new. I stay in touch with quite a few of them. I still play indoor as much as I can and sometimes guys will fly into town to play with us and we'll hang out and have fun.
Tommy (Madison, WI)
Mexico seems to be playing better soccer than the U.S., is it mostly the quality of players like Chicharito or something else?
Tony Meola
(2:22 PM)
Yeah, they have a great team for sure. They might be playing a little better right now. No question they are on a roll. They are one of the top five teams in the world when they are together. But they aren't unbeatable. When the U.S. plays them it will always be a pretty even game.
Kyle (VA)
Is penalty kicks really the way to decide the ending to an important international event like the Euro or World Cup?
Tony Meola
(2:24 PM)
I think so. Short of playing until everybody drops, yes. We all deal with it. It's the same for everyone. Some games are decided on a penalty kick in the 90th minute. You never know. You could carve out any play and it could decide a game, so penalty kicks are no different. You prepare for it just like anything else. I happen to like it. It's great excitement and fair for everyone. What I don't like is when teams play for that outcome. Not much you can do to prevent that.
Alex (Anaheim)
What was your most thrilling international game?
Tony Meola
(2:26 PM)
Certainly the Columbia game. That was the one that changed the view of how people thought of us. It also helped get us to the second round!Thanks again! I really appreciate your questions and the interest in our sport. If you are in the Philly area be sure to come out to the All-Star festivities and take part in the Fan Zone and help a great cause!