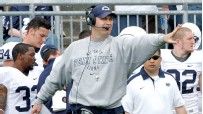 O'Brien is "committed for the long term" to Penn State.
Welcome to SportsNation! On Wednesday, Penn State head football coach Bill O'Brien stops by to chat about the future of the school's program, following Monday's NCAA sanctions.
After PSU's $60 million fine, loss of wins from 1998-2011, postseason bowl ban and reduction in scholarships due to the Jerry Sandusky scandal, O'Brien has already said he will fight to keep Penn State together.
O'Brien took over for the fired Joe Paterno in January for his first head coaching position, following five seasons with the NFL's New England Patriots.
Send your questions now and join O'Brien Wednesday at 10:30 a.m. ET.
More Special Guests: Previous chats | SportsNation
Buzzmaster
(10:19 AM)
Penn State's football coach Bill O'Brien will be here shortly to take your questions.
Buzzmaster
(10:26 AM)
Coach is here.
Greg (VA)
With the sanctions now in place, does you plan for the program change to more of a five year plan versus a shorter term vision?
Bill O'Brien
(10:27 AM)
There's no question that we have to think about the short term and the long term. The No. 1 goal for right now is to keep the 2012 team together, but we're also meeting about the scholarship reductions. It's more of a 4-5 year plan. Where do you want to be when the sanctions are over.
Jeff (Dallas)
Coach, considering the current circumstances, would you be offended at all if some student-athletes decide to transfer or leave Penn State?
Bill O'Brien
(10:28 AM)
I would never feel ill will towards the players that leave. That's the rules that we play under. We formed a bond with these players and our team feels a bond with each other. Hopefully that's strong enough to keep us together.
Reggie (LA)
Emotions are high right now. How will you deal with that throughout the season?
Bill O'Brien
(10:29 AM)
Again, I think we always talk to our players what we're doing in practice. Don't worry about the things that are going on outside of the program. Focus on the classroom, your assignment. Focus on the things you can control. That helps you control your emotions.
Larry (Houston)
How do you go about bringing back and healing relationships with the PSU fans and alumni who are upset with the school for everything that's happened?
Bill O'Brien
(10:30 AM)
The fans have to turn the page and get on board. There are a bunch of players working hard. The fans need to move forward. Decisions had to be made. Decisions were made. It's time to turn the page.
Stephen (GA)
This is more than just a football issue, this is a university wide issue. So, how do you think the football team can help lead the way toward helping to heal the entire community?
Bill O'Brien
(10:31 AM)
The football team can do a lot for the community by staying together and keeping working hard. Go out there and play hard. Play an exciting brand of football and make the fans proud. And keep doing what they're doing off the field. We have a fantastic GPA and graduation rate. I think it's up to the players to do what they've been doing.
Kevin (FL)
What have the players reactions been to everything that's happened this past summer? How much have you stayed in contact with them through all of this?
Bill O'Brien
(10:32 AM)
We're not allowed to have contact with the players. That's the rules in the summer time. I've had three team meetings, which I'm allowed to have as long as they're administrative meetings. The players are resolute as a group in staying together.
John Bagnall (York, Pa)
How much pressure do you feel to take Penn State out of this shadow of the Sandusky Scandle?
Bill O'Brien
(10:32 AM)
I really can't stand the word pressure. If anybody knows anything about my family, we have a chance to coach football. It's a fantastic sport. We're doing it at a great university. We can't wait to start practice and field a very competitive team in 2012.
Jason (Pittsburgh)
You've been in football for a long time, is there anything in your background, either on the field or off that you can draw on to help get you and the team through this tough time?
Bill O'Brien
(10:33 AM)
Sure. I've worked for a lot of great head coaches. George O'Leary, Bill Belichick, I've been trained very well. Every situation's been different. There's no question that I'm prepared for the situation that I'm in now.
Brian (Altoona, PA)
So far your team and recruiting class has held together through the sanctions. This speaks volumes on the type of player a Penn State guy is. How are you going to move forward looking for these type of guys knowing you do not have much room for error (due to scholarship sanctions)?
Bill O'Brien
(10:35 AM)
Again, we've got to find different ways. We might have to work harder. We have to do a great job of evaluating our offers. We have to do a great job of analyzing our numbers on our roster. We have to do a really really good job of recruiting PA kids to walk on. I've said this before, we went to the Super Bowl in New England with the biggest number of undrafted players. Wes Welker walked on at Texas Tech. Danny Woodhead. I think Brian Waters played at North Texas State. There are people that say we can't get it done. We have to be resolute and creative in our way of doing it.
Ryan (SconnieNation)
How hard do you think it will be to recruit some of the nations top players without being bowl eligible? Your experience with Tom Brady could be a significant attraction to top quarterbacks.
Bill O'Brien
(10:36 AM)
You talk to them about one of the things we have going for us at PSU is a great education, 100+ majors to choose from. Football wise, yeah, you can't go to a bowl game, but you'll play in front of 108,000 people every home game and I expect them to be there. And with all due respect to the bowl system, unless you're in the national championship game, I think I'd rather play in front of 108,000 people.
seth (baltimore, md)
bill, what was the first meeting like with the team after the penalties were announced? how do you keep guys focused and committed when they have been punished and penalized for actions that had nothing to do with them as members of penn state and the football program?
Bill O'Brien
(10:37 AM)
You talk to these guys all of the time about the bond we formed with them as a coaching staff and the teammates. You tell them not to focus about the other stuff any more. We can complain about that all day long, but at the end of the day, where does that get you? You talk about the relationships you have within that program.
Adam Baker (Altoona, PA)
Emotions are high now as the team vows to stick together but do fear a change of heart by some when the reality of the sanctions set in and scholarships are plentiful elsewhere after this season? The NCAA says the players have until the 2013 season to transfer without penalty.
Bill O'Brien
(10:38 AM)
There is no way that we're going to live in fear. Those types of things we're going to take day to day. We're going on the thought right now that we're going to stick together, because they are right now. That's the way we're going to approach.
Shane (Philly)
Bill,As a PSU alum, son of a PSU alum and lifelong PSU fan, thank you so much for your commitment, dedication and forward thinking during such turbulent times. The Nation may not believe it and in many cases the media may not portray it but Penn State stands for so much good on top of all of the negative. What if any ideas do you have on your end for helping to repair the University's image.Thanks again
Bill O'Brien
(10:40 AM)
We've started to do that right now, just by getting out the last couple of days and talking about PSU and the program. Some of those decisions will be made by the leaders of the university. We will always reach out to different child abuse organizations. We will keep working with the Special Olympics. Lift for Life. They just raised $15,000 for Lift for Life. We'll always be involved in the community.
Rob (Florida)
How is the rest of the campus dealing with the "stain" on the Penn State name? Has this affected more than just the football team?
Bill O'Brien
(10:41 AM)
It's summer time so a lot of the kids aren't here. I've been around a little bit and the student body is supportive and can't wait for the school year to start. I've been in some coaches meetings and we have tremendous coaches here at PSU.
Michael Marino. Chicago, IL [via mobile]
Coach, you are the man, great move going on ESPN all day today....what sort of changes to the schedule are you looking to do to create pseudo bowl games for the players over next 4 years?
Bill O'Brien
(10:42 AM)
That's already in the works, trying to change the schedule a little bit, like a Miami, Southern Cal, Hawaii. Something you can point to like a bowl game or just a big game. We should be willing to play anybody. At least once or twice a year. That's what we're trying to get started now.
brad (louisiana)
now that the ncaa ruled on your school do you regret taking the job at penn st. and if so do you have a way out of your contract.
Bill O'Brien
(10:42 AM)
No.
Kellan (Minnesota)
Do you anticipate or foresee any positions having a lack of depth that could be greatly problematic by one injury?
Bill O'Brien
(10:43 AM)
It's hard to say right now, we've got to go in there and look how the classes are and how many scholarships we have in each class. I know right now going into this year that our secondary had a lack of depth. But right now, all of those kids have told me they are staying. Other than that, we have a lot of OL, we're three deep on the DL. I feel good about our WR. It's about keeping this team together.
Bill O'Brien
(10:44 AM)
To the fans out there, I would like to say that you have a group of young men back in State College working very hard. They'll compete very hard this year and expect without a shadow of a doubt that their fans will be there. Get on board. I can't wait to get out there Sept. 1.