Chat with Bob Stoops, Landry Jones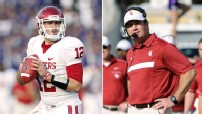 Oklahoma opens the season Sept. 1 at UTEP.
Welcome to SportsNation! On Thursday, Oklahoma's head football coach Bob Stoops and quarterback Landry Jones stop by to chat about the upcoming college football season.
In 2012, Stoops begins his 14th season at Oklahoma, where he's won 10 or more games 11 times. His 139 overall wins and 91 Big 12 wins both rank third all-time at OU.
Jones, a four-year starter, enters this season already as Oklahoma's all-time leading passer with his 12,379 yards, which is also No. 5 all-time in the Big 12. He led Oklahoma to three straight bowl wins for the first time since 2002 and just the second time since 1981.
Send your questions now and join the chat Thursday at 3 p.m. ET!
More Special Guests: Previous chats | SportsNation
Jeff (Roswell, NM)
Landry, You are the greatest New Mexico Sooner since Tommy McDonald!, How satisfying would it be to you personally to finish at OU as 2012 Big 12 Champions while holding so many OU records? Good luck, enjoy the season.
Landry Jones
(2:52 PM)
That's what I came to Oklahoma to do, win games and have a successful career. It would be extremely satisfying.
Soonefandave84 (OK)
Coach, you are nearing Barry's all-time win mark. That has to be a source of tremendous pride. I hope you hang around long enough to set the bar to high for anyone else to get. Thanks Coach.
Bob Stoops
(2:53 PM)
I'll be hones with you, I rarely pay attention to that unless someone brings it up. I just love to play football and enjoy it. I have incredible respect for Coach Switzer. It's amazing what he was able to do in his time there.
Devin (West Virginia)
Landry, you would have been a high draft pick in this years NFL draft but you chose to return to OU, what was the reason for your choice?
Landry Jones
(2:54 PM)
First of all, I prayed about it for a long time and that's what I felt God wanted me to do. Sitting down and thinking about it, it was whether I wanted to go back and enjoy my senior year, maybe win a national title.
Keller (Mainard)
Are you anxious to play the new schools in the Big 12? And do you think they have a chance versus your top notch offence?
Bob Stoops
(2:55 PM)
I'm not real anxious to see them. They're excellent football teams with a history of success. It will be very challenging.
Brett Sullivan (Coweta,OK)
Landry,after beeing in both coach Wilson's & Heupel's offenses,would you say they are quite similiar?Such as hot route reads and pre-snap evaluations of the defenses?
Landry Jones
(2:55 PM)
It's basically the same offense, just different play callers.
Don (Chicago)
Coach, how do you like the new playoff format? Would you like to eventually see it expanded and get rid of the way bowl games are structered now?
Bob Stoops
(2:56 PM)
I like it. I think it's a positive direction to go. As long as the bowls can continue to operate in a positive and profitable fashion.
Rainy Daze (Oklahoma)
Landry, have you had a chance to get to know any of your new WRs? How do you feel your chemistry is going to be with the new guys this year?
Landry Jones
(2:56 PM)
They've been here all summer, so I've gotten to know them well all summer.
Jim (Seattle)
What is Landry's greatest strength as a quarterback?
Bob Stoops
(2:57 PM)
Talent. Not one thing. Work Ethic.
Ronnie (Arlington, VA)
Coach, how is the defense going to be different now that Mike is back coaching the sooners this season?
Bob Stoops
(2:57 PM)
It's a positive situation. We have a long history of working together with success. Hopefully he'll give us more discipline and more success.
Tami (Olathe, KS)
Landry, what team defensively in the Big 12 will be the hardest to face?
Landry Jones
(2:58 PM)
It's tough there are so many good ones out there. Kansas State is sound in what they do. Texas is tough and their athleticism on the defensive side of the ball.
Bob Stoops
(2:58 PM)
OSU is always tough.
ze (tulsa)
Bob, what do you think it takes to get back into the national championship picture? And do you truly think this years team can?
Bob Stoops
(2:59 PM)
It will take a lot of work here in two a days and staying healthy and hungry. Improving as we go through the season.
Wes Lunt (Stillwater)
Landry, How far can you throw a football?
Landry Jones
(2:59 PM)
Oh gosh...I don't know. 70, 75 yards maybe.
Corey Edwards (Oklahoma City, Oklahoma)
Landry, I know you went out to California to work on details of quarterback mechanics to improve your game. I also heard coach Stoops talk about how the offense around you needed to step up. Knowing that, have you been able to build connections with the younger receiving corps coming in? Tre Metoyer comes to mind, I keep hearing his name the most.
Landry Jones
(3:01 PM)
I think getting with those guys will make them realize that if they're capable of playing early it will show them what we need to do.
Coach (OKC)
Do you feel good about the line backer corp we have this year? Is Wort ready to lead it?
Bob Stoops
(3:01 PM)
I feel good about them. They're guys that have played a good amount the last couple of years. Some young guys coming up too I think will really help.
Brett (Ponca City, OK)
Coach, who do you think (Outside of Metoyer) will be the breakout freshman receiver this year?
Bob Stoops
(3:02 PM)
It's hard to determine since I haven't been on the field with them all. I felt positive about them recruiting them. They seemed to have done a nice job over the summer knowing what we're trying to do.
Cole (Arkansas)
Coach, how is the defense adapting to Mike's defensive methods. To my understanding the scheme's are similar, but more of a focus on reaction?
Bob Stoops
(3:03 PM)
They've been very receptive to it. They've done really a nice job. In the spring they've been more responsible and playing with more discipline.
Scott (Lawton, OK)
Landry, will we get to see the 'stache this year?
Landry Jones
(3:03 PM)
We'll have to talk to Whitney to see if that's allowed to come back.
RealBaylorFan (Texas)
Coach,Do you feel that the Big 12 is the toughest conference in the land now that TCU and West Virginia were added?
Bob Stoops
(3:04 PM)
I think we're right there with anybody, when you look at the fact that seven of our 10 teams were ranked at the end of last year.
Ben (OKC)
What Big 12 team do look forward to playing this upcoming season?
Landry Jones
(3:04 PM)
Playing the two new teams, because we haven't played them before will be new and exciting for the team and the conference.
Kevin (Reno, NV)
Will we see more blitzing from the secondary now that your brother is back in charge in the defense? That was typical during his first tenure, but it seemed like Venables brought more pressure from the linebacker position when he had the reins. Or will it be somewhere in between?
Landry Jones
(3:05 PM)
Oh probably not. Probably it will be similar to what we've done.
Ken (Clearwater)
Who do you both look up to as mentors?
Landry Jones
(3:06 PM)
There are three that I really enjoyed watching. Carson Palmer, Tom Brady and Peyton Manning. I wanted to take the best out of all three of their games.
Buzzmaster
(3:09 PM)
Hang on a sec...Joakim Noah is chatting up Landry and Coach Stoops.
Joe (Tulsa, OK)
Landry, its Sept 5th, 2009 and Sam Bradford was just carried off the field by trainers. Tell us your thinking at that exact moment.
Landry Jones
(3:11 PM)
I'm just preparing myself to go in there and play. I'm going through all of the scenarios and make sure I'm ready to go.
Micah Hixon (Fort Worth, TX)
Coach, how do you keep your guys mentally prepared and up for even the "lesser" opponents you face throughout the season? In recent years, it seems like the team hasn't always showed up against opponents you were heavily favored against.
Bob Stoops
(3:12 PM)
Just by really being diligent and sticking to our routine and expectations to how we practice and prepare. There are enough instances each year of teams losing to teams maybe they shouldn't.
Justin Jump (Provo, Utah)
Coach Stoops, I hear this years offensive line has become very experienced. How do you feel about the O-lines protection this year?
Bob Stoops
(3:13 PM)
Just that, they are experienced and they've had a lot of good play. I expect them to have a really good year.
Landry Jones
(3:13 PM)
We appreciate all of the fan support.
Bob Stoops
(3:13 PM)
Boomer Sooner!