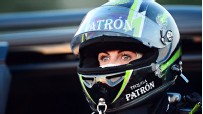 DeJoria raced four times in 2011 for Kalitta Motorsports.
Welcome to SportsNation! On Wednesday, we'll have the driver of the NHRA's Patron Tequila car, Alexis DeJoria stopping by to chat about her season, as well as this weekend's upcoming U.S. Nationals in Indianapolis, the last event before the Countdown to the Championship.
DeJoria, @AlexisDejoria, is in her first full season in NHRA's Funny Car class and is the daughter of business mogul John Paul DeJoria, owner of Paul Mitchell and Patron Tequila. She spent 10 years as a Paul Mitchell executive before leaving to race.
Send your questions now and join DeJoria Wednesday at 3 p.m. ET!
More Special Guests: Previous chats | SportsNation
Alex (Lockport,NY)
Did you have fun at Norwalk's Night Under Fire?
Alexis DeJoria
(3:02 PM)
I did! It was really cool to be a part of the show. Unfortunately it rained and we only got in one run. But it was a really cool event.
Chris (Denver)
Anything from your time in the business world that you can use behind the wheel?
Alexis DeJoria
(3:02 PM)
Definitely. I learned a lot working for the family business for four years out of high school that I took with me when I ran my own team. It is definitely a business and if you want to be successful and ahead of the game, you have to know both sides.
Alex (Lockport,NY)
How would you assess your season so far? Did you meet, exceed, or were you below your expectations?
Alexis DeJoria
(3:04 PM)
I have definitely exceeded my expectations. But I've also been disappointed. I've seen both sides of it. This year was all about learning about driving these beasts. It's been a great season so far, we have a lot of races to go. I really do think because we have a consistent car that we can win before the season is over.
Chris Fiegler (Latham,NY)
What Drag Race do you think that you will win at in 2012?
Alexis DeJoria
(3:04 PM)
It really doesn't matter. I think one of them is possible. I had never driven at Bristol and my team had never gone in Bristol. We had no information so for us to go to the finals, you never know when it's your time.
James Piccarreto (Rochester, NY)
What is your favorite racing memory?
Alexis DeJoria
(3:05 PM)
Bristol. For sure. That was unreal. We were so thrilled so early on to do that. We had a good car. And I felt confident in my driving ability. Del and I were beside ourselves.
Doug (CT)
Have you gotten Dad to any events?
Alexis DeJoria
(3:06 PM)
He does. It's pretty surprising too, with his busy schedule. He makes it to 4-5 races a year now that I'm in the pro ranks. He's here in Indianapolis at the Nationals.
Larry (Houston)
biggest test this weekend?
Alexis DeJoria
(3:07 PM)
We're really good in qualifying and down the track. It's just getting past that first round is sometimes our biggest challenge. If we can qualify well get into the top 10 and get past the first round, we'll be doing good.
Gary (FL)
Goals for the team's future?
Alexis DeJoria
(3:07 PM)
Championship. I want a championship real bad. My ultimate goal. That would be pretty awesome.
Wanda (Fort Worth)
Who was your favorite NHRA driver growing up?
Alexis DeJoria
(3:08 PM)
It was Del and John for sure. When I got my liscense I had both of them sign it. I was learning in Del's car and John was there. That was the best thing ever.
Joe (Seattle)
So what are your goals the rest of the season?
Alexis DeJoria
(3:09 PM)
Just to stay consistent. Do the best I can. I need more experience. Cutting good lights. Listening to what my crew chief has to say and soaking up as much as possible. I think the rest will fall into place.
Jeff (RI)
Are other drivers jealous of your sponsor?
Alexis DeJoria
(3:10 PM)
Jeff! Hey my mom's side of the family is from Rhode Island! I love it there. We seem to have shared the love. If anybody's been jealous, they haven't shown it.
Mitch (San Francisco)
Saw you a few weeks ago on the Western Swing at Sonoma. How would you describe what it's like to pull up the starting line with that engine sitting right in front of you?
Alexis DeJoria
(3:10 PM)
It's been a thrill. I've raced for 5 years, so it's not a new thing to me, but it's everything I ever dreamed of.
Buzz (Pompano Beach)
What do you need to improve on to get that first Wally?
Alexis DeJoria
(3:11 PM)
I don't really know. I think it's just sometimes the luck of the draw. Having a car that makes it down the track. It just depends on what you got.
Dave (San Francisco)
how do you describe a race?
Alexis DeJoria
(3:12 PM)
You're locked in super tight. You're really focused. Everything quiets down. I like to stay calm. I react better to things that way than if you're all hopped up.
Gary (Sacramento)
When do you know you've won a round or lost it? Is it right away you can tell?
Alexis DeJoria
(3:12 PM)
Sometimes I can tell. Other times, I go back to the crew asking them if I won or not and they tell me.
Kyle (VA)
how do you relax away from the track?
Alexis DeJoria
(3:13 PM)
I go home. Go see a movie. I BBQ with my friends. I spend time with my daughter. I don't like to do much when I'm home. I just like to stay at home and relax.
Ricky (Houston)
What's been your biggest disappointment this season?
Alexis DeJoria
(3:14 PM)
I think not qualifying for a second time. That was a big disappointment. Going out in the first round when I had the win which was unfortunate because I didn't know it. There comes a time and you have to learn the ropes. It was an unfortunate circumstance. I was trying to peddle it down the track and by the time the crew got to me it was too late. That was a huge disappointment for sure.
Craig (San Francisco)
How big was it to get some races nder your belt before going full time?
Alexis DeJoria
(3:15 PM)
I think it was nice. Starting with Ponoma, I would have done it no matter what. That's the shortest shut down and it's down hill. I would have done it no matter what. It was nice to start off at a track where I got my liscense. My father's side of the family is from out in Texas, so I have family close by. It was nice.
Joe (Seattle)
Who is really the craziest person in the NHRA?
Alexis DeJoria
(3:16 PM)
I would say John Force!
Alexis DeJoria
(3:16 PM)
I just want to tell all of my fans thank you so much for your support. I really appreciate it. I hope to not let you down ever. I love the sport and I love NHRA drag racing.