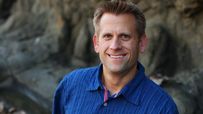 Welcome to SportsNation! On Tuesday, Sport Science host John Brenkus stops by to chat about his Emmy Award-winning TV show.
Sport Science uncovers sports' biggest myths and mysteries by utilizing cutting-edge technology to measure momentum, friction and the laws of gravity. In addition to his role as host of Sport Science, Brenkus, a Univeristy of Virginia graduate, is also the director and creative director of all BASE Productions programs.
Send your questions now and join Brenkus Tuesday at 2 p.m. ET!
More Sport Science: Chats | Index | Videos | Blog | @Sport_Science
John Brenkus
(2:02 PM)
I hope everybody had a great summer. I can't believe the NFL season starts tomorrow!
John Brenkus
(2:03 PM)
My Redskins better win more than 8 games!
Carl (DC)
How nervous were you with Jesse Williams coming at you for the high jump?
John Brenkus
(2:04 PM)
Very nervous. Jesse had never jumped over a human before. We were doing everything we could to make sure he didn't kicked me in the face. There is a huge psychological component to being able to jump that high. Going for a bar is one thing, jumping over a human is totally different.
Chris (NH)
What Olympic sport would you want to try and medal in?
John Brenkus
(2:04 PM)
I never would actually be able to medal in anything, but if we're playing some sort of fantasy game, I'd love to be a decathlon gold medalist. There is something cool about being "the Greatest Athlete on the Planet."
Victor (LA)
How impressed were you with the Olympic athletes that you worked with this summer?
John Brenkus
(2:05 PM)
I'm always impressed with Olympic athletes. They are the best at what they do. They're only doing it out of pure passion. The vast majority never make a lot of money, but they're still amazing athletes.
Alan (Washignton)
What kind of segments do you have coming up for this year's NFL season?
John Brenkus
(2:06 PM)
It's a surprise. Stay tuned!
Steve (Detroit)
When you look at the sceience behind Tyler Clary's swim stroke it seems that if he can repeat his powerful stroke over and over, he is an impressive swimmer....but how hard is it to get the body to consistently repeat the same motion?
John Brenkus
(2:07 PM)
It's less about the body and more about the mind. The physical motion is one that can be taught. To have the mental toughness and focus to be able to execute precisely when it matters most is what separates good from great.
Carly (LA)
How close did Jesse come to kicking you....the video makes it look close!
John Brenkus
(2:07 PM)
It was close enough for his feet to create a breeze on my face.
Jeff (RI)
Under those heat conditions of a NASCAR driver...how are they able to cool off?
John Brenkus
(2:09 PM)
The body regulates its own temperature. You'd be surprised how mental staying cool actually is. Think about Special Forces soldiers like Navy Seals and how they regulate body temperature under extreme conditions. Staying calm allows the body to do its job. Most people freak out and throw their bodies out of whack.
Willie (Sacramento)
Do you worry that when you attach sensors to the athletes taht it might throw off their performance due to them feeling different wearing the sensors?
John Brenkus
(2:10 PM)
We do everything we can to make sure the athletes are as comfortable as possible.
John Brenkus
(2:10 PM)
I think we do a pretty good job of getting real results from real athletes doing the real motions.
Doug (Denver)
Do you think gymnasts get overlooked in how powerful they are? Taht segment you did with the Venzuelan gymnast was impressive.
John Brenkus
(2:11 PM)
Yeah, they don't get overlooked here. We hold gymnasts in very high regard here.
Ryan (San Diego)
Does Javelle McGee's segment rank high on your list?
John Brenkus
(2:12 PM)
Javelle has a very unique combination of size, wing span and leaping ability that I think few possess in the world. I still contend that the double dunk is one that only a handful of people on the planet could actually do.
Steve (SF)
Does the decathlon have to be the most grueling olympic sport? do you think an athlete needs any one specific trait over another to compete successfully at it?
John Brenkus
(2:13 PM)
It's unique for sure. It certainly takes the wides variety of skill. It's toughest to say which one is the absolute most grueling, but it's certainly up there.
John Brenkus
(2:14 PM)
You have to be a jack of all trades and a master in all of them. It's hard to find people who can even compete competently in it.
Jack
Do you have a number of segments you want to complete each week?
John Brenkus
(2:15 PM)
We're constantly capitalizing on current events in sports and ever green topics. We don't have a set number we do every week, we just keep the machine rolling non stop.
John Brenkus
(2:16 PM)
If you don't see a segment in a particular week, it's because we're working on a bunch that will follow soon thereafter.
John Brenkus
(2:16 PM)
With that being said, there hasn't been a week where we haven't delivered a segment. And some weeks we deliver more than one a day.
Jeff (RI)
college football, NFL, Ryder Cup, U.S. Open......how to choose?
John Brenkus
(2:17 PM)
We have some segments that are predetermined for each sport and some segments we're reacting to whatever is the most amazing play/player.
John Brenkus
(2:17 PM)
But yes, this is my favorite time of year. From September to June is our prime time.
Kevin (RI)
Ryder Cup segments comingup?
John Brenkus
(2:18 PM)
Stay tuned.....
John Brenkus
(2:18 PM)
More great Sport Science segments coming your way. Thanks for your support!