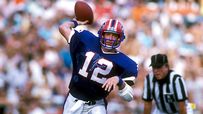 Kelly was the 14th overall pick in the 1983 draft.
Welcome to SportsNation! On Wednesday, we will have Pro Football Hall of Famer, and former Buffalo Bills quarterback, Jim Kelly stopping by to chat about the 2012 NFL season, in addition to his new book, "The Playbook for Dads" that hit stores Tuesday.
After entering the USFL out of college, Kelly entered the NFL in 1986 and enjoyed an 11-year career. During that time, he threw for 35,467 yards, good for 15th all-time. His 101 wins as a starting QB is 10th all-time. The Miami (FL) product earned enshrinement into the Pro Football Hall of Fame in 2002, his first year of eligibility.
Kelly's new book uses the lessons he learned in football to help lead men to become great fathers, which he says is the toughest job in the world. He tackles essential and tough issues facing fathers so they can help their children be everything they are meant to be.
Send your questions now and join Kelly Wednesday at 2 p.m. ET!
More Special Guests: Previous chats | SportsNation
Buzzmaster
(2:01 PM)
Jim is here!
chris (NYC)
How long did it take for you to write the book?
Jim Kelly
(2:02 PM)
Two years. With the help of Ted Kluck.
alex mares (CA)
How did it feel to become a pro football Hall of Famer.
Jim Kelly
(2:03 PM)
It brought back so many great memories to how I got to where I was at. Knowing that I did not get there by myself. I was surrounded by a lot of great people, coaches and fans. A day that I will never forget.
Nathan (Missouri)
Do you consider 4 straight Super Bowl appearances and losses a success or failure?
Jim Kelly
(2:09 PM)
Without a doubt a success. The mental approach that it took for all of those players on that team for the task of another season and to never be able to forget but learn from the previous year is something I don't think anyone will do again. I'm proud to say that I played for the Bills during that era.
Todd (Anchorage)
Hi Jim- who was your "security blanket" receiver, someone you knew would come through when you absolutely needed it? Thanks-
Jim Kelly
(2:09 PM)
One name comes to mind. Andre Reed. 12 plus 83 always equaled 6.
Nickuru (Raleigh)
As a QB, what do you see differently in defenses which switch from a 3 - 4 to a 4 - 3? Not just the defensive philosophy, but also when it happens during a game, I am wondering how Mario Williams is going to fit in. Any observations?
Jim Kelly
(2:10 PM)
Your sight adjusts on blitzes change. Your blocking scheme changes, but your play calling does not.
Marc (City of Brotherly Love)
Is it true that you were the only quarteback Bruce Smith did not hate?
Mike (Brooklyn)
Do you have any thoughts on the Bills possibly moving to say Toronto?
Jim Kelly
(2:11 PM)
That will never happen. Period.
Matt Alexandrovich (Rochester NY)
What do you think of Ryan Fitzpatrick going into this year knowing that he has had Lee help him on his mechanics?
Jim Kelly
(2:12 PM)
I hope it leads to great things for the Bills, because this is now his football team. They have a defense. They have the special teams. Everyone around him is healthy. It's time for him to step to the next level.
James (Rochester, NY)
What is your favorite memory as a football player?
Jim Kelly
(2:13 PM)
Too many to put down in this chat. But one that comes to mind is my first game against the New York Jets, having my mother, father and my five brothers in the stands, knowing that someone in our family made it to the NFL.
Pete Buffalo [via mobile]
What advice would you give Stevie Johnson?
Jim Kelly
(2:13 PM)
You don't need to showboat to be a great receiver.
Jim Kelly
(2:13 PM)
You're a great kid off the field, be one on the field.
Rich (New Jersey)
Hi Jim, with five rookie quarterbacks starting 2012 season what advice would you give them? And I think Buffalo has a good chance of having a good season, do you see them making the playoffs?
Jim Kelly
(2:14 PM)
I can't believe it. It tells me that some teams are very desperate for QBs. The advice: don't try to be the college hero that you were, take what the defense gives you.
Marc (City of Brotherly Love)
Your thoughts on the overtime change rule? Would you have liked it in your playing days?
Jim Kelly
(2:15 PM)
I'm glad to see the rule change.
matt (Grand Rapids)
Who was the opposing QB you feared the most?
Jim Kelly
(2:15 PM)
Never feared one person.
Jim Kelly
(2:15 PM)
I respected many, but never feared any.
Mark (South Indiana)
Frank Reich was a solid backup for you, but who do you think is the best backup quarterback in the league ?
Jim Kelly
(2:16 PM)
I owe Frank Reich so much for not only being a great backup, but also a great person away from the field. He to this day is one of my best friends and my spiritual leaders.
Nathan (Denver)
How do you think your Bills will do this season? Playoffs?
Jim Kelly
(2:17 PM)
I've already blocked out the first week of January for the Buffalo Bills playoff game. What does that tell you?
Jim (KC)
How much fun did you have in leading that Run-n-Shoot offense?
Jim Kelly
(2:18 PM)
I've never had as much fun as I did in running that. It. Was. A. Blast.
Jim (Grand Rapids, MI)
Have you spoken to Mr. Wilson since he was in the hospital, or released from the hospital? Do you know how he's doing?
Jim Kelly
(2:18 PM)
No.
Jim Kelly
(2:18 PM)
I have not.
Steve (CT)
If the Buffalo Bills are ever put up for sale. Are you still interested in being part of a group that would purchase them and keep them in Buffalo?
Jim Kelly
(2:19 PM)
Next question.
Marc (City of Brotherly Love)
Can you root for any other AFC East teams? Or do old rivalries never go away?
Jim Kelly
(2:19 PM)
The old rivalries never go away. Squish the Fish. Never liked the Jets never will.
Danny C (NY)
Is there a quarterback today that you think resembles your playing style?
Jim Kelly
(2:20 PM)
I'd say probably Tom Brady in the sense that he's a pocket passer. His offense is similar to what I ran with the K-Gun.
Jeff (RI)
what did you try to do with the book?
Jim Kelly
(2:21 PM)
To have parents understand that it starts at home with them through discipline, passion and the titles of each of my chapters.
James (IL)
What are your thoughts on Peyton Manning no longer playing with the Colts?
Jim Kelly
(2:21 PM)
When I look at QBs like Dan Marino, John Elway, I think of one thing and that's Dolphins and Broncos. When I think Of Peyton, it's hard to visualize him in a uniform other than the Colts. But I am still pulling for him.
Bill W (Orchard Park)
Jim, Seeing that we have replacement refs, I was wondering what your relationship was with them when you played, and If it would have affected you at all. Did you have a favorite crew? Thanks,Bill Ps.. I'd still like to punch out the refs from Super Bowl 26 first half. Especially that back judge... just sayin
Jim Kelly
(2:21 PM)
You respect them, but still disagree with a lot of their calls.
Chris (Denver)
Were you taking notes for a book?
Jim Kelly
(2:22 PM)
No, I was not taking notes. I had a very good co-author in Ted Kluck that helped me put it on to paper, what I feel in my heart what some dads need to know.
Greg (DC)
How did the book idea come up?
Jim Kelly
(2:23 PM)
My wife is a writer and through losing my son to a fatal disease at the age of 8, I knew I wanted to have parents undestand what I've learned through 25 years of having a football camp through the youth and growing up one of six boys and what my father instilled in us in passion, respect and discipline.
Jim Kelly
(2:23 PM)
Thanks for the questions. Check out the book on Amazon.com, JimKelly.com, HuntersHope.org. It's a must read! Forwarded by Dan Marino!