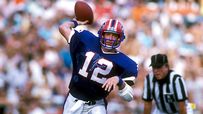 Kelly was the 14th overall pick in the 1983 draft.
Welcome to SportsNation! On Wednesday, we will have Pro Football Hall of Famer, and former Buffalo Bills quarterback, Jim Kelly stopping by to chat about the 2012 NFL season, in addition to his new book, "The Playbook for Dads" that hit stores Tuesday.
After entering the USFL out of college, Kelly entered the NFL in 1986 and enjoyed an 11-year career. During that time, he threw for 35,467 yards, good for 15th all-time. His 101 wins as a starting QB is 10th all-time. The Miami (FL) product earned enshrinement into the Pro Football Hall of Fame in 2002, his first year of eligibility.
Kelly's new book uses the lessons he learned in football to help lead men to become great fathers, which he says is the toughest job in the world. He tackles essential and tough issues facing fathers so they can help their children be everything they are meant to be.
Send your questions now and join Kelly Wednesday at 2 p.m. ET!
More Special Guests: Previous chats | SportsNation