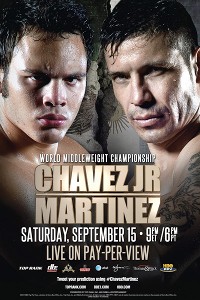 Welcome to SportsNation! On Tuesday, we're going inside the boxing ring when Mike Lee stops by to chat about his light heavyweight fight this weekend on the undercard of the Julio Cesar Chavez Jr.-Sergio Martinez main event.
Lee (10-0, 6 KO) takes on Paul Harness (4-3-1, 3 KO). The fight will be live from the Thomas & Mack Center in Las Vegas Saturday at 9 p.m. ET/6 p.m. PT on HBO PPV.
Lee, 25, a Chicago native, began boxing professionally in 2010, winning three out of his first four fights via knockout. The Notre Dame alum won the seventh fight of his professional career when fighting at the university's Joyce Center in South Bend, Ind.
Send your questions now and join Lee Tuesday at 3 p.m. ET!
More Special Guests: Previous chats | SportsNation
Buzzmaster
(3:00 PM)
We'll have light heavyweight Mike Lee here to answer your questions in a few minutes!
Kevin (DC)
Mike, what was it like last year fighting on the campus of Notre Dame?
Mike Lee
(3:02 PM)
It was one of the most incredible experiences of my life. At the same time, one of the biggest pressure moments of my life too. The fact that I was the main event, the first fight on Notre Dame's campus, my entire purse going to charity, there was a lot on the fight. Coming out of that tunnel and have it being a homecoming for me, I had goosebumps coming out of the tunnel. That was the first time that had ever happened to me.
Paulie (Boston)
if you're from chicago, are you a chicago sports fan through and through? if so, what'd you think of the Bears win?
Mike Lee
(3:03 PM)
Big Chicago sports fan. Grew up Sox fan, Bears fan, big Bulls fan. I loved the Bears win on Sunday. I think Cutler and Marshall are a great team. We're looking good this year if we stay healthy. I look to make it back home for a few Bears games this season.
Devin (Houston)
Are you nervous at all to be fighting on the undercard of such a major fight like this one?
Mike Lee
(3:04 PM)
No, I think I'm more anxious than nervous. It's more about the anticipation of the moment. The training for weeks and weeks, the media. But I feel confident in the training. It's more about being anxious than nervous.
Dave (Boston)
Talk to Tom Z. at all about pro boxing?
Mike Lee
(3:05 PM)
Yeah, I've spoken with him early in my career. His dad and my dad are friends. We train at the same gym in Chicago. I think he's doing really well in the NFL right now. Hopefully he can make it back to boxing one day. It was really cool to have two guys from Notre Dame make it to pro boxing.
Kevin (ATL)
You're 10 fights into your pro career...are you where you wanted to be 10 fights in?
Mike Lee
(3:06 PM)
I think I am. I am very hard on myself, so obviously there are things I want to do better. We're getting better and better. Thanks to Top Rank and these huge fights I've been in, I'm farther along. If you had told me two years ago that I'd be fighting before a big fight like this one, I wouldn't have believed you. I'm very happy with where I'm at 10 fights in.
Chris (Miami)
Chavez and Martinez have a lot of bad blood between each other....who do you think will win?
Mike Lee
(3:07 PM)
This is a tough fight. A lot of guys in the gym go back and forth on it. I think two things happeen, either Martinez wins via decision or Chavez wears him down and gets a late knockout. With Martinez' footwork and speed, despite being 37, I think he can get the win, but I wouldn't be surprised if Chavez does either.
Ryan (San Diego)
Do you see yourself having more fights in or around Chicago?
Mike Lee
(3:08 PM)
Absolutely I do. Even thought I'm training in Houston, the Notre Dame showing was great. My pro debut was in Chicago. I told people my dream one day is to fight in Wrigley Field for a championship and to pack the field. The people of Chicago have supported me so much, I'd love to fight there.
Eric (Texas)
What do you do to get away from the ring?
Mike Lee
(3:09 PM)
I really get into college football. I'm a huge sports fan. Now that the NFL is back and college football is back, I'm a huge fan. I'm not a big party guy. I'm close to the beach here, so I like to go there and hang out with friends. I try to keep it lowkey.
Greg (CA)
How much bigger do you think you can get beyond 175?
Mike Lee
(3:11 PM)
Hopefully not much bigger. I plan on staying at 175. I think it's a phenomenal weight for me. I usually gain 8-10 pounds from the weigh-ins to the fights. I come in a big, strong fighter. When you get to the cruiserweight, you deal with guys a lot bigger. I usually walk around in the 180s. I don't have any intention of going up.
David (FL)
About half of your fights so far in your career have taken place in Las Vegas...how comfortable do you feel fighting in the capital of boxing?
Mike Lee
(3:12 PM)
That's a great poing. Vegas has been good to me. Vegas is the No. 1 fight town in the country, maybe in the world. I love the atmosphere and the energy of the fight weekend. For me to have been pro for two years, it feels good to be on the big stage in Vegas. I'm really looking forward to Saturday night.
John (Chicago)
What has trainer Ronnie Shields meant to your maturation in the ring?
Mike Lee
(3:13 PM)
He's been a huge key to my success. When I turned pro, I wanted a trainer who was a teacher. That's what Ronnie is. Pernell Whitaker, Forrest. The list goes on and on. I soak up everything he says. I'm like a sponge. My progression has been so fast and Ronnie has been a huge part of that. He has so much more to teach me. It's a great partnership we have.
Chris (DC)
what's next after this weekend?
Mike Lee
(3:14 PM)
I'm not sure. We don't have a date yet. They usually tell us a couple of days after the fight. You never think about the next step. Basically I need to take care of business Saturday night and then figure out what the next step is.
Derel (Chicago)
favorite fighter?
Mike Lee
(3:15 PM)
I would say either Miguel Cotto or Gatti. I grew up watching them and they had fan friendly fights. They're aggressive and they're warriors. They come forward.
Mike Lee
(3:16 PM)
I appreciate the support from coast to coast. It makes you work hard. I hope everyone will tune in Saturday night and watch me go 11-0.