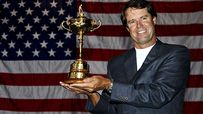 Azinger captained the U.S. to its first Ryder Cup win since 1999.
Welcome to SportsNation! On Wednesday, former captain of the U.S. Ryder Cup team, and current ESPN golf analyst, Paul Azinger stops by to chat about the 2012 Ryder Cup. ESPN will carry coverage of the tournament on Friday starting at 8 a.m. ET live from Medinah Country Club in Medinah, Ill.
Azinger captained the only U.S. win in the Ryder Cup in the 2000's, leading the American team to victory in 2008. As a player, Azinger was on four Ryder Cup teams, winning back-to-back Cups in 1991 and 1993. He also played on the team that tied Europe in 1989 and lost in 2002. His personal record is 5-7-3.
As a PGA Tour pro, Azinger owns 12 wins, including the 1993 PGA Championship.
Send your questions now and join Azinger Wednesday at 2:30 p.m. ET!
More Paul Azinger: @PaulAzinger | Search | Ryder Cup
Chris (CA)
Paul, what's the most important day of the weekend?
Paul Azinger
(2:32 PM)
I think from the Americans perspective, it's the first day. The home crowd and wanting to keep them in it and because of the past failures, I don't think they can afford to start in a hole.
Will (Denver)
I'm curious to find out what your thoughts were about the captain's job when you were a player on the team and how they compared to when you became the captain yourself?
Paul Azinger
(2:33 PM)
I enjoyed all of my captains and I thought they did a terrific job and were very thorough. I asked two of my former captains to be my assistants. My Ryder Cup was different, because we had lost so many Ryder Cups that I revamped how the team was picked. I came up with the philosophy of picking the 12 and making 3 four-man teams.
Noah (San Pedro)
What was the greatest Rider Cup match ever, 1991 War on the Shore or Brookline 1999?
Paul Azinger
(2:34 PM)
The War on the Shore was the beginning of the event no longer being perceived as just an exhibition and really a competition. That really put the Ryder Cup on the map in the States. That's when people became aware of it.
Doug (DC)
The U.S. seems to been having more and more rookies on the team the last few tournaments. Is that good or bad?
Paul Azinger
(2:35 PM)
It's probably good for the team. There were 6 rookies on my 2008 team. I think fresh blood is good.
Paul Azinger
(2:35 PM)
Especially since the U.S. has only won 4 times in 29 years.
Ajax (Amsterdam)
Do you think a low key approach to being Captain (ex. Fred Couples) works better than intense hard charging (Tom Lehman 2006)?
Paul Azinger
(2:36 PM)
That's hard to know really. My personal challenge was to set my personality aside and communicate with the players according to their personality type. Who the players were was more important than who I was.
Tim (FL)
What day do you think the U.S. will struggle the most?
Paul Azinger
(2:36 PM)
The U.S. has traditionally struggled with 4 ball. The U.S. does better with alternate shot format.
Jim (NYC)
Do you foresee Davis sitting Phil during any of the pairings ?
Paul Azinger
(2:37 PM)
I think he could sit Phil and he could sit Tiger. My goal as captain was to not have a single player play all 5 matches, because historically they either lose or tie their singles match 75-80 percent of the time.
Ryan (Dallas, TX)
Paul,Howdy from Dallas! What are the chances Davis tags the vets for the initial matches?
Paul Azinger
(2:38 PM)
I think what Davis will do is recognize that all 12 should play the first day. Four players will have to sit in the morning and four that play in the morning would have to sit in the afternoon. My advice to him is to get all 12 out in that first day.
Justin (Torrance CA)
Whose the best ESPN golfer right now...you, Andy North, or Curtis Strange?
Paul Azinger
(2:39 PM)
I would say right now Andy North would beat Curtis and I like a drum.
Kevin (Louisiana)
I watched the War by the Shore documentary last night... fantastic stuff. I want commend you for your grit, then and now (I follow you on twitter). I really wished you would've punched Colin Montgomerie in the face on general principle BUT i know I'm asking too much....Now, to the question, Do you think this Ryder cup will be more jovial amongst the players and is there at least some bad blood between any of them? I would find it hard to like Poulter
Paul Azinger
(2:40 PM)
First of all, did you like my mullet in 1991? I don't think there is quite the animosity we had for each other in 1991, simply because the European players live here and play here on a regular basis.
Peter (Los Angeles)
Do you think it helps or hurts to have Michael Jorden around the team?
Paul Azinger
(2:41 PM)
I don't think that it hurts to have great athletes like the players. I talked with Jordan the other night and his role is minimal. He's there to help Davis, they've been friends since college. Michael told me that he's not there in a significant role.
Peter (Los Angeles)
Do you think Davis Love III use your pod theory when matching up USA players?
Paul Azinger
(2:42 PM)
I did talk to him about it. His pairings today in practice were different than his pairings yesterday, which leads me to believe he's doing something different. He's very thorough and the players will like him. I think he's doing a great job so far.
Noah (San Pedro)
What happened to two of the stars from your 2008 team, Anthony Kim and Boo Weekley?
Paul Azinger
(2:43 PM)
I know that Anthony Kim has had a couple of nagging injuries. Boo Weekley has had a little trouble off the course, he and his wife have divorced and there are some emotional issues off the course.
Tina (Williamsburg)
What course here in America would you like the see host the Ryder Cup that hasn't in the past?
Paul Azinger
(2:43 PM)
I would like to see Augusta National host the Ryder Cup and I want to be the captain.
James (Chitown)
How much control/input did you actually have in setting up Valhalla?
Paul Azinger
(2:44 PM)
Well, I was given 100% control to my surprise, I was the first player to actually ask for control in setting up the course. Europe had been setting up the course over there for years. I worked with Mark to set it up and he was egoless. I consider him an intrigal part to our success.
JD (CT)
Paul, which step is more difficult for a player: from solid player to consistent winner or consistent winner to major tournament winner?
Paul Azinger
(2:45 PM)
Probably going the second one, from a consistent winner to a major winner. There's just a hurdle there.
Devin (FL)
how hard is it getting guys to buy into a team sport of golf?
Paul Azinger
(2:46 PM)
American captains have four days to get the players invested in each other, where one feels he can help the others get better. European players have had that since they were born. We are more bonded by our universities.
Ashley (San Francisco)
If it came down to making one 10 foot putt to win the Ryder Cup this year, who of this USA team do you want taking the putt?
Paul Azinger
(2:47 PM)
Tiger.
Paul Azinger
(2:47 PM)
Thank you very much. Great questions. Can't wait for this to start. I think Europe should be a slight favorite, but it's anybody's ballgame.