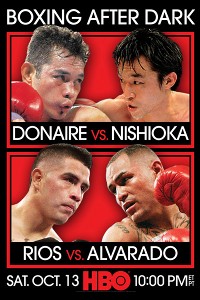 Welcome to SportsNation! On Tuesday, we're going inside the boxing ring when Nonito Donaire stops by to chat about his super bantamweight title defense this weekend.
Donaire (29-1, 18 KO) takes on Toshiaki Nishioka (39-4-3 24 KO) for Donaire's IBF and WBO belts. The fight will take place at the Home Depot Center in Carson, Calif. Saturday at 10 p.m. ET/PT on HBO's Boxing After Dark.
Donaire, @filipinoflash, is making his second super bantamweight title defense, having gone up in weight class after two title fights at bantamweight. The only loss of his career came in the second professional fight of his career.
Send your questions now and join Donaire Tuesday at 2 p.m. ET!
More Special Guests: Previous chats | SportsNation
Carl Llamoso (Hillside, New Jersey)
Are you going to implement more jab in this fight against Nishioka?
Nonito Donaire
(1:59 PM)
Most likely. Going back into my old style of boxing. There will be a lot of that. It depends on what he can give to me as well.
Alvin Basa (Las Pinas, Metro Manila)
In a couple of years, do you see yourself competitive enough to fight in the Junior Welterweight division?
Nonito Donaire
(2:00 PM)
I can't say, but I want to. It depends on what my body limits. If I can make it I want to move up to that division.
Slater (West by God Virginia)
I'll start by saying that your always one of the most entertaining fighters today. My question for you is this is, Nishioka has incredible speed. Do you anticipate someone with comparable quickness giving you any problems and if so how do you plan to deal with it?
Nonito Donaire
(2:01 PM)
I think I have sparred a lot of guys who are fast. I fought Manny Pacquiao back in the day in his prime. I can recollect sparring and learning from guys. In fighting, I've always been able to find the timing to neutralize someone's speed. You have to neutralize the speed by having the perfect timing.
Joe (Atlantic City, NJ)
Nonito - Good luck in your fight. After Nishioka it is clear Abner Mares is the best in the division. Will you force Top Rank to make a deal for that fight? Even with the Golden Boy/Top Rank feud, it would seem to be the biggest fight financially and in importance.
Nonito Donaire
(2:02 PM)
I'm hoping to. I want to stay in this division. I want to fight the likes of Mares. I hope they make it happen for me.
Joydeep (Philippines)
Hey Donaire. I was hoping your fight against nishioka would be here in Pasay City but its all good. Any chance we'll see you fight rigondeaux next year?
Nonito Donaire
(2:03 PM)
For me, I've always wanted to fight everybody in the division. Anybody else is there for the taking. I'm game for anybody who puts their name on the contract.
Luis Sarabia (Monterrey , México. )
what is the great fighter of the history because you have inspired ?what u think when the bell of the first round is touch !! ??
Nonito Donaire
(2:03 PM)
There are a lot of fighters. Sugar Ray Robinson, Leonard, Trinidad, Jones, Ali. There are a lot of fighters that have inspired me that I idolized growing up.
Kevin (CA)
how long was the camp?
Nonito Donaire
(2:04 PM)
I've had about six weeks, seven weeks for this camp. But we've sparred a lot in this camp when we had the chance to. We're very confident.
Kris (NH)
Worst part about camp?
Nonito Donaire
(2:05 PM)
Training camp, you have to work hard. You want to work hard every single time. You need to cut the weight. Just getting on the track. Waking up in the morning and doing what you need to do. I can't really say what I hate about it. There are days I don't want to go to the gym, because my body is tired, but you have to do what you need to do.
Mike (Los Angeles)
Do you think that you will be fighting Rigo after Nishioka if you win? Are you planning to clean out 122 and possibly fight Mares? Or are you viewing 126?
Nonito Donaire
(2:06 PM)
I would like to do that. I would like to stay at 122 and fight the top two after this guy and see where I can go from there. But the negotiating process is usually the key to making the fight happen. But that's what I would like to do.
Mike (Los Angeles)
Flash, what are you preparing for against a fast, skilled, experienced fighter in Nishioka?
Nonito Donaire
(2:07 PM)
A lot of sparring with lightweights and they're very fast. We had a lot of guys who were faster than the guy I'm fighting. You have those guys to simulate the type of fight.
Gene (Burbank, CA)
Stoked for your fight bro, but also stoked for rios v. alvardo. Bought my ticket and everything. Who are you picking out of that fight and why?
Nonito Donaire
(2:08 PM)
Rios is my teammate and someone I respect as well. But overall, it's one of those fights that will be an entertaining fight. I would definitely side with my team. They get the flow going in the fight. It will be a good fight.
Mike (Los Angeles)
How high can you go? Your frame can take you as far as 130, but there is more talent and money at 135 and 140.
Nonito Donaire
(2:09 PM)
I think so. I agree with that. But I'm not going to force something my body is used to. I'm going to take it one step at a time. 130 and up is the big money fights, but I'm not going to force myself if the body can't get there.
Nonito Donaire
(2:10 PM)
Thanks to the fans for all of the support. Stay tuned for the fight on Saturday. I will try to give you a good fight. Thank you for all of the support over the years.