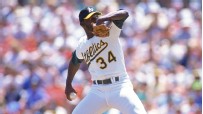 Stewart won the 1989 World Series MVP, going 2-0 with a 1.69 ERA.
Welcome to SportsNation! On Thursday, former MLB great Dave Stewart stops by to chat about the playoffs.
Stewart is the all-time leader in League Championship Series wins and win percentage, going 8-0 during his 16 seasons in MLB. His teams went 3-2 in the World Series, having won the title with the Dodgers in 1981, the A's in 1989 and the Blue Jays in 1993. He won 20 or more games four straight seasons.
Stewart played on five teams in his career, including the Oakland A's team that went to three straight World Series from 1988-1990. Currently, he is an agent, representing baseball players like the Dodgers' Matt Kemp.
Send your questions now and join Stewart Thursday at 2:30 p.m. ET!
More Special Guests: Previous chats | SportsNation
Buzzmaster
(2:34 PM)
Dave is here!
David (NYC)
What was it about the postseason that you were able to be so successfull in the playoffs?
Dave Stewart
(2:36 PM)
You have to take certain games during the course of the year and you make those games big games. I liked to get up for Jack Morris, Frank Viola. Those were going to be tough games. Roger Clemens. Bruce Hurst. Chuck Finley. Tough games. When you pitch against those guys pretty much every time you face those teams, you kind of in your mind make it a playoff atmosphere. I wanted to focus and get myself ready to pitch against those guys. When you get into the actual playoff atmosphere, it's not that big of a deal. It's almost like you've done it before.
Kevin (Miami)
Do you think the Orioles has what it takes to come back on the Yankees?
Dave Stewart
(2:37 PM)
The Yankees are a tough team to beat in New York. That's one thing I will tell you. The fans, in my opinion, play a big big part of their success. But I also think there is a mystique. When you come into Yankee Stadium, there's history, tradition and it's almost like you're playing against the players of the past. They're a difficult ballclub to beat in their home.
jason (dallas)
how often do fans approach you and ask for you to give them one of your stares?
Dave Stewart
(2:38 PM)
If I'm walking the street, someone asks me to give me the stare, I probably hear it about 10 times a day.
Peter (RI)
As a former player, is there a different feeling in the lockerroom and dugout during playoff games?
Dave Stewart
(2:39 PM)
In the lockerroom and on the field, there is so much media and so much TV hype, it's definitely not like the first game of the season or the 10th game of the season. You have more baseball coverage than you're ever going to have at one time. That itself will make it a different feeling. For example, in Oakland, they were playing in front of 20,000 people, now it's 40,000. That's a different atmosphere for that ballclub.
Willie (LA)
What kind of advice would you give to the players in the playoffs this year, in terms of keeping calm and performing under such pressure?
Dave Stewart
(2:40 PM)
The advice I would give is go out there and have fun. The samething that applies during the year and your career. The same thing should apply, go out and have fun. Then the pressure won't get to you. Go out and do what you do best.
Gary (Vegas)
What are your thoughts on Cole Hamels plunking Bryce Harper early in the season? Is that something u would do? Is rooking plunking something that did happen from time to time on purpose in your era?
Dave Stewart
(2:41 PM)
No. Just because a guy is a rookie, no. If a guy was getting a bunch of hits off of me and I was having difficulty getting a guy out, I could see coming in on a guy or hitting a guy. I had Ken Griffey in his rookie year and he got a bunch of hits off of me. There is not point in it.
Lamar (Oakland)
Stew, how impressed are you with our A's victory last night? Do they beat Verlander tonight?
Dave Stewart
(2:42 PM)
Very impressed, but not just impressed with their victory last night, I'm impressed with their run since the all-star break. They're without a doubt the best team since the break.
Ryan (Dallas)
Now that you deal more with the business side of baseball, are you able to still sit back and enjoy the game?
Dave Stewart
(2:43 PM)
Definitely. I'm a big fan of baseball. A big fan. Now I'm able to say I root for the Giants and the Dodgers in the National League and I root for the A's in the American League. I can say I'm a Verlander fan, a Hernandez fan, a Cain fan, a Billingsley fan. I am a big baseball fan. I can sit back and be an armchair manager, just like fans do.
Douglas (San Francisco)
The Nationals have been a great story this year, but do you think they can pull it out against the defending champs?
Dave Stewart
(2:45 PM)
I think on a given day, which is what is so special about baseball, anybody can win. The team that plays the best will win. If the Nationals go out and play flawless baseball, they have a good chance. Being a defending champion is over once you win that crown. Once that new season starts, it's open for everybody. The Nationals have played great baseball this year and they're very capable of winning the game.
Alex (Anaheim)
Which championship was most special to you?
Dave Stewart
(2:45 PM)
Probably, the one in Oakland. It's only special because I was able to play in Oakland, my hometown and win a title in my hometown.
Evan (Baltimore)
What do you think of the Nationals shutting down Strasbourg earlier this season? Was it the right move? How do you think it would have changed the series?
Dave Stewart
(2:47 PM)
No, I don't think it was the right move for the team. I think it was the right move to be sure that Strasbourg....well, there's nothing that says he doesn't come out the first pitch next season and hurts his arm. I don't know who benefits from this game. If you're a pitcher, anything can happen. You're always one pitch away from injury.
Kerry (Chciago)
What was the biggest change for you in going from a player to an agent?
Dave Stewart
(2:48 PM)
There are a lot of differences in going from a player to an agent. As a player, I don't negotiate my contracts and I don't have the true knowledge of what other players contracts are. Being an agent, we have all of the information we need to have good comparables to present to the team to make a good decision about what our players should make. It's just as competitive as it is going out there to get people out. As a player, you're just not privy to the knowledge that we have as agents.
Chris Fiegler (Latham,NY)
Who do you think will play in the 2012 World Series?
Dave Stewart
(2:49 PM)
Wooh...I think the Yankees will end up there, unfortunately. I would love to see the A's make it, but I'm not sure they'll have enough to make it all of the way through. I'll pick the Yankees and the Giants.
Mario M. NORWALK, CA [via mobile]
Do you feel big mac should be let in the h.o.f.?
Dave Stewart
(2:49 PM)
Nope. I don't. Plain and simple.
Tim Irvin (Los Angeles)
Mr. Stewart, as a former professional athlete, in your opinion, what can Magic Johnson can bring to his role in upper management with the Dodgers that is unique to his background as a professional athlete. Thanks Dodgers #48!
Dave Stewart
(2:52 PM)
I watched the Bryant Gumbel special on Magic. Assuming everything that was said in that special was true, when he talked about making winning decisions. I'm all about winning. So if that's all true, I think that's oustanding.
Dave Stewart
(2:52 PM)
Go Oakland A's!
Buzzmaster
(2:52 PM)
Thanks for chatting Dave!