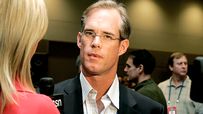 Welcome to SportsNation! On Wednesday, long-time sportscaster Joe Buck stops by the to chat about the Giants-Tigers 2012 World Series, which begins Wednesday at 8 p.m. ET on FOX.
With the start of the World Series, MLB and Taco Bell are partnering up on the "Steal a Base, Steal a Taco" campaign. If any player steals a base during the World Series, everyone in the U.S. gets a free taco.
As a six-time Emmy Award winner, Buck is currently the lead play-by-play announcer for Fox Sports, covering the MLB with Tim McCarver and the NFL with Hall of Famer Troy Aikman. He started with FOX in 1994.
Send your questions now and join Buck Wednesday at noon ET!
More Special Guests: Previous chats | SportsNation