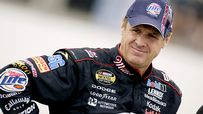 Wallace's 202 top-5 finishes is 12th all-time.
Welcome to SportsNation! On Monday, one of NASCAR's greatest drivers Rusty Wallace stops by to chat about the final part of the Chase for the Cup. Phoenix hots Sunday's race (3 p.m. ET, ESPN) in the second-to-last event of the season.
Wallace's driving career spanned 25 years, retiring in 2005 and joining ESPN's racing coverage team. He ran in over 700 Cup races in his career, winning 55, including six in his championship season of 1989. He was named one of NASCAR's 50 Greatest Drivers in 1998.
Send your questions now and join Wallace Monday at 1 p.m. ET!
More Special Guests: Previous chats | SportsNation
Buzzmaster
(1:00 PM)
We've got Rusty!
Ron (Shreve)
If it wasn't for that last caution, BradK wins and his call for 2 tires would be called genius. Right?
Rusty Wallace
(1:02 PM)
Yeah, I totally agree with that. He had the race won, in my opinion. That caution was his worst nightmare, because it put Johnson on him with four tires.
rex (pa)
Rusty!! Your biggest fan here!! A lot of writers have alluded to similarities between Brad K and yourself. What do you think?
Rusty Wallace
(1:03 PM)
Our personalities are totally different, but our approach to working and driving the car are very close. I've always prided myself in not tearing up equipment and I seldom see Brad tearing anything up. I like how he's always working on the car. He's always working on making it better.
Rita Jean (NorCal)
Nascar isn't doing itself any favors with many media outlets & commentators in affect saying JJ is the champion. Pull for Brad! Pull for Clint! Make it exciting or by the time it's Homestead, who is really enthused to watch anymore?
Rusty Wallace
(1:04 PM)
No, it's not clinched at all. It will be a shootout right until Homestead. Brad doesn't seem to be intimidated. The points are so close it's unreal right now.
James (Rochester, NY)
What would it mean for you if Brad would pull off the championship in the Blue Deuce after having a lot of success in that car?
Rusty Wallace
(1:04 PM)
Brad's an awful young guy. The guy that really deserves the championship is Roger. He's paid his dues. He's tried many times and he deserves it.
Rusty Wallace
(1:05 PM)
But it would be very important for me to have him win the championship and then me being inducted into the Hall of Fame in February and say we had a clean sweep.
Allan (Boston MA)
How does being inducted into the Nascar Hall of Fame compare to some of your other accomplishments in your Nascar career?
Rusty Wallace
(1:06 PM)
It's the ultimate. Everyone can debate your career all along, but when you get into the Hall, that's the ultimate seal of approval. Whether you liked Rusty or not, getting into the Hall legitimatizes what you've done and puts a period on your career. One thing I like, though, is that it seems when you're in the Hall, you're an old guy. I am proud that I'm the youngest to get elected.
James (Rochester, NY)
How would you feel about Penske racing winning their first Sprint Cup championship?
Rusty Wallace
(1:07 PM)
I think it would be very well received. Nothing against Brad, the driver that would do it for Roger, but many look at Brad as a real young up and coming driver. But they all look at who owns that car, Mr. Penske and they all want it for him. Brad understands it.
Vinnie (ATL)
Things I would like to see in Nascar but probably never will... Shorter schedule, smaller field, and points system that only rewards top 20 drivers. Your thoughts?
Rusty Wallace
(1:09 PM)
The only thing I agree with is what you said is I do agree with less races. I think NASCAR could be suffering a little bit with supply and demand issue. We have a good supply, but we're suffering with demand a little bit. I'd love to see it go back to 32 races.
rex (pa)
Can you talk more about Mr. Penske? From everything I've read about him, he seems like the nicest, most genuine owner in the garage. I think he's very underrated, and doesn't get the recognition like Hendrick, Childress, etc.
Rusty Wallace
(1:10 PM)
I think Roger is one of the smartest people in the world. I wish he were running for president. He'd be the hands down winner. He has a knack for aligning himself with smart people. He's so respected. Respect and honesty just ooze out of that man's head. I've learned quite a bit from him.
TrevDaddy (PA)
Lots of talk last week about how well JJ does on the last three courses and how Brad has struggled on them. With Brads strong showing yesterday, does that make people realize now that no matter the track, he is here to make a real push? Kid can drive! Will he pull it off?!
Rusty Wallace
(1:12 PM)
I'm not really a numbers guy, I have never been. I take a lot of criticism for not going on stats and what's happened in the past. I go with what's happening right now. That team right now is really performing on the track. The race this week in Phoenix is the great equalizer for the drivers. The track is brand new and these guys have only run on it twice. Last time they were there, Brad finished fifth and Jimmie finished fourth. So no clear advantage there yet.
James Piccarreto (Rochester, NY)
Who do you think has the best chance at winning the sprint cup championship this year?
Rusty Wallace
(1:13 PM)
It's too close to call. I can't make a prediction yet. I like both drivers, but I sure would like to see that 2 car that I drove finally win a title for Mr. Penske.
ben (Boston)
What do you think about Penske's switch to Ford and NASCAR losing a manufacturer? Do you think we'll see involvement from more foreign automakers such as Honda, VW, etc... in the future?
Rusty Wallace
(1:14 PM)
I hope so. I hope we do see more involvement. It is said to see Roger leaving Dodge after having so much momentum. That's one question people have, why he would do that. Mr. Penske knows cars more than anyone. He has nearly 400 car dealerships. He understands what's going on on the road. He thinks that Ford has a better outlook on NASCAR racing than any other and he feels like they really want it. He wants to be with a company that really wants it.
NASCAR FAN 39 (Atlanta)
Hi Rusty, thank you for taking the time for this chat. What young driver today reminds you most of you early in your career, and why?
Rusty Wallace
(1:15 PM)
Clint Bowyer. His approach. His aggressive style, but not tearing the car up. I like his laughter and excitement and trying to get along with everybody.
Sid (Atlanta)
why not use telemetry for restarts? throttle goes down before flag=penalty - take the subjectivity out of it. seems pretty simple...
Rusty Wallace
(1:15 PM)
I watched all of the restarts that people were talking about yesterday and it was no big deal. Everything was fine.
Rusty Wallace
(1:17 PM)
We're getting ready to witness one of the greatest championship runs in a long time. I thought last year was the best. This year, I can't believe we have two drivers within 7 points and they're both driving rocket ships. It will be exciting. Thanks for chatting!