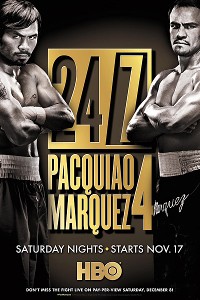 Welcome to SportsNation! On Friday, we're going inside the boxing ring when legendary trainer Freddie Roach stops by to chat about his pupil Manny Pacquiao's fourth fight against Juan Manuel Marquez, which is set for December.
Marquez (54-6-1, 39 KO) takes on Pacquiao (54-4-2, 38 KO) for the second time in a year on Dec. 8. MGM Grand Garden Arena in Las Vegas will host the bout, which will air live on HBO PPV.
Roach, a Massachusetts native, won the trainer of the year award in 2003, 2006, 2008 and 2009. As a professional boxer, Roach went 39-15 before retiring in 1986.
Send your questions now and join Roach Friday at noon ET!
More Special Guests: Previous chats | SportsNation
Buzzmaster
(12:01 PM)
We've got Freddie!
Chris (Pitt)
how do you set up a training camp? Do you just right in? Do you start easy and then increase intensity?
Freddie Roach
(12:02 PM)
In this camp we jumped right in because he worked 4 weeks in the Philippines. He's alwyas in some sort of shape. The first day we went six rounds.
Nathan (Bay Area, CA)
Freddie, what in your power can you do to bring out the "old" Manny that wasn't as tame. As Nacho said before the last fight, a more conventional Manny is easier to fight than a wild Manny.
Freddie Roach
(12:02 PM)
We're trying to bring back the old Manny, I told him if he knocks me down on the mitts, I'll give him $1,000.
Tommy (Dallas)
Freddie, did you run into Emmanuel Steward much? What were your thoughts on him?
Freddie Roach
(12:03 PM)
I've him since 1976 when I fought against one of his boys. He used to call me the midget. We're going to miss him greatly.
Henry Bonner Jr (philadelphia pa)
@Freddie IMO what do you plan on doing to negate marquez from employing his ability to time and counter effectively manny..how woll you deal with marquez counter punching?...thanks
Freddie Roach
(12:04 PM)
The most success we had with him was attacking him with fast combinations. I'm trying to get Manny to get that fire back.
Valentin Sandoval (Boise, Idaho)
Feddie, most of my friends aren't too fired up for this fight saying it is predictable being as these two have squared off three times already. I would have to say I tend to agree in a sense. So why should we be fired up for this one?
Freddie Roach
(12:04 PM)
The thing about this fight is we need a KO to win. Marquez says he's looking for a KO. I think it will be a hard fought fight at the end. It's going to be a lot different than the last fight.
Nick (corona) [via mobile]
Are you worry about the judges if this fight goes the distance?
Freddie Roach
(12:06 PM)
Yeah, I always worry about judges. They're human. They feel bad that maybe Marquez lost a couple of close ones. This one will have a Las Vegas judge, one non-Vegas judge and an international judge. We'll have a meeting and choose the officials. They are making some special requests for this fight.
Sam (San Jose (CA))
From a supersticious standpoint I wouldn't take any chances; Manny has had bad luck when wearing blue: Lackluster show v. Mosely, Lucky win that could have gone either way vs Marquez, and getting robbed by the judges vs Bradley. He was more vicious when wearing white, red, and black. your thoughts.
Freddie Roach
(12:06 PM)
I'll tell him to stay away from the blue just for you.
Frank (New York, NY)
Will Manny finally see a doctor to get his legs checked out?
Freddie Roach
(12:07 PM)
We've never had cramp problems in the gym, just when the fights start. He said he has a handle with it. We haven't had any problems at all yet and I don't think there will be.
Jack (Peoria)
In their last fight, Marquez seemed to back Pacquiao up after many of their exchanges on the inside. Do you think Marquez is more dangerous of a fighter to Pacquiao than he ever was?
Freddie Roach
(12:07 PM)
Yeah, he's a lot bigger. I'm not sure if his punches are any bigger. He put on a lot of muscle weight. How he did that, we don't know. But he was a better puncher in the last fight, yes.
Rick (Laredo, Texas)
How has Many Pacquiao looked the last couple of weeks and what will be different this time around?
Freddie Roach
(12:08 PM)
He's doing very well. We have some good sparring partners. I told him you promised me a knockout, so I want to see it in the gym. He's been putting it on the sparring partners. I'm happy where he's at.
JeanPierre Naranjo (Kissimmee, FL)
Should Pacquiao be looking to avenge the terrible decision loss against Bradley before he is done with boxing?
Freddie Roach
(12:09 PM)
I don't think we need to, because the whole world knows we won that fight, that's why we're not fighting him now. We don't even take it as a loss.
Freddie Roach
(12:09 PM)
I'd rather fight Rios.
Sam (San Jose (CA))
There is a celtics game on the night of Mannys fight, are you gonna prevent him from watching it?
Freddie Roach
(12:10 PM)
I'm not his babysitter, so he'll make that decision. I will be against it. I will ask the venue to not have TVs in the lockerroom. Thanks for the tip.
jason (toronto)
Do you think as Manny has gotten heavier and climbed up the weight classes, that has effected his style and number of punches thrown more so then his age
Freddie Roach
(12:10 PM)
No, I think it's his age. I don't think it's the weight gain. He still walks around at 138. But the thing is he's too compassionate.
Jarwan (New York)
Do you consider Marquez to be a better fighter than Floyd Mayweather Jr.?
Freddie Roach
(12:10 PM)
Yes.
Freddie Roach
(12:11 PM)
A better counterpuncher.
FLO (NY)
Do you think Manny will retire soon? What are his reasons to keep boxing?
Freddie Roach
(12:11 PM)
We haven't talked about how many fights are left. But it goes fight by fight at this point.
james (york, uk)
Freddie, has Wach got a shot against Wladimir in your expert opinion? thanks, sir
Freddie Roach
(12:12 PM)
I don't think so, because I don't even know about Wach.
Matthew Dixon (Los Angeles CA)
What will Manny do differently this fight with Marquez that will make it end in a knockout??
Freddie Roach
(12:12 PM)
Try quicker. When he hurts him, put the pressure on him. Don't pull up and lay off him. Be satisfied with it. He has the punching power to do it.
Walter E. Kurtz (Phoenix, AZ)
Freddie, do you think judges sometimes enter a fight with a bias for or against a particular fighter? How else to explain some of these bizarre decisions?
Freddie Roach
(12:13 PM)
I think people are human and that does happen, yes. Some people like this or that.
Richie (Bronx ny)
What is pacquioa's most unused weapon?
Freddie Roach
(12:13 PM)
I guess against Marquez he needs to use both hands. He hasn't done that with success. He needs a lot of combinations.
Nathan (Bay Area, CA)
Freddie, Manny's best fight (for me) was the De La Hoya fight. He was so good with the in & out punching...why has he gone more stationary lately?
Freddie Roach
(12:14 PM)
I thought was one of his best and greatest fights. I'm trying to bring that Manny back. I'm pushing him really hard on the mitts and in sparring. He's looking better and better.
Buzzmaster
(12:15 PM)
Thanks for chatting Freddie!