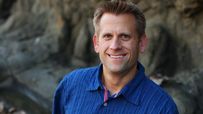 Welcome to SportsNation! On Monday, Sport Science host John Brenkus stops by to chat about his Emmy Award-winning TV show, as well as his project to name the Greatest Athlete of All-Time.
Sport Science uncovers sports' biggest myths and mysteries by utilizing cutting-edge technology to measure momentum, friction and the laws of gravity. In addition to his role as host of Sport Science, Brenkus, a Univeristy of Virginia graduate, is also the director and creative director of all BASE Productions programs.
Send your questions now and join Brenkus Monday at 1:30 p.m. ET!
More Sport Science: Chats | Index | Videos | Blog | @Sport_Science
Buzzmaster
(1:30 PM)
We've got John!
Jeff (RI)
When I look at the bracket so far, I can't really say that I'm surprised at how it's filling out so far, are you?
John Brenkus
(1:31 PM)
I've been a little surprised at the degree to which to the winning athletes have won. Michael Jordan didn't just win, he blew the field away, I think LeBron got a little short changed. We'll see how the rest shakes out. In any case, it's going to be great!
Ryan (San Diego)
The Sport Science segments I've seen do a great job of explaining an athletes' current abilities....do you ever do any experiments or data analysis to try to project how an athlete will do in the future with those skills?
John Brenkus
(1:33 PM)
Our Sport Science NFL Combine, I think has done a pretty good job of predicting if a player is going to be a productive player at the NFL level. We've had great success with players like Suh, Dalton, Christian Ponder, Jason Pierre-Paul, etc.
Steve (Boston)
What do you think the Sport Science metrics would say about the huge Pacquiao-Marquez fight on Saturday?
John Brenkus
(1:34 PM)
Lots of fists flying, another close bout. Could go either way.
Darren (NYC)
Will the metrics that you used to come up with the top 5 athletes for each sport category be the same metrics you'll use on the matchups within the bracket?
John Brenkus
(1:34 PM)
Yes, the same metric to narrow down the top 5 will be used in the bracket phase.
John Brenkus
(1:34 PM)
But in more detail.
Kevin (DC)
Do you think the multisport athlete winner could have an advantage in the bracket, considering, the winner will be a star in many sports, therefore already showcasing their athleticism?
John Brenkus
(1:35 PM)
It certainly doesn't hurt. The multisport athletes certainly do score high because of the fact they played other sports. But people like Michael Jordan and Tiger Woods are off the charts in their own respective sports, so it will be an interesting battle.
Eric (LA)
The GOAT bracket has to be pretty time consuming for you and your staff...but what other projects or segments are you working on?
John Brenkus
(1:36 PM)
We're still working on lots of NFL, X Games, etc. We're gearing up for a big Sport Science NFL combine this year. It should be bigger and better than ever before.
Evan (florida)
Do you think there's any sort of experiment or data analysis that can be done to find out the effect of a lockout on players' performance?
John Brenkus
(1:38 PM)
Hard to say, because we have no idea what each individual player is doing. Guys could come back in awesome shape...you just don't know. There is certainly a psychological component to playing a shorter season, which in my opinion isn't a bad thing for players. The NBA and NHL play too many regular season games and the shorter seasons are welcomed by the players.
John Brenkus
(1:38 PM)
Does it really tak 82 games to determine the regular season champion? Couldn't we all agree on who is the best team after 50 games? The NBA had its best regular season ratings last year in a shortened season. Perhaps that will happen for the NHL this year.
Fred (TX)
With all of the college football bowl games now set, will you be doing any segments on any of the games?
John Brenkus
(1:39 PM)
Stay tuned...
Chris (Denver)
Do you think Jim Thorpe has an edge in the multisport category, because of the number of sports he played? A lot of those other multisport athletes were just two-sport guys.
John Brenkus
(1:40 PM)
He certainly should, but I think the lack of footage will hurt him in the long run. If we were to use the number of sports someone played as criteria, Babe Zaharias should win for sure. Take a look at what she was able to accomplish. It was stunning. But she suffers from the same thing as Thorpe. I believe a modern athlete will take that category....we'll announce results later this week.
Jeff (Syracuse)
Jim Brown was the greatest lacrosse player of all time. There were rules that were changed just because he was so unstoppable. Many people feel he was the greatest football player of all time and certainly was the best back. People don't realize he was a very good college basketball player as well and could have run track if he wasn't committed to other sports. My vote goes to Jim Brown
John Brenkus
(1:41 PM)
We take into consideration that rules were changed for players. You'll be seeing Brown in the NFL category. We can only place him in one category and it seems most appropriate for him to be in the NFL bracket.
Mac (Carisle, PA) [via mobile]
Have you ever done an experiment with a lacrosse goalie's reaction time? If not, do you think it would be an interesting experiment?
John Brenkus
(1:43 PM)
I'd love to do the experiment on the psychological makeup of a lacrosse goalie. You have to be crazy to play that position. We have done experiments on lacrosse players. Look up Sport Science, lacrosse on ESPN.com. Paul Rabil we did. I am a huge fan of lacrosse.
Derrick (Chicago)
What's been the biggest surprise in the voting so far, in your eyes?
John Brenkus
(1:44 PM)
All of the winners so far have pretty much run away with the vote, which is surprising to me. All five of the candidates are worthy of winning each category. The reason why we're having people vote is because having a lasting impact on the public is part of being a great athlete. The athletes who are winning each category are blowing away very competitive fields, so we are analyzing the right athletes.
John Brenkus
(1:46 PM)
The bracket phase is going to be epic.
Evan (LA)
how did the MMA voting go? I'm curious.
John Brenkus
(1:48 PM)
It went very well. It was as popular category as any, but Silva blew everybody away.
John Brenkus
(1:49 PM)
More great Sport Science segments coming your way. Keep voting for the Greatest Athlete. Thanks for your support!