Chat with Ray Rice, Ahmad Bradshaw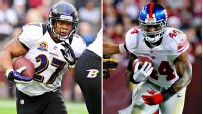 Check out
#BradshawandRice
to win free stuff.
Welcome to SportsNation! On Tuesday, Baltimore Ravens running back Ray Rice and New York Giants running back Ahmad Bradshaw stop by to chat about the final two games of the NFL season.
At 9-5, Rice's Ravens have already clinched a playoff berth and are one win away from clinching the AFC North title for the second straight year. Bradshaw and his Giants currently sit in a three-way tie for the NFC East division lead, along with the Redskins and Cowboys.
While at ESPN on Tuesday, Rice and Bradshaw are giving away free copies of the new Nintendo WiiU game "ESPN Sports Connection." Every time they mention the game during an ESPN interview, any fan using the hashtag #BradshawandRice on Twitter has the chance to win. Go here for more information.
Send your questions now and join the chat Tuesday at 1 p.m. ET!
More Special Guests: Previous chats | SportsNation